Healthy & Fun Road Trip Snacks For The Whole Family, From An RD
Registered Dietitian
By Frances Largeman-Roth, R.D.
Registered Dietitian
Frances Largeman-Roth, R.D. is a Registered Dietitian Nutritionist, a New York Times best selling author and nationally recognized nutrition and wellness expert.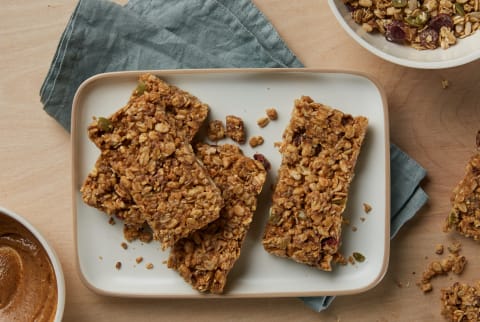 Image by Lauren Miller / Stocksy
June 2, 2021
We carefully vet all products and services featured on mindbodygreen using our
commerce guidelines.
Our selections are never influenced by the commissions earned from our links.
With a long-awaited, safer summer finally within our grasp, tons of people are booking "revenge travel" trips to the beach, lake, and beyond. Still, despite the frenzy, most families are choosing to keep their travel domestic this summer, opting for destinations accessible by car instead of plane.
Whether you're traveling for three hours or three days, there's one crucial thing you can't forget: snacks! While you'll also want to stop for healthy meal options along the way, snacks are vital for keeping hunger—and thirst—at bay. Plus, they certainly come in handy for lifting everyone's mood when traffic slows to a crawl.
Since I have several road trips booked for my family of five this summer, I've been scouring my sources for the best snack picks for grown-ups and little ones alike. Here are my top picks for staying satisfied and sane on those car trips:
No nutritionist-approved list would be complete without fruits and veggies! Obviously, you could put any piece of fruit in your weekend bag, but the truth is that some produce travels better than others. Harder fruits, such as apples, oranges, cherries, and grapes are all great picks. Plus, they offer extra hydration and no added sugar to keep the mindless munchies at bay. Carrots, sugar snap peas, and celery sticks make great travel companions, too.
Whatever your fave fruits and veggies, make sure to wash them prior to travel, and package them up in reusable plastic containers or a Stasher bag. Then store them in a cooler (more on that below) to keep them crunchy and fresh.
As a seasoned mom, I've learned that if you think you've packed enough snacks for the road trip, you should go back and add more. Kids like variety just as much as we do—and trust me, keeping their bellies happy and full is key to a pleasant road trip.
Another thing to keep in mind with kids is that while you definitely want to keep them hydrated in hot weather, you don't want to be constantly looking for the next rest stop. That's where pouches can be your little helper—they're an easy (aka no mess) snack that also helps to provide hydration, without too much liquid. Applesauce pouches are always a great pick, and you can give your little one an added brain boost with Brainiac Kids' applesauce. Each pouch provides 120 milligrams of choline and 160 milligrams of omega-3 fatty acids: two vital nutrients for brain health.
If your kids are looking for something that tastes like pudding but is way better for them, grab some of GoGo squeeZ's new almond blend pudding. Made with almond milk, the shelf-stable puddings come in craveable flavors like cocoa-hazelnut and chocolate, while providing little ones with 5 grams of protein and 10% of their calcium for the day.
There always comes a time on any road trip when you run out of conversation topics, start to get bored, and just want something to crunch on. Chips are perfect for that, but if you want to keep munching on the mindful side, you'll want to grab something made with better-for-you ingredients.
For kiddos who suffer from car sickness, it's always smart to bring along something simple and a little salty, like pretzels. My pick is Quinn grain-free pretzel chips. They're made with cassava (aka yucca) flour and potato starch, so they're gluten-free and also paleo-friendly but still provide that satisfying crunch.
When you're starting to get hangry, an energy bar can help you get through those last 80 miles. If you're looking for a bar with extra benefits, check out Luna with 2.5 grams of prebiotics. Both the wild cherry and tangerine twist flavors have a tangy-sweet taste plus 8 grams of plant protein and are a good source of fiber, including prebiotic fiber from agave.
Something—maybe the only thing—that you and your preteen can agree on is that fruity snacks are awesome. She'll love the sweet mango flavor of That's It mango + probiotic fruit bar (great for anyone with food allergies), and you'll love the gut-healthy perks. Each 100-calorie bar is made with just mango and live active cultures (Bacillus coagulans), which don't require any refrigeration.
5.
A little something sweet
When you've played 10 rounds of "I Spy" and people start getting cranky, it may be time for a cookie. Not a giant cookie that will set you and your kids on the path to a sugar crash but rather something delicious that's light on added sugar. Our family likes the birthday cake stroopwafels from Rip Van. Each stroopwafel is made with a base of chicory root fiber, wheat flour, and chickpea flour—providing 6 grams of prebiotic fiber per wafel. The ones from Sweet Amsterdam are great too.
For those occasions when one of your kids is having a meltdown (and you're miles from your destination), it's important to have a secret weapon in your snack arsenal. I keep a few things, like crayons and coloring books, in my personal bag so that they seem like a fun surprise when I pull them out. The same goes for the Yum Earth lollipops I always have on hand. They're organic, gluten-free, dye-free, allergy-friendly, and have the magical ability to get kids to stop crying.
Tips for keeping it cool.
The summer heat can melt even the sturdiest of snacks, so I recommend bringing a small, soft-sided cooler to keep water bottles icy cold, your grapes refreshing, and those pouches nice and cool. My family has been bringing Yeti's hopper flip, which comes in three different sizes, on the road with us. It's perfect for sitting on the floor of your minivan or SUV, without banging around when you take a tight corner. It has a wide-mouthed opening, so your kids can see into it and even help themselves when they get peckish. Plus, it will keep your cold stuff reliably chilled for hours.
Another easy-to-carry option is an insulated backpack cooler, which is smart if you plan to do any sightseeing on the way to your destination. The Igloo Star Wars R2D2 daypack backpack is roomy enough for a day's worth of snacks, plus it holds two refillable water bottles in the side pockets. The force will definitely be with you, even if you've got tons of miles to go.
Another tip: In addition to bottles of hand sanitizer, you'll probably want to throw in a few packs of sanitizing wipes for sticky hands. I also always keep a roll of paper towels in the trunk, plus extra shirts for everyone—because you never know what's going to happen on the open road. Safe and happy travels!
Want to turn your passion for wellbeing into a fulfilling career? Become a Certified Health Coach! Learn more here.
Frances Largeman-Roth, R.D.
Registered Dietitian
Frances Largeman-Roth, R.D. is a Registered Dietitian Nutritionist, a New York Times bestselling author and nationally recognized nutrition and wellness expert. Frances is the author of Smoothies & Juices: Prevention Healing Kitchen, Feed the Belly: The Pregnant Mom's Healthy Eating Guide and Eating In Color: Delicious, Healthy Recipes for You and Your Family. She is also the co-author of the bestselling The CarbLovers Diet.

Frances is a freelance writer and recipe developer for numerous publications, including Today.com, Parents, and Parade. She has appeared on numerous national TV shows, including The Today Show, The Dr. Oz Show, The Rachael Ray Show, Good Morning America, Access Hollywood Live and CNN. Frances contributes expert quotes to national publications and also helps healthy food brands share their message. Frances is a member of the James Beard Foundation and the Academy of Nutrition and Dietetics. She received her undergraduate degree at Cornell University and completed her dietetic internship at Columbia.

Frances, her husband and three kids live in Brooklyn, NY. To learn more, go to her website, or follow her on Instagram.