Graduates Call This Program "Phenomenal" For Anyone Passionate About Health

mbg Sustainability + Health Director
By Emma Loewe
mbg Sustainability + Health Director
Emma Loewe is the Senior Sustainability Editor at mindbodygreen and the author of "Return to Nature: The New Science of How Natural Landscapes Restore Us."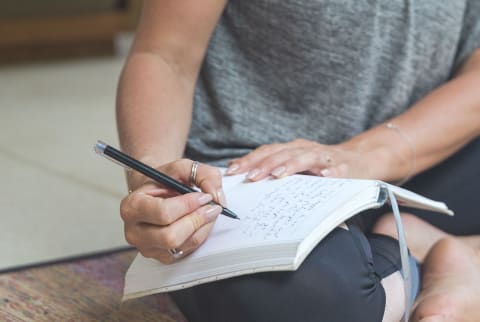 Image by Jovo Jovanovic / Stocksy
May 5, 2023
Every day, people set new health and well-being intentions. And health coaches are there to help make them happen.
Health coaching is the process of setting people up to achieve tangible wellness goals. Along the way, coaches provide qualified support, guidance, and intel to help clients feel their absolute best. Equal parts teachers and cheerleaders, health coaches are an increasingly essential part of the health care system.
Advertisement
This ad is displayed using third party content and we do not control its accessibility features.
Designed around the principles of holistic health coaching, mbg's NBHWC-approved program is taught by world-class faculty on a flexible schedule. Over 20 weeks, students learn not only how to start a career in health coaching but how to be in more supportive relationships with other people—a lifelong skill that can be used in any situation.
Among a handful of other coaching programs out there, HCC is a standout option for a few reasons: Grads note that the faculty is unmatched and the cutting-edge curriculum is constantly evolving. The alumni network is diverse and supportive; the class materials are top-notch; and the guided practice sessions give students the confidence to start their own coaching businesses. It's also a great option for those who are looking to take control of their own health.
In the words of recent graduates, here are a few reasons this special program is a cut above the rest:
1.
This was what I really needed to begin manifesting my dream career
"The mindbodygreen course is phenomenal!! Having had a few years of novice health coaching experience already, I found that this was what I really needed to begin manifesting my dream career. Having been a brief part of a competitor program, I can say without a shadow of a doubt that the depth of preparation the course and instructors overall give you at MBG is unparalleled.
"A few months after the program ended, almost the entirety of my department was laid off. In just a couple of weeks thereafter, I was able to take on a full-time Health Improvement Coach role at a different company and I owe that incredible gift to mindbodygreen."
—Misha
Advertisement

2.
It's hard to summarize the magic of this course
"Signing up for and completing the mbg Health Coaching course was the best decision I have ever made. Period. It has not only informed how I coach, but how I move through personal relationships. I learned how to be more mindful, more present, and a better listener. Going into this course, I thought I was going to learn how to coach people (by giving advice), but what I learned far exceeded my expectations. The skills and strategies that I learned will help me to support clients and empower them to make changes based on their own knowledge, intuition, and personal skill set.
"It's hard to summarize the magic of this course. I was challenged, supported, and empowered, and I am well on my way to developing a successful business as a health coach."
—Deborah
3.
Highly recommend this program
"This program was fantastic from day one! Not only did we learn in-depth knowledge about coaching principles and strategies, but we got to try out what we learned in real-time, in a safe place, where we were supported by amazing faculty! Highly recommend this program."
—Erin
Advertisement

4.
The program has been so beneficial to my growth
"The mindbodygreen Health Coaching program has been so beneficial to my growth and ability to help others on their wellness journey. Being able to learn from professionals in the field, and interacting with others who also have a passion for well-being was both an honor and a gift."
—Teralyn
"I almost passed on this course for the sole reason that it required Practical Skill Assessments and I had to get my own clients for these assessments. As they say, your biggest successes are found just outside your comfort zone, and I can attest to it. I grew so much as a coach, but also as a person during this course. Regardless of whether you want to be a coach or not, this course will teach you how to relate to and listen to your fellow man in ways that will enrich your life. Jump in. No fear."
—Curt
Advertisement