Nutritious Fava Beans Are In Season For Spring + How To Eat Them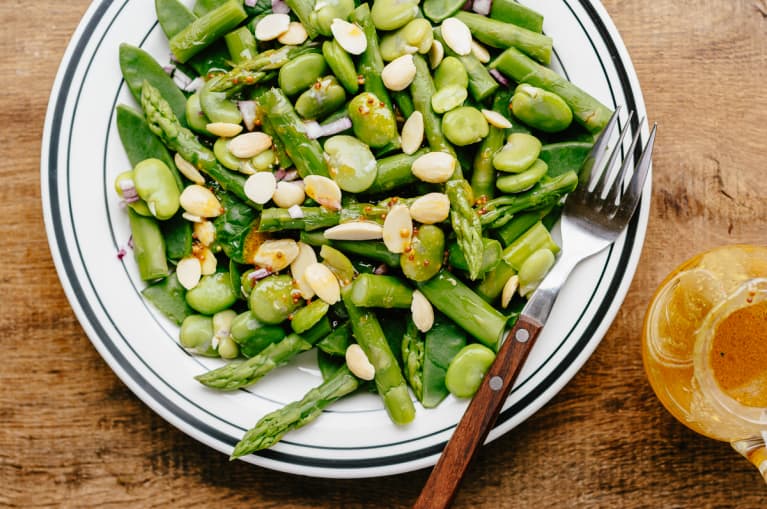 Our editors have independently chosen the products listed on this page. If you purchase something mentioned in this article, we may
earn a small commission
.
A lot of people are making the most of canned foods right now, and to complement some of those nonperishables, consider adding fresh, seasonal veggies to the mix. Along with the ever-popular spring peas and asparagus, green fava beans are also in season. If you're not sure how to use them—or frankly, what they are—let this be your guide for expert-backed info about fava beans.
Nutritionist Frances Largeman-Roth, RDN, says, "Fava beans—also known as broad beans—are originally from the Mediterranean." They grow well in cooler weather, which is why in the U.S., they're primarily grown in Massachusetts, she explains.
Preparing fava beans is a two-step process, registered dietitian Megan Fahey, M.S., R.D., CDN, tells mindbodygreen. First, you have to shuck the beans from their pod, then you have to remove the gray waxy, outer layer on each individual bean. "Although added effort is required," Fahey says, "the delicate texture and pale green color of the beans are worth your time."
What are the health benefits?
Similar to other legumes, fava beans are a good source of plant-based protein. Fahey says they offer around 10 grams of protein per cup, as well as 9 grams of fiber, which supports healthy gut functioning.
"Fava beans are naturally low in sodium," Largeman-Roth tells us, which can reduce bean bloat since high-sodium beans often lead to dehydration and bloating.
They are also a great source of the minerals manganese, copper, phosphorus, magnesium, iron, and potassium, Fahey adds. "There is so much nutrition packed in their unassuming pods."
Here's the full breakdown on fava bean nutrition, according to the USDA database:
Fava Bean Nutrition
Calories: 110
Protein: 9.98 g
Fat: 0.92 g
Carbohydrates: 22.2 g
Fiber: 9.45 g
Sugar: 11.6 g
Calcium: 46.6 mg
Iron: 1.95 mg
Potassium: 418 mg
Magnesium: 41.6 mg
If you're not a fan of peas, Fahey recommends using fava beans as a replacement. "Try incorporating them into spring salads and soups, and even as a base for hummus," she suggests. One of her favorite ways to eat them is in this fava bean soup recipe by cookbook author Mimi Thorisson.
To make a spread like hummus, Largeman-Roth says to blend the beans with extra-virgin olive oil, salt, and pepper. For a heartier meal, though, she recommends tossing them in pasta or grains, like barley and quinoa.
If you're looking for more inspiration, this fava bean and sweet pea salad recipe is practically spring in a bowl. The recipe was developed by founders of the French cooking school The Cook's Atelier, and it combines the sweetness of peas with the mild vegetal flavor of fava beans and tops it off with the bright acidic tang of fresh lemon. The recipe serves six, so share with your family, halve the recipe, or save the leftovers to brighten up tomorrow's lunch.
However you decide to cook up this springtime veggie, get ready for a delicious serving of nutrients.
Want to turn your passion for wellbeing into a fulfilling career? Become a Certified Health Coach! Learn more here.