This Fava Bean & Pea Salad Recipe Is Springtime On A Plate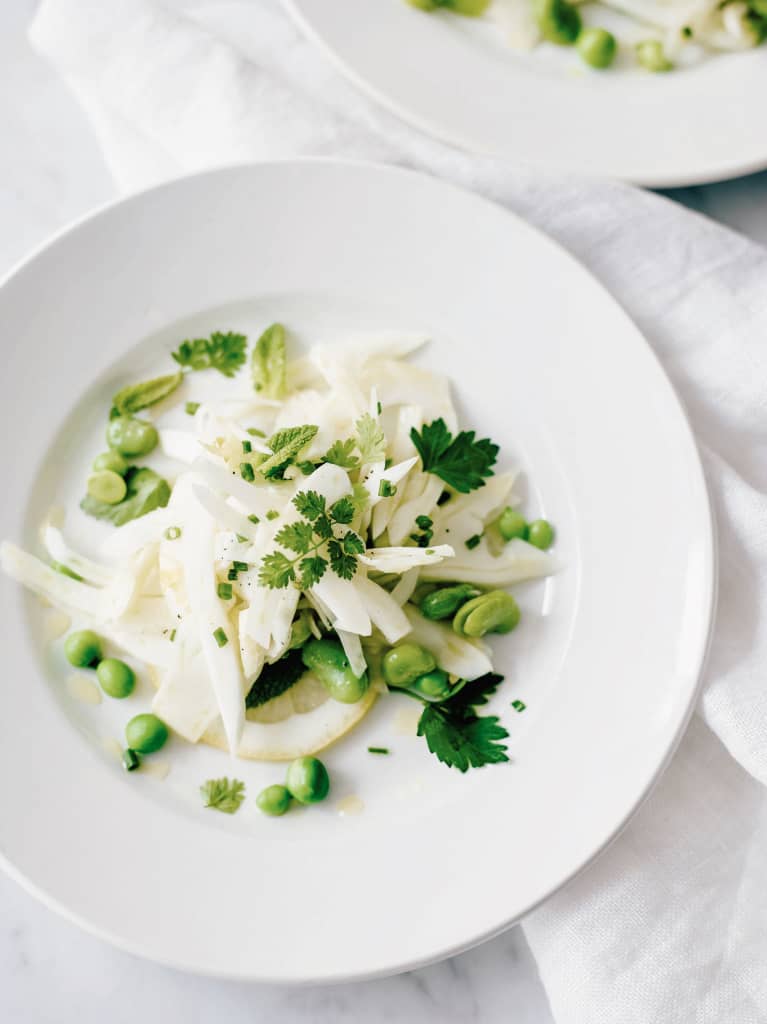 Our editors have independently chosen the products listed on this page. If you purchase something mentioned in this article, we may
earn a small commission
.
Here at mbg, we love the idea of cooking seasonally and eating locally grown food when possible. We recently heard from Tom Colicchio, celebrity chef, and food activist on the mbgpodcast about his favorite foods in season right now. Among them? Fava beans and peas.
This fava bean and sweet pea salad from The Cook's Atelier by Marjorie Taylor and Kendall Smith Franchini, cofounders of The Cook's Atelier, a French cooking school, blends together the fresh flavors of spring and includes many seasonal ingredients. You'll incorporate fava beans, loved for their tender texture, as well as sweet peas, which are busting with a light and refreshing sweetness and are high in protein. These sweeter tones are complemented by a combination of aromatic herbs including fennel, chives, parsley, and mint.
If you're hoping to give this seasonal treat a try, head to your local farmers market and scout out some fresh fava beans and sweet peas—you'll notice a world of a difference. Here's to cooking seasonally and supporting our local farmers!
Fava Bean & Sweet Pea Salad With Fennel & Garden Herbs
Fleur de sel
3 cups fresh shelled fava beans
2 cups fresh shelled sweet peas
3 fennel bulbs
1 lemon, halved
Fruity extra-virgin olive oil, preferably French
1 bunch fresh chives, finely chopped
Handful of fresh mint leaves
Handful of fresh flat-leaf parsley leaves
Handful of fresh chervil leaves
Freshly ground black pepper
Bring a large pot of salted water to a boil and fill a bowl with ice and water.
Add the fava beans to the boiling water and blanch until just tender, 3 to 5 minutes, depending on the size. Immediately plunge the fava beans into the ice water to stop the cooking and preserve their color. Once the fava beans are cool, use a slotted spoon to scoop them out of the ice water, then pop off their pale green skins to release the bright green beans; reserve the ice water. Set the beans aside and discard the skins.
Fill the pot with fresh water, add salt, and bring it to a boil. Add more ice to the ice water. Add the peas to the boiling water and blanch just until tender, 2 to 3 minutes. Immediately plunge the peas into the ice water to stop the cooking and preserve their color. Once the peas are cool, drain and set them aside.
Trim the fennel bulbs, remove the tough outer layer, cut them in half, and remove the inner cores. Using a mandoline, thinly slice the fennel. Put it in a large bowl and squeeze one lemon half over the top to preserve the fennel's color.
Drizzle the fennel generously with olive oil and toss to coat. Add the peas, chives, mint, parsley, and chervil. Season with salt and pepper. Toss gently to combine, then taste and season with additional salt, pepper, and lemon juice, as needed. Serve on a large platter or individual salad plates and arrange the delicate fava beans around the finished salad.
And do you want to turn your passion for wellbeing into a fulfilling career? Become a Certified Health Coach! Learn more here.