3 Exercise Myths That May Be Holding You Back, From A Marathoner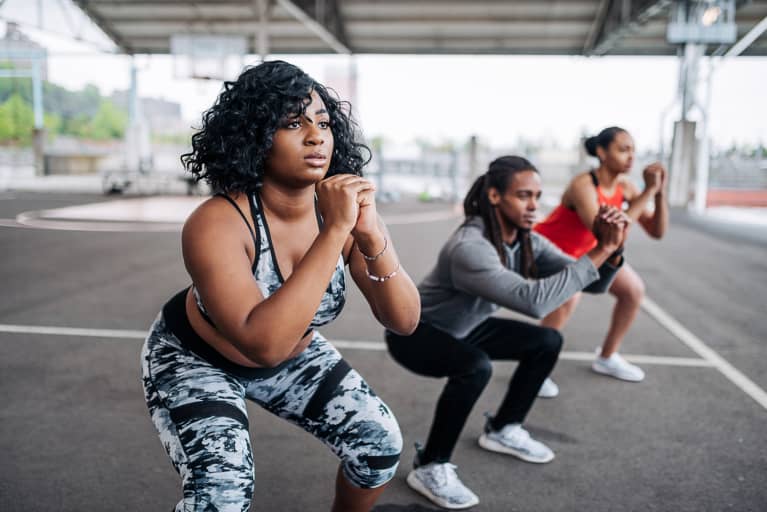 Our editors have independently chosen the products listed on this page. If you purchase something mentioned in this article, we may
earn a small commission
.
From swimming to cycling, physical activity is essential to supporting your overall well-being. However, certain forms of exercise such as running or weight lifting may seem daunting, particularly if you're interested in getting started but are bogged down by misconceptions.
Contrary to popular belief, nearly anyone can participate in any form of exercise that they enjoy, so long as they're making sure to be safe and listen to their body. If you're intimidated by running or starting to exercise in general, there are several ideas that must be debunked before you can pick up an activity you may love and approach it with a healthy mindset.
Recently on the mbg podcast, founder and co-CEO Jason Wachob spoke with the fastest known U.S.-born Black female marathoner, Samia Akbar, global marketing manager at New Balance to break down running and exercise myths so you can experience the benefits of working out without stress.
The myth: Intensity is more important than regular exercise.
The truth: Consistency is key.
When starting a new workout routine, it's far too easy to fall into the mindset that an intense exercise period every once in a while is more important than a regular routine. However, particularly in the case of running, this couldn't be further from the truth.
"Consistency is key," explains Akbar. "So when you're feeling like you've had too many days in a row or weeks in a row where you're falling off of your routine, it's not going to be the enjoyable experience that it really could be." That one workout a week that you're left feeling depleted after? That's right—it's not enough to hone your physical fitness.
But just as it's important to be consistent in getting out there, it's also crucial to listen to your body and what it can offer that day. "If you only have time to run 10 minutes, that's better than not doing anything at all," she adds.
The myth: If you don't run every day, you're not a runner.
The truth: If you run, you're a runner.
There are so many definitions floating around of what constitutes being an athlete, so we'll put it simply: if you run, you're a runner.
"I have a very inclusive view of running. If you run sometimes, then you're a runner," says Akbar. In instances like marathons and even small road races, there are always going to be varying levels of skill, but at the end of the day, everyone is on the same playing field.
"That's the one thing I love about running," adds Akbar. "You have 40,000 or 60,000 people competing together—the elites might be at the front, but you have people who are finishing a marathon in four and five hours. All in the same race, all doing the same course, at the same time."
The myth: Running or exercise should be a punishment.
The truth: Exercise is an opportunity to embrace your body for what it can do.
Many people begin their exercise journey with the misguided belief that it has to be unpleasant in order to reap the health benefits and support their body. However, running, or really any form of exercise, should be something you truly enjoy if you want the habit to stick.
"It doesn't have to be painful," says Akbar. "You don't know how many people I've met that start running after high school and college as a second sport and they [say], '[Running] was our punishment for not doing something right on the field or on the basketball court.'"
Instead, Akbar notes that people would benefit from framing exercise as something they're able to do—and even look forward to. "I hope that people can just think of it in this light of wellness and adhering to the principles that we're talking about—whether it's moving your body, getting out in nature, or being with others. Those things are really, really key," she says.
If you're just starting a new form of exercise or have been curious about running but are deterred by common misconceptions, you can rest assured that regardless of how you choose to begin your fitness journey it should never feel like a punishment. When it comes to running, you are still a runner even if you're not training for a race or breaking records, and with all exercise, consistency is key for seeing results.
It can be daunting to begin your fitness journey with a set of preconceived notions on how it should go, but setting yourself free from these ideas can make working out that much more enjoyable.