Vitamin D Levels Can Be Tricky To Raise, But Reviewers Swear By This Solution

Registered Dietitian Nutritionist
By Molly Knudsen, M.S., RDN
Registered Dietitian Nutritionist
Molly Knudsen, M.S., RDN is a Registered Dietician Nutritionist with a bachelor's degree in nutrition from Texas Christian University and a master's in nutrition interventions, communication, and behavior change from Tufts University. She lives in Newport Beach, California, and enjoys connecting people to the food they eat and how it influences health and wellbeing.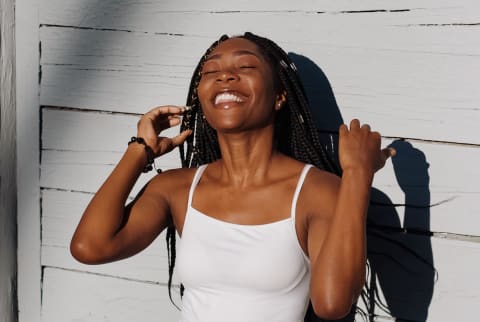 Image by Maingaila Muvundika / Stocksy
September 13, 2023
For many, getting their vitamin D levels to cross the threshold of adequate (let alone optimal) is a huge feat. After all, 41% of us1 are insufficient in the sunshine vitamin. While eating foods rich in vitamin D and getting healthy amounts of sunshine are all great places to start, those alone likely aren't enough to significantly move the needle.
After a few months, you should be able to see the difference.
What to know about vitamin D, supplements & blood testing
This blood test looks at your total serum 25-hydroxyvitamin D—or 25(OH)D—which is the most accurate way to measure how much of this vitamin is circulating in your blood.
Now, 30 ng/mL is typically considered the lowest cutoff for avoiding insufficiency (less than 20 ng/mL is considered deficient.
But scientific research and many experts—including board-certified endocrinologist Brittany Henderson, M.D.—recommend a higher threshold for optimal health, around 50 ng/mL.
That's because vitamin D receptors are found all over the body (from your brain to your liver, gut, and reproductive organs, to name a few) and therefore influence:*
So, higher concentrations of vitamin D circulating in your blood mean enough of this vitamin is available for your body to take full advantage of all it has to offer.
But vitamin D levels can be tricky to raise (without the right tools)
Vitamin D levels can be sticky—not wanting to budge past a certain point.
Food, sunshine, and supplements all impact your vitamin D levels. But food and sunshine alone rarely deliver enough vitamin D to move you beyond insufficient. For example, getting the expert-recommended 5,000 IU of vitamin D from milk would require drinking 50 glasses.
Even some vitamin D supplements may be ineffective if they don't offer the optimal form of vitamin D (D2 vs. D3), if the dose is too low (less than 5,000 IU), and if they aren't taken with optimal absorption in mind.
And since vitamin D is best absorbed in the presence of fat, we included a built-in trio of organic avocado, flaxseed, and olive oil.
Here's what reviewers have to say about their vitamin D status after consistently taking vitamin D3 potency+.
My lab results improved
"Last year my labs showed that my vitamin D levels were on the border. After taking mindbodygreen vitamin D+, my recent lab results are the optimum range for vitamin D."*
Keeps my vitamin D levels in the healthy range
"Such an important supplement to take living in the Pacific Northwest. The last time I had my vitamin D levels checked, it was right where it should be!"*
I noticed improvements in the first few months
"Within three months of using mindbodygreen's D3 formula, my D3 levels went up by 10 points. It might not sound like a lot, but it's the first time I've been able to effectively move the needle just with supplementation,"*
Great option for vitamin D supplements
"Going dairy-free, I became Vitamin D deficient. Other options on the market were poor in taste, with that lasting hours. Recent testing, I am no longer deficient and have no lingering aftertaste!"*
Great product!
"I trust the purity of these Vitamin D3 capsules and they are easy to swallow. I definitely recommend this to all who want to fortify their immunity."*
It raised my vitamin D levels by 10 points
"So far so good. It raised my levels on blood work 10 points after taking the D3 for 30 days. I will do blood work again but this time I'll have taken 90 days……can't wait to see!"*
High-quality supplements make a difference
"Easy to swallow, no bad taste, and most importantly I'm finally seeing results in regulating my vitamin D level, which I wasn't seeing with over-the-counter vitamin D. Quality product that I am thankful I found."*
Seems better than others
"We all need extra vitamin D, and this version seems to be the best I've tried!"*
The takeaway 
Achieving and sustaining optimal levels of vitamin D are possible with the help of a high-quality D3 supplement like mindbodygreen's vitamin D3 potency+.
Even with regular use of a supplement like this, it can still take around three months to see shifts in your blood work. Be patient and consistent and the results will be (objectively) apparent.
If you are pregnant, breastfeeding, or taking medications, consult with your doctor before starting a supplement routine. It is always optimal to consult with a health care provider when considering what supplements are right for you.