This Derm Thinks You Should Cool It On The Social Media Skin Care Trends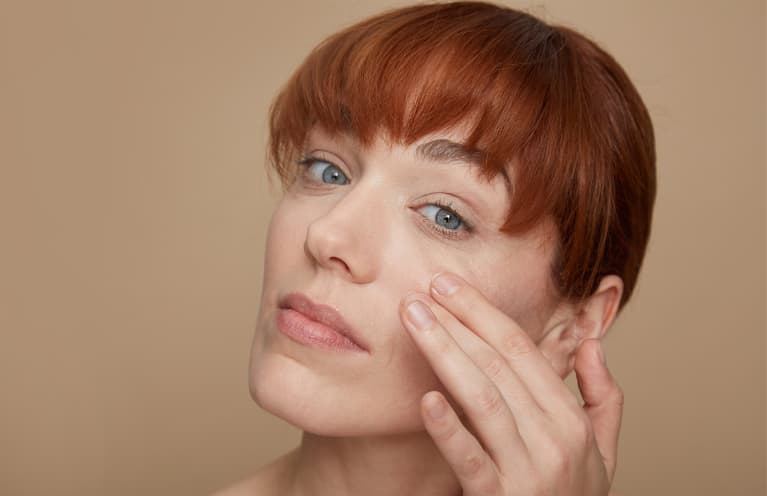 You heard it here first, folks: Social media is ripe for misinformation. Just kidding, we know that message is pretty consistently espoused (and proven). It's true for all areas of content, skin and beauty included.
And in this episode of Clean Beauty School, I chatted with board-certified Kavita Mariwalla, M.D., a skin care practitioner who is effortlessly reasonable, accessible, and thoughtful. In the episode, we talked about why we all get so sucked up in overcomplicated routines filled with buzzy (and questionable) products or treatments.
The first social media trend that needed to be evaluated? Well, overcomplicating our skin care routine, of course.
Trend: Overdone skin care routines. 
If you spend a good chunk of time on Instagram or TikTok (hi), you're sure to walk away thinking you need to add at least a dozen more steps and a tool or two to your beauty lineup. But as Mariwalla reminds us, your skin does a pretty good job of caring for itself—without excessive interference from you. "Remember, your skin is a living, breathing organ, and it wants to renew itself. It does a good job at that if you just let it be," she says.
Skin anatomy aside, there's also a practical end to this: An overcomplicated skin routine isn't sustainable for most of us day in and day out.
"My skin care philosophy is about meeting the person where they are at that point in their life; what you can do as a 25-year-old and what you can do as a 30-year-old with a newborn are very different things," she says. "It's not about if you theoretically should use a 10-step routine, because if you can only manage two steps, why are we talking about the other eight? It's about being practical."
For those who haven't seen this pop up on their For You page, dermablading is basically just shaving your facial skin and baby hairs with a handheld single-blade razor. Many influencers—especially makeup artists—have turned to dermablading to create an impossibly smooth canvas for their makeup and act as a physical exfoliant.
"I think people have somehow made pores and hair the enemy. It's OK to have fine baby hairs on your face," says Mariwalla. "I think what happens is that people look at their face in daylight in a little mirror and they see light reflecting off some small baby blond hairs, and they think they need to get rid of them. But what I always explain to people is that if someone is getting close enough to see those, they aren't concerned about how smooth your skin is—they're trying to kiss you."
But it's not just skin care overkill that bothers her—in the grow-back process, it may trigger ingrowns. And if your argument is that it's an exfoliant, do I have news for you: There are other ways to gently and safely exfoliate your skin.
Trend: You need a top-shelf moisturizer.
Listen: Spend your money as you see fit. If you have a favorite face cream that just screams your name and bank account, by all means. But as far as needing a more expensive face cream in order to be more effective? Well, that's simply not true.
"I think moisturizer is a totally overrated expense in the skin care category. Expensive moisturizers do not hydrate your skin more—the act of moisturizing your skin is accomplished by certain ingredients," she says, noting that those raw materials are more or less comparably priced across the board. So it's more important that you find an option that suits your specific needs and skin type—regardless of budget.
Now with all that money you just saved on moisturizer, you can go ahead and splurge where it counts: actives and serums. "If you want an active, well, that's a different story—that you want to spend money on as bioavailability and formulations matter. So your vitamin C, retinol, niacinamide, and things like that—go ahead and find the more expensive options within your budget," she notes.
Want more genius tips like the above? Listen in to the below.