8 Best Teas For Soothing A Sore Throat, According To Experts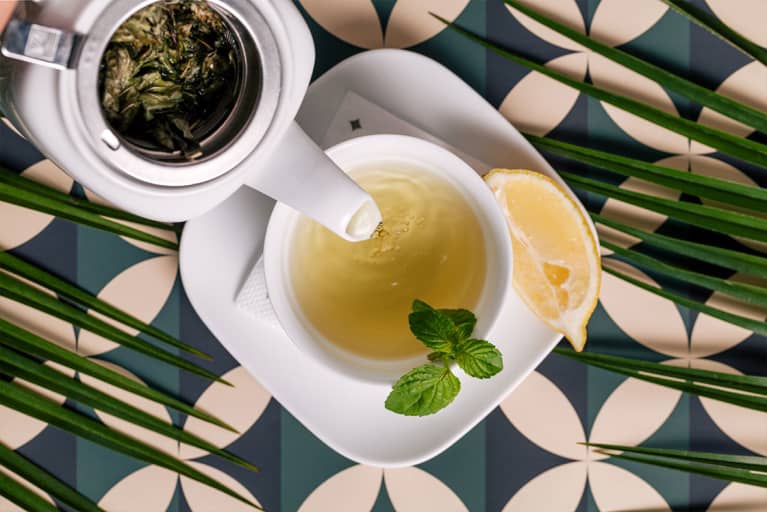 Our editors have independently chosen the products listed on this page. If you purchase something mentioned in this article, we may
earn a small commission
.
Cold and flu season may have passed, but even with spring in full swing, you're still at risk of feeling under the weather with a sore throat. Whether it's from an infection or allergies, there's nothing fun about experiencing that pesky tickle and scratchy discomfort.
While it may not heal you overnight, tea with certain ingredients can be particularly helpful in mitigating your sore throat symptoms and providing relief.
Which of these warm brews will best soothe and support your achy throat? We rounded up our favorite science- and expert-backed options to help do the trick.
8 best teas for a sore throat.
Marshmallow Root
Heather Moday, M.D., of the Moday Center for Functional and Integrative Medicine, explains that, in general, the best tea ingredients for treating a sore throat are those with demulcent properties, such as marshmallow root. "A demulcent is a mucilaginous agent that forms a soothing film over the mucous membranes of the mouth and throat, relieving irritation, pain, and inflammation," she says. "This can also help soothe a cough reflex, especially with a dry cough."
Organic Marshmallow Root Herbal Supplement, Frontier Co-op (from $9.99); amazon.com, iherb.com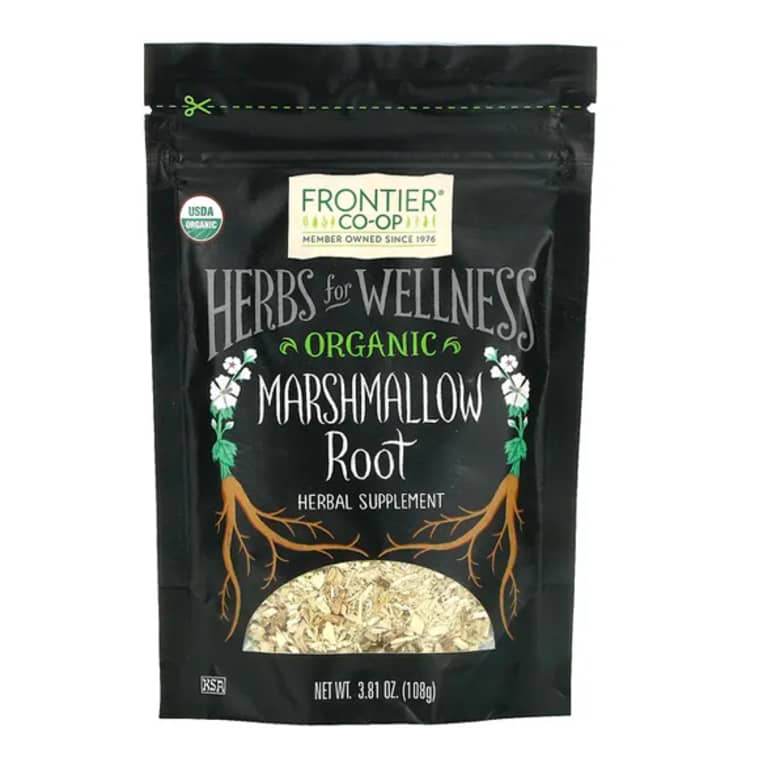 Frontier Co-op
Slippery Elm
Another ingredient with demulcent properties, slippery elm is perhaps one of the best teas for treating a sore throat while doing double-duty with stomach-easing support, as well. "The mucilage of [this] plant contains antioxidants as well as soothing properties," explains Moday. While the benefits claims are primarily backed by anecdotal evidence, it's recognized by experts as an ingredient to help offer throat and stomach ease, with minimal side effects.
Organic Throat Coat, Traditional Medicinals (from $4.99); target.com, amazon.com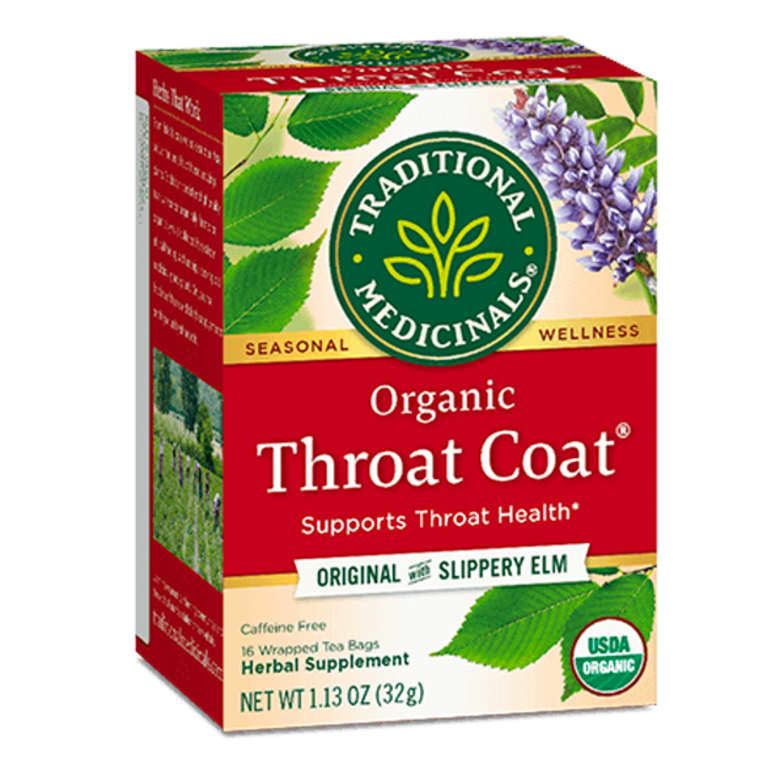 Traditional Medicinals
Licorice Root
Licorice root has some research to back its use for treating and reducing the severity of a sore throat. Specifically looking at its abilities to minimize the incidence of postoperative sore throat (POST), one study demonstrated that gargling licorice water may reduce discomfort. "Licorice root contains the ingredient glycyrrhizin as well as liquilitin and liquiritigenin which act as expectorant," explains Moday. This means licorice root can be useful in clearing mucus from your lungs, making it an asset during cold and allergy season.
Three Licorice, Pukka (from $17.10); amazon.com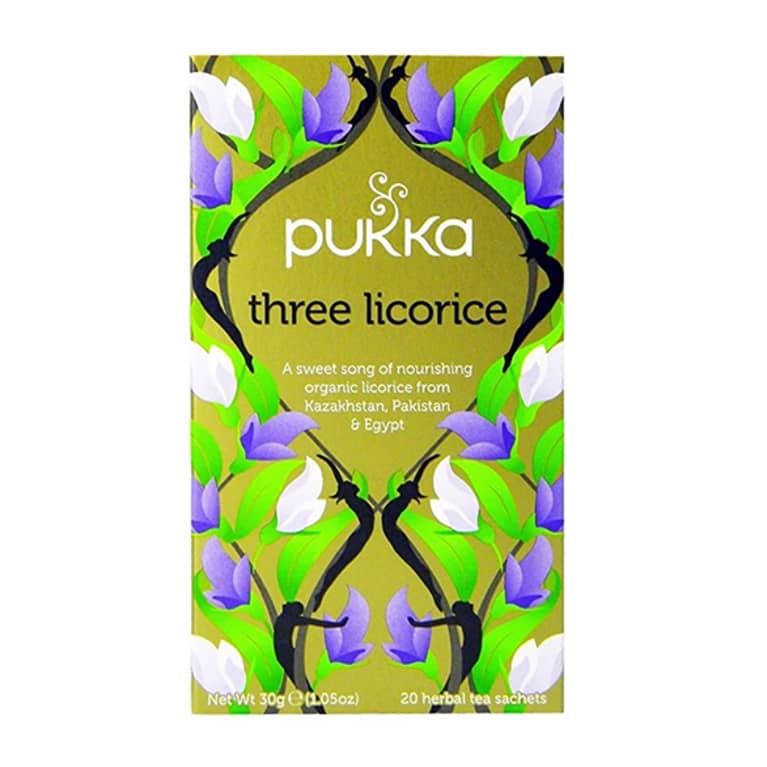 Pukka
Peppermint
If your sore throat is paired with a nasty cough, research suggests that peppermint tea may be up for the job due to the menthol it contains. "Mentha piperita (peppermint) contains menthol and exhibits antibacterial and antiviral properties as well as an antitussive effect," one study writes, noting that additional human research is needed for more conclusive evidence. Other notable benefits of peppermint tea are upset stomach relief and the clearing of sinuses.
Peppermint Amour Tea Organic, DAVIDsTEA (from $9.99); davidstea.com, amazon.com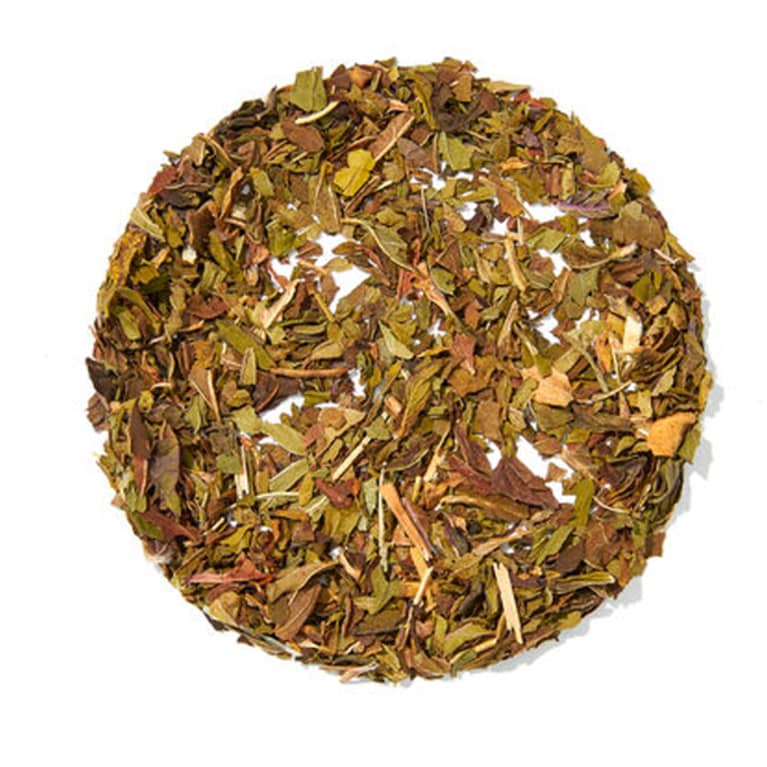 DAVIDsTEA
Chamomile
A sore throat due to a cold may be mitigated by sipping on a warm cup of chamomile tea, thanks to its antioxidant and antimicrobial activities. While human studies are limited, the herb has been shown to have soothing properties and may aid in lubricating the throat, which can lessen hoarseness and discomfort. Not to mention, chamomile can provide an antispasmodic effect that may ease nasty cough symptoms, too.
Pure Camomile, Twinings (from $7.96); iherb.com, amazon.com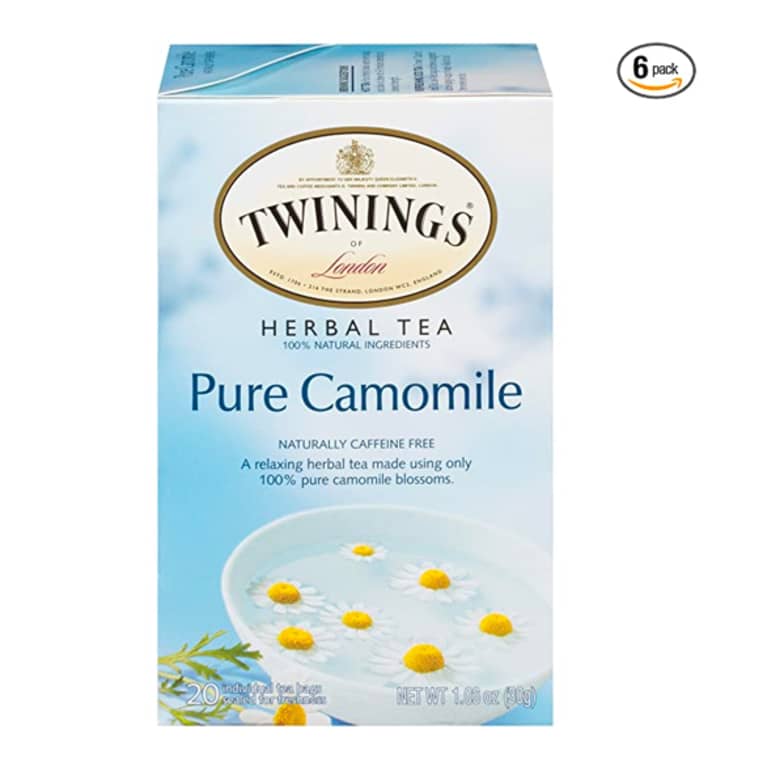 Twinings
White Horehound
A member of the mint family, horehound has been used for centuries in traditional medicine practices to help relieve cough symptoms. One Molecules study states it can help relieve cough, minimize hoarseness, and even help with bronchitis. While it's generally found in the form of a cough drop, you can also brew it as a tea. If you want to add even more of a throat-soothing kick to your cup, mixing honey into your hot drink will minimize discomfort.
White Horehound Tea, Buddha Teas (from $8.99); walmart.com, amazon.com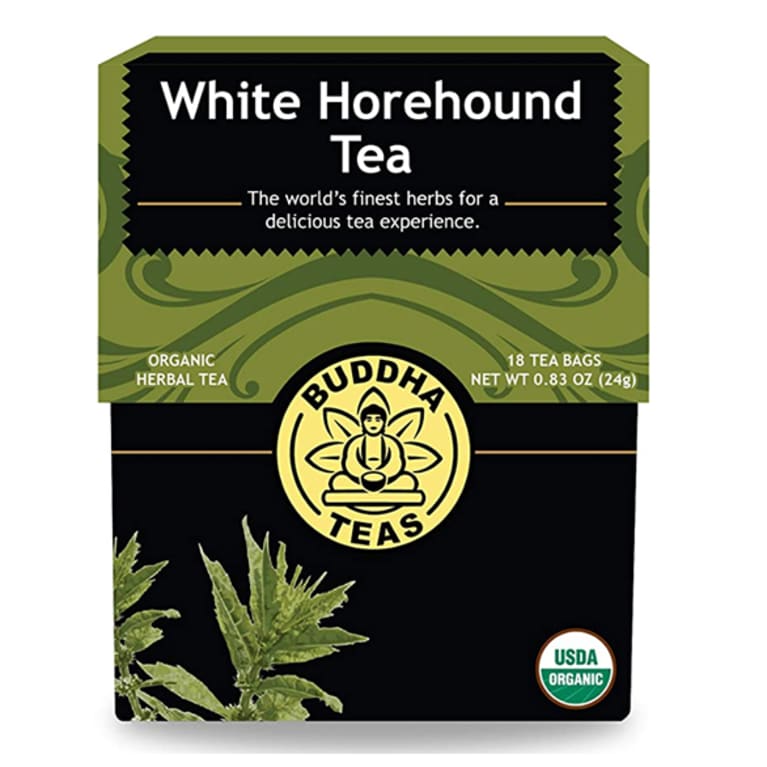 Buddha Teas
Turmeric
You might be noticing a pattern: Teas with anti-inflammatory properties can be some of the best for treating and soothing sore throats. Turmeric tea is another addition to the list, as it contains the compound curcumin, which has been extensively studied for its anti-inflammatory abilities and other health benefits. Turmeric is also a traditional Ayurvedic solution for ailments and discomfort in the body, including easing coughs and sore throats.
Turmeric Tantra Chai, Tea Forte (from $18); amazon.com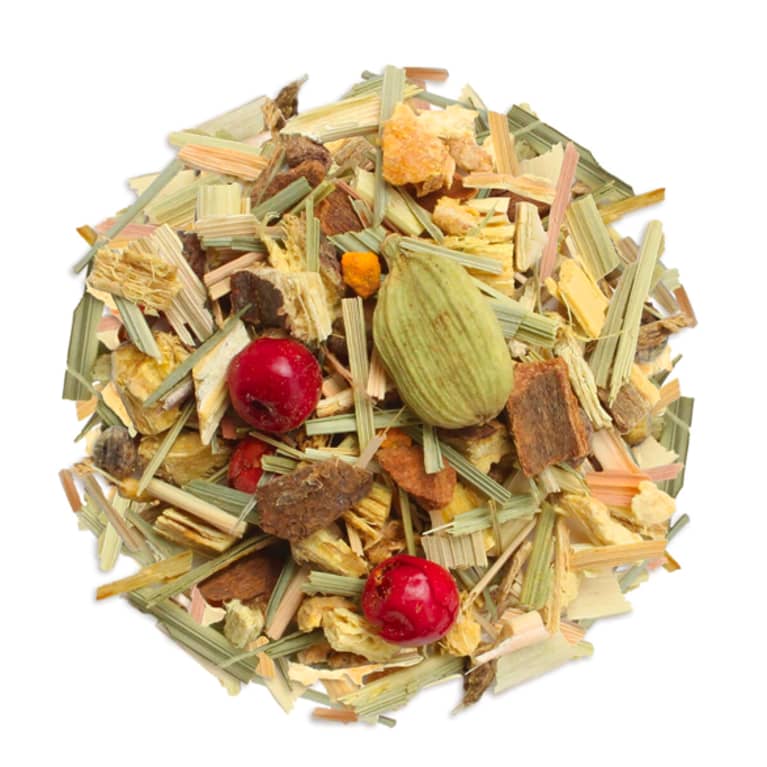 Tea Forte
Ginger
Studies have shown that ginger is great for treating swelling and inflammation, plus it has antimicrobial effects to help aid your immune system. For example, one study suggests that sipping ginger tea could help fight the RSV virus, which often causes respiratory problems. Brewing up a warm cup of ginger tea will not only help your throat feel better but will also address any underlying stomach discomfort.
Ginger Chai, Vahdam Teas (from $17.99); vahdamteas.com, amazon.com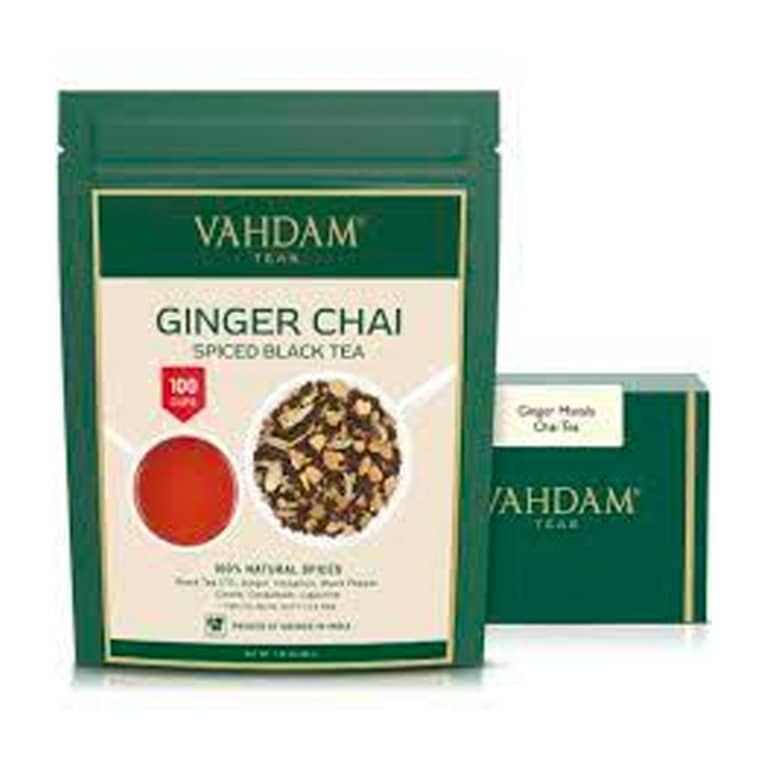 Vahdam Tea
Even if you aren't a big tea drinker, if a cold or allergies are getting you down and causing a scratchy and irritated throat, you may benefit from sipping on a warm beverage to ease your symptoms. Depending on the cause of your sore throat, certain ingredients may be more effective at relieving pain than others. But with notable anti-inflammatory and throat-coating properties, tea is perhaps one of the best natural remedies to support and improve your overall well-being.