5 Best Skin Hydrators For Your Brightest, Dewiest Complexion Yet

Beauty & Health Editor
By Jamie Schneider
Beauty & Health Editor
Jamie Schneider is the Beauty Editor at mindbodygreen. She has a B.A. in Organizational Studies and English from the University of Michigan, and her work has appeared in Coveteur, The Chill Times, and Wyld Skincare.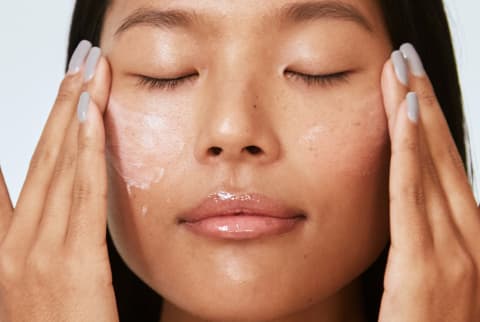 Image by ohlamour studio / Stocksy
June 23, 2021
Wednesday is National Hydration Day, and we'd be remiss not to carry the message over to skin care—we are beauty enthusiasts here, after all. As for gulping down gallons, we won't tell you that drinking tons of water is the secret to bright, plump skin—we can sense the eye rolls already. However, there is something to be said about the claim: Drinking the daily recommended amount of water for your body can increase the dermal layer1, which makes your skin more hydrated.
But of course, the road to hydrated skin is much more complex than refilling your water bottle or even eating water-dense foods. Sometimes it takes switching up your routine—whether you limit cleansers that strip your skin of moisture or add super-hydrating formulas into the mix.
If you're curious about the latter, you'll want to keep an eye out for these star ingredients. Below, find our favorite hydrators your skin will drink right up:
Let's start with the ultimate fan favorite: This hero of a plant has been used in skin care circles for centuries, namely for its wonderful hydrating capabilities.
"The leaf of the aloe vera plant is rich in water, particularly in the innermost layer, so it helps to hydrate the skin and lock in moisture," explains board-certified dermatologist Marisa Garshick, M.D., about aloe vera's benefits. "The sugars [it contains], also known as mucopolysaccharides, [also] help to retain moisture in the skin." Research backs up these stellar hydrating powers: When applied topically, aloe vera has been shown to increase the water content2 of the outermost layer of skin (or the stratum corneum).
Take a peek at your ingredient labels, and chances are you'll spot glycerin in the crowd. That's because the underrated humectant plays nice with virtually every active—salicylic acid, benzoyl peroxide, you name it—and contains a slew of skin care benefits.
"Along with hydration, glycerin helps with improving the function of the skin barrier, which helps prevent the loss of water, protecting the skin from irritation and improving wound healing in the skin," says board-certified dermatologist Raechele Cochran Gathers, M.D., about glycerin's benefits. So not only can glycerin help pull in water, but it also keeps water from seeping out. Double duty at its finest.
"It draws water into the stratum corneum, the top layer of the skin. It is a humectant, so it gives an immediate improvement in the way the skin looks—less ashy, dry, dull," holistic dermatologist Cybele Fishman, M.D., once told us. If you're in the market for an HA-infused product, these serums are the very best.
4.
Polyglutamic acid (PGA)
The "acid" part may sound fishy, but don't sweat: PGA is a humectant, not an exfoliant—similar to the aforementioned hyaluronic acid. In fact, "Polyglutamic acid is a powerful humectant that can hold four times more water than hyaluronic acid," says board-certified dermatologist Hadley King, M.D., about the ingredient. And PGA actually helps stabilize the HA you naturally have: It helps inhibit the enzymes that break down HA as you age, so your skin is able to hold on to more of it naturally.
Yes, these naturally occurring lipids actually help hold skin cells, collagen, and other skin components together (while keeping potential irritants out). But ceramides are naturally hydrating, too: The lipids condition the skin and help stop water from evaporating (aka transepidermal water loss). If you have dry, thirsty skin, a ceramide cream is a worthy grab—in fact, many products come brimming with other star hydrators, too, to ramp up the moisture.
The takeaway. 
There's no one route to hydrated skin, but these ingredients are beloved by many a beauty buff for their thirst-quenching abilities. Generally, you can do no wrong with any of these players; and if you really want to enhance the hydration, apply these ingredients on a damp face so they have an ideal environment to attract and pull water into your skin.

Jamie Schneider
Beauty & Health Editor
Jamie Schneider is the Beauty Editor at mindbodygreen. She has a B.A. in Organizational Studies and English from the University of Michigan, and her work has appeared in Coveteur, The Chill Times, and more. In her role at mbg, she reports on everything from the top beauty industry trends, to the gut-skin connection and the microbiome, to the latest expert makeup hacks. She currently lives in Brooklyn, New York.