The Best Organic CBD Oils Of 2023 + How To Choose The Right One For You

Commerce writer
By Lizzy Sherman
Commerce writer
Lizzy Sherman is an award-winning digital content writer and editor with previous bylines in Healthline, Cnet, Chowhound, and more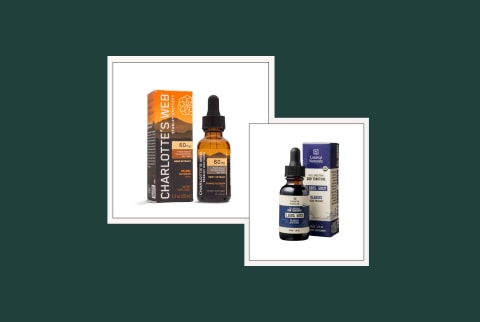 Last updated on May 3, 2023
Our editors have independently chosen the products listed on this page. If you purchase something mentioned in this article, we may
earn a small commission
.
When shopping for hemp CBD, it's important to know what to look for to verify that you're getting a high quality product. CBD is a relatively new supplement, and there's still a lack of regulation when it comes to quality control. Unfortunately, not all CBD brands are transparent about what they are selling.
Awareness of what to look for in the best organic CBD oil will help you select the right product for your needs. One thing to check for is the USDA organic label, an official designation that certifies the hemp plant is grown in accordance with federal guidelines for organic products. These rules include strict standards for soil quality and use of pesticides and additives.
The best organic CBD oils
Why should you pick an organic CBD Oil?
Research suggests that the hemp plant accumulates what's in its environment1, so the USDA organic label is particularly important. "The hemp plant is considered a bioremediator," says Mandy Bliss, APRN, FNP-BC, PMHNP-BC, lead clinician at Serenity Health in Louisville, Kentucky. "It pulls things like heavy metals, fungicides, pesticides, petroleum, and other contaminants from the soil." For instance, Bliss shares that the University of Kentucky is researching how hemp plants at the mouths of abandoned coal mines may help pull cobalt and other heavy metals from the soil.*
"When you've got the USDA certified organic stamp on a product, it's been heavily vetted to make sure that it doesn't have anything in it that could potentially be harmful," says Bliss.
Certifications for an organic CBD Oil
When examining certification for organic CBD oil, make sure the batch numbers on your product match the product you are buying. "Every time a new lot is tested, there should be a new certificate of analysis available," Bliss adds.
Look for the USDA organic symbol. It means due diligence has gone into ensuring certain standards are met, so if a manufacturer has this certification, it will likely be displayed proudly.
While some products feature ingredients that have been grown using organic practices, only the USDA organic label guarantees a product has been certified by the United States Department of Agriculture to contain 95% or more organic ingredients.
If you're wondering where you can find USDA organic CBD oils, keep scrolling to find our list of the best organic CBD oils of 2023, along with a cheat sheet on CBD dosage and tips on how to pick the right oil for you.
Your cheat sheet to CBD dosage
Gentle: Less than 20 mg of hemp CBD per serving
Moderate: 20 to 39 mg of hemp CBD per serving
Strong: 40+ mg of hemp CBD per serving
How we picked
Testing & transparency
CBD products should always be tested by a reputable third party. The certificate of analysis (COA) should show that the specific batch for the product meets the advertised amounts of CBD and falls under limits for heavy metals, mold, and microbes.
Potency
We looked at how much CBD is in each product and included gentle, moderate, and strong oils to accommodate a variety of preferences.
Ingredients
Each product on our list is USDA certified organic, with ingredients sourced from organic farms. We also looked at the phytocannabinoids from hemp extract used in the product to find a range of options for all needs.
Value
We calculated the cost per mg of CBD for each option to help compare the overall value of each pick.
The best organic CBD oils of 2023:
Advertisement
This ad is displayed using third party content and we do not control its accessibility features.
Advertisement
This ad is displayed using third party content and we do not control its accessibility features.
Advertisement
This ad is displayed using third party content and we do not control its accessibility features.
The benefits of CBD oil
CBD affects everyone differently, and research on its benefits is still ongoing. That said, reviewers of CBD products anecdotally share that they believe CBD has helped them with better sleep, pain relief, feeling more relaxed, and reducing anxiety.*
Are there any side effects of CBD oil?
Again, research is ongoing, but professor and chief of pain medicine at UC Davis, David Copenhaver, M.D, M.P.H, previously told mindbodygreen that the side effect risks for CBD are relatively low.
Keep in mind, taking any CBD oil product, even isolates, can potentially result in a positive drug test.
FAQ:
What is the most trusted brand of CBD?

If you are searching for a trusted CBD brand, a good place to start is by indentifying companies that manufacture USDA organic products, since this requires adherence to stringent quality control measures. Other certifications to consider include B Corp certification and brands that follow current Good Manufacturing Practices (cGMP).
Is organic CBD oil better?

The USDA organic label is one way to ensure you are getting a better quality product. To earn the certification, the farms where the ingredients are grown must pass strict rules when it comes to soil quality, pesticides, and additives.
The takeaway
As more CBD brands enter the market, it's important to know what to look for to select a safe and trusted product. Locating the USDA organic symbol on your label is a great place to start to ensure you are getting a high quality oil. To continue your CBD journey, check out our picks for the best CBD products for stress or the best CBD gummies for sleep.
Summary
*These statements have not been evaluated by the Food and Drug Administration. These products are not intended to diagnose, treat, cure, or prevent any disease.
If you are pregnant, breastfeeding, or taking medications, consult with your doctor before starting a supplement routine. It is always optimal to consult with a health care provider when considering what supplements are right for you.
Meet The Experts
Lizzy Sherman
is an award-winning digital content writer and editor with previous bylines in Healthline, Cnet, Chowhound, and more
Eloise Theisen is a board-certified Adult Geriatric Nurse Practitioner who specializes in cannabis therapy.