CBD Oils For Joint Pain: Where The Research Stands + Our Top Picks

Commerce writer
By Lizzy Sherman
Commerce writer
Lizzy Sherman is an award-winning digital content writer and editor with previous bylines in Healthline, Cnet, Chowhound, and more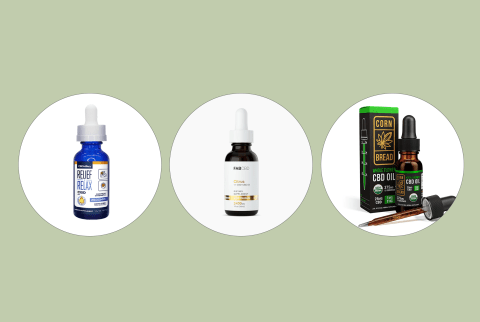 March 11, 2023
We carefully vet all products and services featured on mindbodygreen using our
commerce guidelines.
Our selections are never influenced by the commissions earned from our links.
Disclaimer: Our website includes general information and instruction relating to health and wellness topics. This content is not a substitute for medical advice from your health care provider. All treatment decisions should be determined in partnership with a health care practitioner. Hemp CBD products are derived from U.S. industrial hemp (less than 0.3% THC) and European hemp (less than 0.2% THC). While hemp is legal on a federal level in the U.S., some states have specific laws, so you'll want to check your state's laws to be sure.
That being said, hemp CBD has quickly become a popular option for those hoping to support their joint comfort efforts. While research is still needed into the use of hemp CBD for pain management, anecdotal evidence from many users supports the benefits of hemp CBD oils for joint pain.*
Below, we'll break down the science behind cannabidiol's effects on joint health and share our top picks for the best hemp CBD oils for joint pain.*
The best cbd oils for joint pain:
The best cbd oils for joint pain:
Your body & how it interacts with CBD
The key to understanding the effect of hemp CBD on your body begins with the endocannabinoid system or ECS. Discovered in the early 1990s, the ECS is often called the "master regulatory system" because of its importance in maintaining homeostasis (aka balance); it helps moderate everything from pain regulation and mood to sleep and appetite.
The ECS consists of endocannabinoids, enzymes, and cannabinoid receptors, which interact and trigger a "cascade of downstream effects," per previous interview with Jessica Knox, M.D., MPH, co-founder of the American Cannabinoid Clinics and a preventive medicine physician.
Your body can get cannabinoids in two ways. The first is synthesizing cannabinoids from polyunsaturated fatty acids4 (omega-3 and omega-6 fatty acids, for example), which are called endocannabinoids. Another complementary option is ingesting cannabinoids from plants a.k.a. phytocannabinoids.
Low levels of cannabinoids or an "endocannabinoid deficiency"5 (aka low endocannabinoid tone) has been linked to a variety of health concerns. However, supplementing with phytocannabinoids from hemp is believed by many experts to help bring the body back to homeostasis.*
Phytocannabinoids influence your ECS by interacting with cannabinoid receptors and blocking enzymes that break down intrinsic endocannabinoids produced by your body, helping further their actions. Cannabidol, or CBD, is believed to fall into the latter category, but research is still young and emerging.
CBD oil & joint pain
Because the ECS plays a role in pain management, it's not far off to assume that hemp cannabinoids, including CBD, can impact joint comfort. Unfortunately, research on the link between hemp CBD and pain is still in the early stages—luckily what has been uncovered seems promising.
A 2017 study6 in rats found that a localized injection of hemp CBD could help with joint comfort. Another preclinical animal study using topical application of hemp CBD7 had similar findings, showing it could help reduce joint swelling and discomfort. Just remember: Both studies use rodent models, not people (so more to come!).
As interest in hemp CBD continues to grow, several universities have even developed research programs dedicated to increasing the study of cannabis, including hemp varietals—including UC Davis.
Professor and chief of pain medicine at UC Davis, David Copenhaver, M.D., M.P.H, says ongoing research has created a "new understanding of what's called the immune inflammatory response." This research suggests specific types of CBD support a healthy inflammatory response by altering the immune response; as a result, Copenhaver says "CBD has a role when used in prudent fashion for joint pain."*
Just remember CBD products from industrial hemp (i.e., contains less than 0.3% THC by legal definition) are not pharmaceuticals (nor are they marijuana or medical cannabis), and it's important to consult with your medical care provider before starting any supplement routine.
Again, hemp CBD affects each person differently. For a baseline reference, here's how we categorize hemp CBD potency here at mindbodygreen:
Your cheat sheet to CBD dosage.
Gentle: Less than 20 mg of hemp CBD per serving
Moderate: 20 to 39 mg of hemp CBD per serving
Strong: 40+ mg of hemp CBD per serving
How we picked:
Testing
Products should be tested by a reputable third party. The CBD product certificate of analysis (COA) should show that the product meets the advertised amounts of CBD and falls under limits for heavy metals, mold, and microbes.
Potency
We looked at how much CBD is delivered per serving to ensure all products included offered at least a moderate dose of CBD (at least 20 mg of CBD per serving).
Ingredients
We looked at the phytocannabinoids from hemp extract used in the product to find a range of options for all needs, including THC-free picks. We prioritized organic options when possible, opting for the cleanest ingredient lists.
Value
We calculated the cost per mg of CBD for each option to help compare the overall value of each pick. Our team also highlighted discount subscription bundles when available.
Our picks for the best cbd oils for joint pain:
Advertisement
This ad is displayed using third party content and we do not control its accessibility features.
Advertisement
This ad is displayed using third party content and we do not control its accessibility features.
Advertisement
This ad is displayed using third party content and we do not control its accessibility features.
FAQ:
What type of CBD is best for joint pain?

Hemp CBD products affect everyone differently, so it's important to consult with your medical provider to help determine which CBD options may be a good fit for you personally.

Popular CBD products that consumers try for joint pain include CBD oil tinctures and topical creams. According to a survey from The Arthritis Foundation of 2,600 people, 62% of CBD users surveyed use a liquid form of CBD and 55% use a topical product to help with pain symptoms.*

Copenhaver shares that though CBD products are generally considered to be low risk overall, people can have different sensitivities and allergies so it's best to "start low and go slow" when trying new CBD products.
Is CBD cream or oil better for joint pain?

Again, it's important to consult with your medical provider to help determine which CBD options are the best fit for your personal needs.

Oils and creams have different methods of CBD delivery to the body. CBD oils are often taken under the tongue (sublingually) or added to food or beverages, and then enter the body systemically, while CBD creams are applied topically to the skin.
What is CBD oil?

Hemp CBD oil tinctures are oils that contain cannabinoids from the Cannabis sativa hemp plant and a carrier oil (aka diluent) such as MCT oil from coconut or hemp seed oil. The oils can legally contain up to 0.3% THC by dry weight in the United States (while the limit is 0.2% THC for European hemp). Sometimes hemp tinctures will also contain added phytocannabinoids, terpenes, or flavorings. Hemp extract options include full-spectrum, broad-spectrum, or CBD isolate formulas.

Full-spectrum hemp has all extracts of the cannabis plant, including CBD, other cannabinoids (including less than 0.3% THC), terpenes, flavonoids, and essential oils. Broad-spectrum hemp extracts are similar to full-spectrum CBD, but they remove the THC. Isolate products only feature CBD and thus, contain no THC.
The takeaway.
As hemp CBD becomes more widely and easily available, people experiencing joint pain have the opportunity to explore this powerful plant to support joint comfort and mobility.* While preliminary mechanistic and preclinical research support CBD oil's potential role in pain relief, CBD affects everyone differently.* Consult with your medical provider to help determine the best CBD oil for joint pain tailored to your specific needs.*
*These statements have not been evaluated by the Food and Drug Administration. These products are not intended to diagnose, treat, cure, or prevent any disease.
If you are pregnant, breastfeeding, or taking medications, consult with your doctor before starting a supplement routine. It is always optimal to consult with a health care provider when considering what supplements are right for you.
Meet The Experts
Lizzy Sherman
is an award-winning digital content writer and editor with previous bylines in Healthline, Cnet, Chowhound, and more
Eloise Theisen is a board-certified Adult Geriatric Nurse Practitioner who specializes in cannabis therapy.