I Have Sensitive Skin & This Is The Best Natural Facial Cleanser I've Ever Used

Contributing Health & Nutrition Editor
By Stephanie Eckelkamp
Contributing Health & Nutrition Editor
Stephanie Eckelkamp is a writer and editor who has been working for leading health publications for the past 10 years. She received her B.S. in journalism from Syracuse University with a minor in nutrition.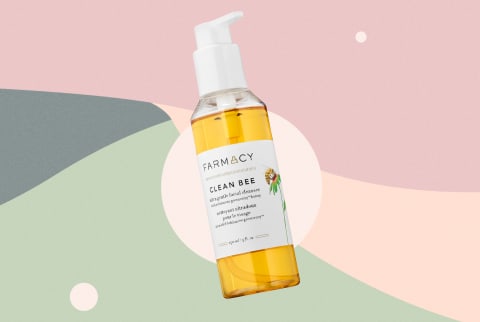 March 6, 2019
As I've gotten older, my skin has become weirdly sensitive. Case in point: I recently bought a hydrating facial mist from a well-known natural brand, and seconds after the first spritz, my face broke out in red blotches. And, more times than I can count, I've purchased "gentle" cleansers that either leave me with irritated, flaky patches or don't leave me feeling very clean at all—the old Goldilocks scenario.
So, I've been on a quest to find something that adequately lifts excess oil and makeup while leaving enough of my natural oils intact to support and protect my skin's barrier. And damn it, I finally found one! As of right now, I've been using Farmacy's Clean Bee Ultra-Gentle Facial Cleanser ($28) morning and night for two months, and I literally have zero complaints. Bonus: I still have half a bottle left—a little goes a long way.
Advertisement
This ad is displayed using third party content and we do not control its accessibility features.
What makes it so special? Well, I was initially drawn in by the pretty packaging (what can I say, I'm a sucker for cute honeybees and botanicals) and the "ultra-gentle" claim, which is why I bought it. But what's even more impressive is the actual ingredient list.
First, let's talk about the star ingredient: honey. In addition to being a natural humectant, honey has potent anti-inflammatory, antimicrobial, and antioxidant properties, which makes it ideal for supporting sensitive skin types. As an added bonus, the honey in all of Farmacy's products is produced without pesticides on their own farms by bees that pollinate antioxidant-packed echinacea GreenEnvy flowers. Other bee-produced goodies in this cleanser include propolis and royal jelly, which offer even more antioxidant protection and may help boost skin's collagen production.
For hydrating and plumping power, this cleanser contains hyaluronic acid, another natural humectant that's great at drawing moisture into the top layer of skin. Also in the mix: soothing ingredients like aloe, licorice root, chamomile, and turmeric to further help calm skin and combat redness that can be associated with conditions like acne and rosacea. And that golden hue is totally natural—there's no artificial coloring in this product (or artificial fragrance, phthalates, parabens, or sulfates for that matter).
Beyond the stellar ingredient lineup, this cleanser is just plain enjoyable to use. I actually look forward to washing my face, which has never been a thing. One pump is all you need to create a soft, subtle lather that feels incredibly luxurious on your face. As an added perk, it has a delicious natural honey aroma. While Clean Bee works well by itself (this is how I use it in the morning), it's also a great gentle follow-up to a cleansing oil at night if you're into the whole double-cleansing method to help remove clingy makeup and grime from the day (even alone it removes most makeup, except for seriously persistent mascara).
Moral of the story: I've found my soul mate, and it's this facial cleanser. Do yourself a favor and try it out if you have sensitive skin. The intoxicating scent alone is enough to get you hooked.
Advertisement
This ad is displayed using third party content and we do not control its accessibility features.