The 10 Best Electrolyte Powders Of 2023 To Keep Your Body Hydrated


Expert review by
Emma Engler, M.S.
mbg Nutrition Research Scientist
Emma Engler, M.S., is a Nutrition Research Scientist at mindbodygreen supporting nutrition product research, development, and innovation, as well as science education and communications.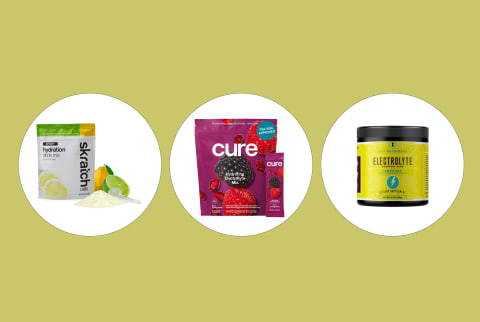 Last updated on May 12, 2023
Our editors have independently chosen the products listed on this page. If you purchase something mentioned in this article, we may
earn a small commission
.
Doctors, nutritionists, and fitness experts unanimously agree that staying hydrated is a crucial component of overall health. Hydration impacts energy levels, brain function, digestion, muscle health, skin health, sleep, and more. Still, research shows 75% of Americans struggle with hydration1. Because mineral balance is key to hydration pathways in our body, the best electrolyte powders can be used to help you stay hydrated and replenish some nutrients you may be lacking.
News flash: Water isn't the only factor that plays into hydration. When your body loses water and becomes dehydrated, you are also losing other nutrients, such as sodium (which is required by the body to maintain proper fluid balance).
Below, learn from experts about the importance of electrolytes and the benefits of electrolyte balance, and find our picks for the best electrolyte powders of 2023.
The best electrolyte powders of 2023:
What are electrolytes?
"Hydration is vitally important to your overall health," agrees Jennifer Hankenson, M.D., Yale Medicine physical medicine and rehabilitation physician and assistant professor of orthopaedics and rehabilitation at Yale School of Medicine. In addition to water, your body needs essential minerals to regulate fluid balance and regulate cellular processes in the body. "These minerals are called electrolytes and include sodium, chloride, calcium, potassium, phosphorus, and magnesium," Hankenson explains.
Essentially, she says, "Electrolytes work as gatekeepers that regulate cell activities such as muscle contraction, controlling pH balance and many other critical bodily functions."
Jackie Newgent, RDN, CDN, plant-forward culinary nutritionist, adds that the human body does an amazing job of naturally regulating electrolytes—but they can get out of whack when the amount of water in your body changes. Per the U.S. National Library of Medicine, you should aim to take in the same amount of water you lose. Too little water will result in dehydration and too much, overhydration. "If you experience a more serious electrolyte imbalance, whether too low or too high, it can have potentially serious negative effects on your heartbeat, since your heart is a muscle after all," Newgent says.
Tara Collingwood, M.S., RDN, CSSD, LD/N, ACSM-CPT, a board-certified sports dietitian, adds that electrolytes are most commonly lost through sweat, or when your fluid balance is off from other health circumstances.
In some of these cases, people may require more than just a tall glass of water. "That's because when you're experiencing dehydration, like from excessive sweating, it means you have an imbalance of electrolytes and body fluid, not just fluid," Newgent explains. "Fluid-electrolyte balance is what's important for proper hydration."
This is where an electrolyte powder, which usually comes in individual packets ready to mix with water or another liquid, comes in. "It helps replace the electrolytes we lose,"* Collingwood confirms.
The benefits of an electrolyte powder
The biggest benefit of electrolyte powders is that they can help replace the electrolytes your body loses through sweat or a fluid imbalance, says Collingwood. In fact, she says drinking water enhanced with electrolyte powder is one of the fastest ways to replenish electrolytes.*
Even so, there are potential downsides to consider when thinking about purchasing an electrolyte powder. Per Hankenson, while sodium is a very important electrolyte, "In high amounts it can cause health concerns such as fluid retention, especially in individuals with specific health considerations that affect the kidneys or heart." Additionally, you'll want to be mindful of sugars, artificial sweeteners, and synthetic dyes. As with any nutritional supplement, be sure to read the ingredient label carefully.
Who should use electrolyte powder?
Collingwood says many people do not need to use an electrolyte powder, as the general population is getting plenty of sodium and often gets adequate amounts of other electrolyte minerals if they are consuming a healthful diet from natural sources, including fruits, vegetables, and dairy products.
Hankenson recommends electrolyte supplements in specific cases, for example, if you are exercising in the heat, engaging in prolonged exercise, if you visit or live in a high altitude (including airplane travel), or on other occasions of substantial water loss.
When taking an electrolyte powder, exactly when you incorporate them into your hydration routine matters, too. "Most individuals do not benefit from pre-hydrating with electrolytes before workouts, and it is better to stick to water leading up to your workout," Hankenson says. During a workout, on the other hand, you may benefit from hydrating with electrolyte-enhanced options if you are working out on a hot day or in high humidity. You will also benefit from replenishing electrolytes starting at 45 to 60 minutes into a vigorous workout.*
"Post-workout is the most imperative time to rehydrate, as you want to restore body weight lost to suboptimal hydration," Hankenson adds. "Electrolyte shifts after intense prolonged workouts can lead to serious health consequences, which is why electrolyte-enhanced fluids can be the best option in this critical recovery period."
Signs your electrolyte balance is off
So, how do you know if you should supplement with an electrolyte powder? Various factors, including the person's size, sweat rate, duration of exercise, and sweat concentration, will impact whether or not you should use an electrolyte powder—as well as how often. If you aren't sure, we recommend speaking with a nutritionist or your doctor. Concerns relating to a lack of electrolyte balance include dizziness, tiredness, stomach upset, and muscle cramping, Collingwood explains. Other signs might be more serious (in the medical realm) and even involve cardiovascular health, so partnering with a health care practitioner is key in those instances.
How to choose an electrolyte powder
If you are in a situation where you have excess fluid loss, Hankenson recommends looking for an electrolyte supplement that includes the essential electrolytes. "A good electrolyte supplement will have sodium, potassium, calcium, and magnesium. Some supplements may also contain chloride, phosphorus, or other vitamins and minerals," she says. Because some individuals might need to watch their sodium intake levels, those with personal health concerns should consult with their physician prior to taking electrolyte supplements.
On the sugar front, you'll find that some electrolyte powders contain added sugar or artificial sweeteners. While Hankenson says, "These sugars can be helpful for athletes that not only need to replenish electrolytes but also benefit from carbohydrates that provide energy to maintain prolonged physical activity," many people are better off avoiding sugary drinks.
Lastly, some electrolyte powders contain caffeine. "In certain instances, such as athletic performance, caffeine can be beneficial," says Hankenson. However, consideration should be used when taking these supplements because caffeine can contribute to dehydration (specifically with excess caffeine intake) or caffeine "jitters" for some.
How we picked:
Quality and brand reliability
Each brand we chose has a strong reputation in the health, fitness, or wellness realm—and many of the products undergo third-party certification for testing or other noteworthy attributes.
Expert insight
We interviewed three experts, using their advice and insight to guide our product selections. These picks have also been reviewed by our vice president of scientific affairs Ashley Jordan Ferira, Ph.D., RDN.
Ingredients
A product is only as good as its ingredients, so we paid close attention to every ingredient listed. Because there isn't a one-size-fits-all product, we selected the best electrolyte powders for various lifestyles and concerns.
Reviews
Consumer input matters. We poured through hundreds of reviews when choosing the best electrolyte powders, paying attention to what customers liked and didn't like about each of the products researched.
Our picks for the best electrolyte powders of 2023:
Advertisement
This ad is displayed using third party content and we do not control its accessibility features.
Advertisement
This ad is displayed using third party content and we do not control its accessibility features.
Advertisement
This ad is displayed using third party content and we do not control its accessibility features.
Advertisement
This ad is displayed using third party content and we do not control its accessibility features.
Advertisement
This ad is displayed using third party content and we do not control its accessibility features.
FAQ:
Are powdered electrolytes good for you?

While generally high sodium, powdered electrolytes are a good supplement for anyone who isn't getting these nutrients naturally in their diet, someone who sweats a lot, or someone who is losing electrolytes another way.*
What is the healthiest form of electrolytes?

According to Collingwood, the healthiest form of electrolytes are those from natural food sources, such as fruits and vegetables. However, electrolyte supplements can also be a helpful, targeted, and convenient way to get more balance in your routine.
What are signs of suboptimal electrolyte balance?

Per our experts, signs you're not getting enough electrolytes include occasional dizziness, tiredness, brain fogginess, and muscle cramps.
What is the fastest way to replenish electrolytes?

The fastest way to replenish electrolytes is through liquid electrolyte replacement products such as these powders or ready-to-drink electrolyte drinks, says Collingwood.
The takeaway
Hydration is a crucial part of overall health—and it sometimes can require more than drinking a certain amount of water every day. For those who need a little extra support, such as endurance athletes, electrolyte powders are an efficient way to boost your hydration.* Similar to protein powders, in order to select the best electrolyte powder for you, consider your overall lifestyle and needs. To learn more about proper hydration, check out these 10 reasons you should drink more water.
Meet The Experts
Emma Engler, M.S.
, is a Nutrition Research Scientist at mindbodygreen supporting nutrition product research, development, and innovation, as well as science education and communications.