This Underrated Herb Sucks Up Stress Like A High-Power Vacuum

mbg Sustainability + Health Director
By Emma Loewe
mbg Sustainability + Health Director
Emma Loewe is the Senior Sustainability Editor at mindbodygreen and the author of "Return to Nature: The New Science of How Natural Landscapes Restore Us."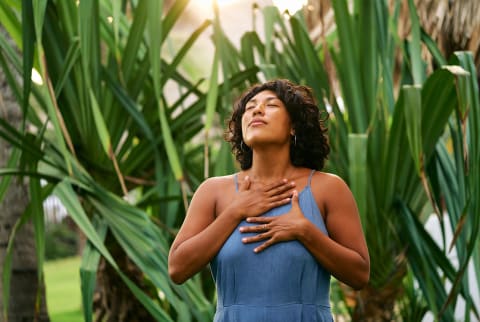 Image by Victor Bordera / Stocksy
July 1, 2022
Stress is an unavoidable part of life; always just a click of the phone or check of the inbox away. As such, it's important to hold tight to tools that help keep your body and mind calm amid the outer chaos. If you're in the market for a new one, might we suggest ashwagandha?
Advertisement
This ad is displayed using third party content and we do not control its accessibility features.
How ashwagandha helps take the edge off stressful events.
There's a reason that the botanical ashwagandha (Withania somnifera) has been prized as an herbal remedy for thousands of years, most prominently in Ayurvedic traditions. Extracts of the evergreen shrub fall under the adaptogenic category of herbs, meaning they promote resilience and help the body bounce back from stressors of all sorts.*
"Ashwagandha has a long history of traditional use as a natural aid to improve mood, energy, and general well-being,"* clinical researcher Adrian L. Lopresti, Ph.D., recently told mbg.
Modern research continues to reinforce these calming effects. In a randomized, double-blind, placebo-controlled study1 in 2019, adults who took 240 milligrams of Shoden® ashwagandha root and leaf extract daily reported lower overall stress levels than those who took a placebo after 60 days.* They also had lower levels of cortisol—one of the activating hormones the body releases during times of turmoil.*
In addition to helping keep cortisol in check, ashwagandha also seems to have a soothing effect on the mind. Its primary bioactive phytonutrient compounds, withanolides, have been shown in research to activate receptors of GABA2—the brain's primary inhibitory neurotransmitter.* When a stressor sends the brain into overdrive, it's GABA's job to bring things back to a steady baseline.
Through these core pathways and targeted biological mechanisms, ashwagandha can help us stay calm, relaxed, and at ease during times when we might otherwise feel frazzled.* Experts note, however, that its effects aren't immediate, and it takes a while for these benefits to build.
Plan to take it for a few weeks or months (with the blessing of your health practitioner, of course) before judging how it's working for you. Alternatively, you can look for a product that combines the herb with faster-acting stress reducers, like mindbodygreen's calm+, which pairs high-quality ashwagandha extract with mood-stabilizing lavender oil and calming, full-spectrum organic hemp oil.* The Shoden® in mbg's product is the world's most bioactive form of ashwagandha, boasting a minimum of 35% glycowithanolide content for powerful stress relief you can really feel.*
"This formula is phenomenal for improving one's response to the daily stressors of life that are ubiquitous in today's world," writes one calm+ user Mark W. Another reviewer of the product, Paula M., notes, "I have taken many supplements, and this is one that I actually see a difference. I can be wired tight, so I was looking for a little zen calmness in my life. I feel more relaxed, and my day just seems to run smoother when I don't sweat the small stuff."
Advertisement
This ad is displayed using third party content and we do not control its accessibility features.
The takeaway.
While a little stress every now and again may be inevitable, ashwagandha is one of many tools that can help simmer down our reaction to it. Work the ancient adaptogen into your calming tool kit and prepare to walk through the world with a slightly brighter outlook.
If you are pregnant, breastfeeding, or taking medications, consult with your doctor before starting a supplement routine. It is always optimal to consult with a health care provider when considering what supplements are right for you.