Olympic Gymnast Aly Raisman Shares How Food Plays A Role In Her Physical & Mental Well-Being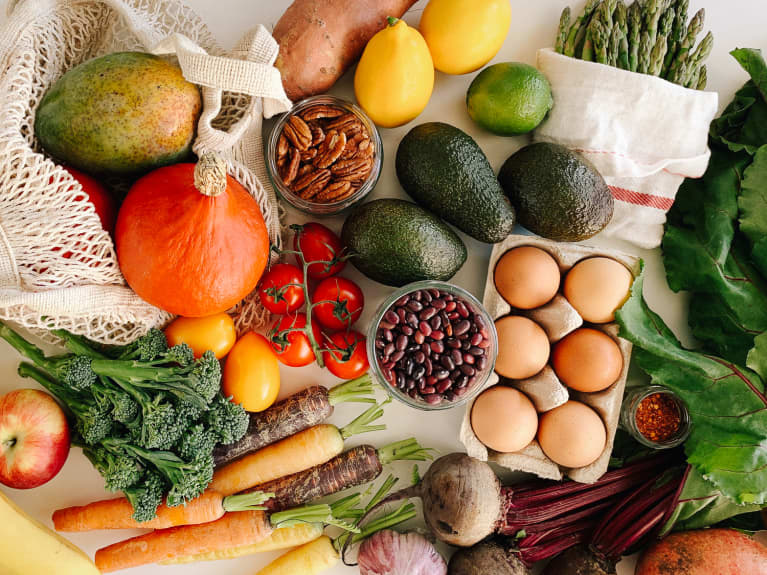 Our editors have independently chosen the products listed on this page. If you purchase something mentioned in this article, we may
earn a small commission
.
One thing you may not know about superstar gymnast Aly Raisman is she's incredibly talented at guiding meditations. I was lucky enough to discover this firsthand when I attended a virtual meditation session led by Raisman herself, in honor of her new partnership with NOW Foods.
Meditation is one integral part of Raisman's well-being routine, and, as I learned, so is nutrition and food.
After starting my day getting lulled to calm by Raisman's voice (seriously, I can't compliment her skills enough), I was able to catch up with the Olympic gold medalist to learn more about her approach to food, along with ways she makes nutrition a cornerstone of her well-being practice.
She's all about plant-based eating.
As an athlete, optimally fueling your body and workouts is essential. And a few years ago, Raisman discovered her body responded best to a plant-based lifestyle—and it aligned with her personal ideologies as well. "I watched a few documentaries about the way that animals are treated and also started learning about the health benefits of plant-based eating," she tells mbg. "What I like about eating more plant-based is the focus on eating more fruits and vegetables."
Her go-to snacks and meals, you ask? "I enjoy gluten-free toast with avocado, pumpkin seeds, hemp hearts, nutritional yeast, and lemon or lime juice," says Raisman. In fact, she loves sprinkling hemp hearts on a number of her dishes, for an added dose of protein. "I also like making smoothies and soups, too, because it is an easy way for me to get in some veggies and seeds."
She grows a lot of her own food.
If you follow Raisman on Instagram, you may have spotted that not only does she eat a lot of plants, but she also grows them herself.
"I love gardening, and I enjoy being able to grow some of my own food," says Raisman. "My mom got me into gardening, and I feel like each summer [we] learn more, and really enjoy it. I find it very soothing and calming."
Raisman loves using herbs from her garden to make tea, particularly lemon balm. Also, one of her "favorite things to grow is cucumbers," she says. "I have been drinking a lot of cucumber juice and am trying to make pickles."
She really values mindful eating.
Let's face it: Eating mindfully, without distraction can be a challenge. But Raisman makes this practice a priority. "I try to remember to make an effort to eat my food slowly," she says. "A cool trick I do is to imagine that the piece of fruit I am eating is something that is brand-new, something I have never seen or tasted before. This idea helps me to stay present and grateful."
Raisman is also mindful when it comes to her own mental health, and how food can play a role. "Everyone handles stress differently. When I feel stressed, it is hard for me to eat because sometimes my stress can make me feel sick," she says. "I try to be aware of this so that I make sure I am eating enough food in the day."
She also pays close attention to what her body needs to calm down. "Sometimes it is going out in the garden or out for a nature walk, stretching, meditating, or journaling."
She supplements strategically.
"For me, personally, using supplements has really helped me make sure I am giving my body what it needs," says Raisman. "The practice of taking supplements as regularly as I can, at certain times of the day, is helpful because I think routine can be calming. I like taking NOW's Ashwagandha, and I enjoy learning about it as well."
She's also a big fan of oregano oil, vitamin D, magnesium, and probiotics.
Whether it's discovering more information about supplements or other nourishing practices, Raisman is all about cultivating her well-being bounty. "It's interesting to me to learn about different tools we can incorporate into our lives to help us feel better," she says. "I find learning about the benefits of supplements and foods helps keep me present and positive."