3 Easy Hacks For Aging Hands You Shouldn't Ignore, From Beauty Pros

mbg Beauty & Wellness Editor
By Jamie Schneider
mbg Beauty & Wellness Editor
Jamie Schneider is the Beauty & Wellness Editor at mindbodygreen. She has a B.A. in Organizational Studies and English from the University of Michigan, and her work has appeared in Coveteur, The Chill Times, and Wyld Skincare.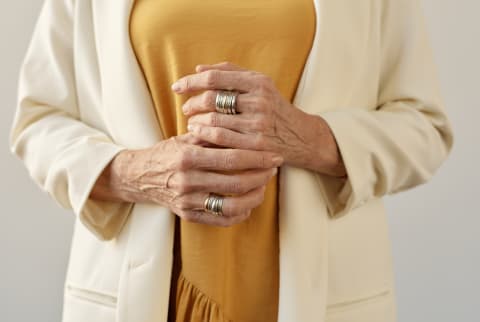 Image by Clique Images / Stocksy
May 7, 2023
You may know your hands are one of the first places to show signs of aging—and still, you may not stick to a multistep healthy aging routine for your hands. It says nothing about your own commitment to skin longevity; it's just very easy to forget about those paws! Your face, after all, is more forward facing and thus receives most of the care.
But neglect your hands over time, and you'll surely be met with fine lines, dark spots, and overall crepiness. To make hand care a smidgen easier for you, we've compiled a few of our favorite hacks below—think of these not as dreaded extra steps but low-lift, daily habits to implement into your existing routine:
Advertisement
This ad is displayed using third party content and we do not control its accessibility features.
1.
Use your hands as an SPF palette
Many follow the "two-finger rule" when it comes to sunscreen, but a derm once gave me this brilliant tip: Use the back of your hand as a palette for your SPF. That way, once you've covered your whole face, you can easily rub the excess into your paws.
It may sound simple, but you'd be surprised by how many people forget to slather sunscreen on the backs of their hands or ignore the extra protection for the sake of time. By applying SPF on your hands to begin with, you'll always remember to shield them from those strong UV rays. And sun care is one of the most vital things you can do for your skin in terms of preventive aging since 80% of aging skin1 happens due to UV damage.
Of course, make sure you apply enough sunscreen to your face before rubbing in the excess. I personally start with much more than I'll likely need so I know I'll have some extra goop to massage into my hands.
2.
Keep a hand cream on your nightstand
Keeping your hands moisturized is crucial for fending off a fragile, crepey appearance. But, hey, your day gets busy! It's easier than you think to leave your hands high and dry, even if you do have a buttery hand cream you adore.
The solution? Make it a ritual by leaving it in plain sight. For instance, it's important to seal your skin with moisture before bed, as your skin barrier is more permeable at night. So I always keep mindbodygreen's postbiotic hand cream on my bedside table, right next to my ring dish and hydrating lip balm. As soon as I tuck into bed, I massage in a dollop before turning off the lamp.
A hydrating hand cream with rich emollients is nonnegotiable, but for people who specifically want to address aging concerns like dark spots, crepiness, or fine lines, you should look for formulas infused with targeted ingredients. Think humectants like brightening aloe vera; antioxidants like coenzyme Q10, vitamin E, and botanical extracts; and barrier-strengthening ingredients, like biotic actives, squalane, shea butter, and oat oil. (mbg's hand cream has all of those and more, in case you were wondering.)
Advertisement
This ad is displayed using third party content and we do not control its accessibility features.
3.
Apply a hand mask while washing dishes
First things first: If you don't already use dishwashing gloves, please go ahead and snag yourself a pair. Not only does soaking your nails in water cause them to expand and contract, thus making them brittle and weak over time, but a hot water temperature can strip the skin of its natural oils and lipids. And with a compromised barrier, cracked, scaly, crepey hands tend to crop up way faster.
But if you want to crank the hand care up a notch, why not moisturize your paws at the same time? If you have some extra cooking oil, try slathering it on your hands before pulling on your gloves. Any organic, unrefined oil will do, but some of our favorites include extra-virgin olive oil, which contains a high dose of vitamin E2; coconut oil, which can help your skin boost collagen production3 and can help improve4 moisture levels and barrier function5; and avocado oil, which contains oleic acid and monounsaturated fats.
The steamy water as you wash can also increase the skin's permeability6, which can help those skin-softening lipids and antioxidants penetrate deeper into the pores. Call it a DIY hand mask moment.
The takeaway 
If you have a full-on hand care routine, that's great! But if you find it difficult to commit to a separate regimen, try these easy hacks to fold skin-loving habits into your day. You see, it's way easier to make healthy choices when they are the easiest choices, and this is true for every facet of well-being: nutrition, exercise, and beauty.