How Porn ACTUALLY Affects Your Sex Life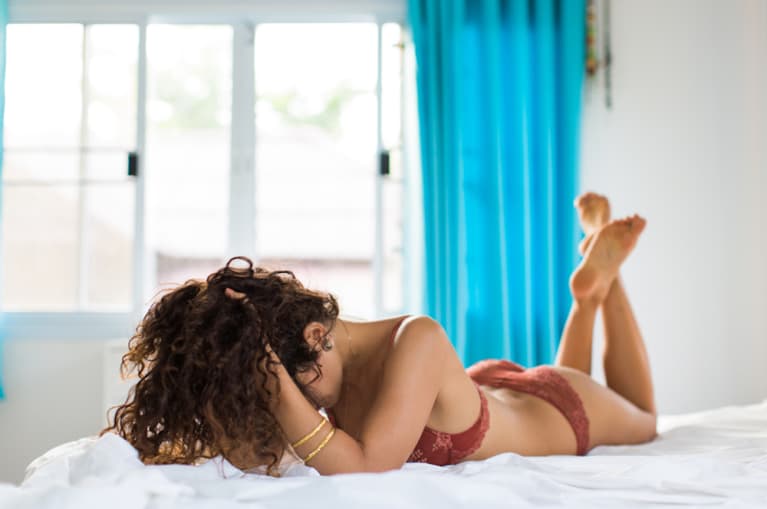 Psalm Isadora is the top tantra expert in the world and a highly sought-after sexuality, relationship, and trauma expert specializing in women's health and empowerment and modern sexual education. In this weekly advice column, Psalm brings her expertise to common sexual and relationship issues. If you want to ask Psalm your questions (anonymously), email relationships@mindbodygreen.com, and check back every week to see if she answered yours!
Question: OK, I have a weird/embarrassing issue. It's easier for me to get hard and come when looking at pictures on the computer and fantasizing about them instead of when I am with a real woman—at least with my current girlfriend. I don't know if that means I'm just not really attracted to my girlfriend or if there's something I need to do to redirect my energy? Or am I just not suited for monogamy? Can you help?
Get ready for a dose of realness because we're going to dig deep here. Blaming porn for your intimacy issues is a copout. Yes, I said it. Thanks to porn, men can't get it up or stay hard for women. Because people watch porn, they're more likely to cheat on their partner. Watching porn can lead to erectile dysfunction. Porn is a key reason men and women have difficulty connecting. Any of that sound familiar?
While these things are true, these narratives tend to exacerbate the shame we already have regarding sex—a natural, human activity that's kind of essential to our existence. Without sex, none of us would be here! And while it's easy to blame external factors, the truth is that intimacy issues, in men and women alike, existed long before porn was widely and readily available. I'd be willing to bet that your grandparents, who weren't even close to being as sexually liberated as we are now, had intimacy issues. So, while watching porn is associated with a whole host of sexual problems, I'd argue it's more of a symptom than a cause.
I noticed that you used the words "weird" and "embarrassing" in your question. First of all, let me say that this is a judgment-free zone. We need to let go of fear, shame, and embarrassment in order to achieve intimacy. There is no shame in enjoying porn. A lot of men love it, as do a lot of women. Watching porn, however, shouldn't keep you from having healthy relationships, experiencing intimacy, and performing daily functions, like work. If it does, then it's become a problem.
As a sex expert, the issue I see again and again is the shame and isolation people feel about sexual issues that are, in fact, very common. In the United States alone, porn is a multibillion-dollar industry. According to the Barna Group, 64 percent of men ages 18 to 30 watch porn several times a week. And men are 543 percent more likely to watch porn than women. Given these statistics, it's pretty safe to say that you are not alone and your question is not unique to you.
Anything in this world can be poison or medicine, depending on whether it brings happiness or incites destructive behaviors in your life. I'm happy to tell on myself and share a little—I enjoy watching porn occasionally when I'm traveling. And because I don't feel shame around it, it's engaging and an enjoyable release of my sexual energy. But I am not addicted to it, and I actually prefer intimacy with another person.
The real question here is, how do we find true satisfaction in dating, mating, love, and sex in this modern world when we have more access to technology and more pornography but still haven't come to a deep understanding of our own brains or sexuality? What does that mean, exactly? That there's probably a deeper reason you're connecting more with visual pornographic images instead of a real woman—in this case, your actual girlfriend.
There's this idea that when we create the first erotic blueprint in our brain, that blueprint is what our neural system looks for in the future. So, if your first experiences with ejaculation, orgasm, sex, and satisfaction were masturbating alone to pornographic images, your erotic blueprint is frozen in teenage mode. Because of that, you've been unable to build a bridge between sex as something you do alone and savoring erotic pleasure through intimacy with another person. That's the real root issue—not the porn alone.
You also questioned whether or not you are attracted to your girlfriend. Ask yourself if this is the first time you've preferred achieving orgasms by watching porn solo over achieving orgasms with a girlfriend. Is this a consistent pattern—something that you did in your previous relationships? If it's only happening with your current girlfriend, either you are not as physically attracted to her as you thought, or you have a specific emotional or psychological blockage involving her in particular. You can find several techniques that will help you push past that blockage and expand your erotic blueprint in my erotic tantra massage videos. These videos demonstrate techniques meant to be performed with your partner.
People watch these tantra massage videos as a form of guided meditation. They'll give you the visual stimulation you crave and teach you how to include pleasure with your partner and connect with her in ways that lead to deeper sexual intimacy. Here are a few of them, briefly described, with links to the full explanations of each:
Begin by creating a relaxing, sensual environment. Set the mood for your partner with soft music. Light some candles. Spray a heavenly scent. The goal here is to slowly build arousal. Use silky, aromatic coconut oil to massage, squeeze, and stimulate her breasts and nipples. Start with featherlike touches then graduate to firm pinching, which will lead to a rush of pleasure. Let her tell you what feels good. Read the full description here.
In the mood for multiple orgasms? Incorporate the tantric yoni or vagina massage into your technique. This is something you can do to your girlfriend, or you can watch her do it by herself. Again, set the scene. She'll have to ground herself in her body using the Bliss Breath method and can warm up with the tantric breast massage before moving on to the five yoni massage techniques that will have her reach the edge of orgasm, over and over again. Learn more about tantric yoni massage here.
KISS Meditation as foreplay:
Let's take your ejaculation off the table for a bit and try focusing on your partner and being naked intimately—not just physically. Try the KISS method before you rush to into bed. Slow down and get all of the porn visuals you're used to out of your head. Learn to connect through eye contact and simultaneous breathing. Seeing ripples of delight in her body as she responds to your touch will shatter the disconnectedness. Get all the details on the KISS Meditation here.
I promise, it's better than porn. You can even play the videos in the background to give you that extra erotic boost. Now, instead of being isolated while watching porn, you are letting your partner in on this most intimate experience—this thing you normally do alone. You're expanding your erotic blueprint and experiencing it with someone you love. And what's better than that?