You're Probably Applying Your Perfume Wrong — Here's A Tip To Make It Last All Day

mbg Beauty & Wellness Editor
By Jamie Schneider
mbg Beauty & Wellness Editor
Jamie Schneider is the Beauty & Wellness Editor at mindbodygreen. She has a B.A. in Organizational Studies and English from the University of Michigan, and her work has appeared in Coveteur, The Chill Times, and Wyld Skincare.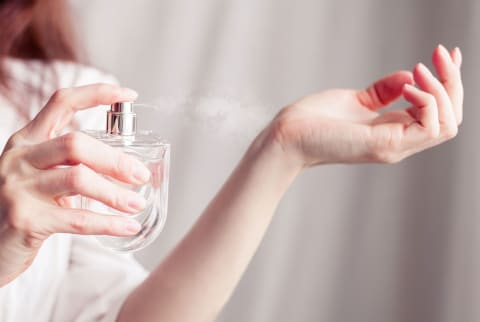 Image by Angelika-Angelika / iStock
January 17, 2022
Our editors have independently chosen the products listed on this page. If you purchase something mentioned in this article, we may
earn a small commission
.
Some are devoted wrist-spritzers; others prefer the walk-through method; many dab the neck, right underneath the earlobe; a few even spray their heart—how you choose to apply perfume is up to you. Your own technique is as unique as your signature scent.
Big, big caveat: According to perfume experts, there's one giant (and common) mistake people make when applying their perfume. "The rubbing [wrists] together is considered a big perfume no-no," says celebrity makeup artist Rosie Johnston, founder of by/rosie jane. Floored? Us, too: Here's what the pros recommend you do instead.
Advertisement
This ad is displayed using third party content and we do not control its accessibility features.
Why you shouldn't rub your wrists together after spraying perfume.
Essentially, that friction helps evaporate the fragrance even faster: "It just makes the top notes burn off a little quicker," notes Johnston. Those top notes—think floral and citrus scents—already have a shortened lifespan, as you tend to smell them right away but they're gone the quickest, and rubbing your wrists only speeds up the process. Cat Chen, founder of clean fragrance brand Skylar, seconds the advice: "When you rub, it doesn't help in terms of longevity. It helps the perfume lose its power quicker," she tells mbg.
So where did this wrist-rubbing notion even come from? "I think it's instinctual," says Johnston. "When you put something on, especially on your wrists, there's a dampness there." So you might rub your wrists together to blot away the extra juice—totally makes sense!
And if you're testing a new scent for the first time or trying your hand at fragrance layering, Chen explains, you might want to diffuse a scent you aren't exactly enamored with; in that case, it's far easier to rub your wrists together than, say, scrub at your neck. Over time, people may believe this wrist-rubbing technique helps blend the perfume into your skin—but it actually makes it wear off faster.
Rather, if you would like to blend your fragrance—or blot away some of the juice—try just tapping your wrists together instead of creating friction. You can also dab your wrist up your arm, onto your neck, or anywhere you'd like to deposit some scent without messing with its longevity. "I take my wrist of the opposite hand and dab it up my arm a little," says Johnston. "I'm still blending it with my wrist but not rubbing, just dabbing." Just make sure your skin is aptly hydrated, as well-moisturized skin holds on to fragrance longer.
Advertisement
This ad is displayed using third party content and we do not control its accessibility features.
The takeaway. 
You might want to think twice about rubbing your wrists together after applying perfume—instinctively, you may want to blot the potion, but the friction only makes the fragrance notes evaporate faster. If you would like to blend, try gentle dabs wherever you'd like to place your signature scent.