The One Surprising Thing This MD Wants You To Focus On For Immunity

mbg Beauty & Wellness Editor
By Jamie Schneider
mbg Beauty & Wellness Editor
Jamie Schneider is the Beauty & Wellness Editor at mindbodygreen. She has a B.A. in Organizational Studies and English from the University of Michigan, and her work has appeared in Coveteur, The Chill Times, and Wyld Skincare.

Expert review by
Ashley Jordan Ferira, Ph.D., RDN
mbg Vice President of Scientific Affairs
Ashley Jordan Ferira, Ph.D., RDN is Vice President of Scientific Affairs at mindbodygreen. She received her bachelor's degree in Biological Basis of Behavior from the University of Pennsylvania and Ph.D. in Foods and Nutrition from the University of Georgia.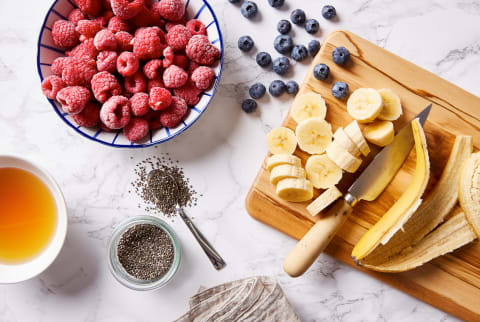 Image by Martí Sans / Stocksy
December 21, 2021
Nutritious diets, regular exercise, good-quality sleep—all of these habits can help bolster your immune strength as we head into the holiday season. But because we could all use a little extra help right now, we connected with allergist and immunologist Heather Moday, M.D., to get her most up-to-date tips for supporting your immune response.
Her answer, while simple, surprised us all: "If you really want to do yourself a favor, look at how much fiber you're getting on a daily basis," she says on the mindbodygreen podcast.
Advertisement
This ad is displayed using third party content and we do not control its accessibility features.
Why getting enough fiber is crucial for immunity. 
Let's share the famous statistic: Approximately 70% of the immune system resides in your gut1! So when gut balance is suboptimal, this can affect immune function and health. In fact, your gut microbiome directly influences your immune system. And what do experts rave about for nourishing your microbiome? You guessed it: fiber, and lots of it.
See, fiber feeds the good bacteria in your gut. "If those [bacteria] are not fed well, they're not going to proliferate, and they're not going to be able to do their job in helping us regulate our immune response," says Moday.
But here's the thing about fiber: The majority of Americans simply aren't getting enough of it. The recommended intake2 is at least 38 grams per day for men and 25 grams per day for women—but the average American is eating only about 16 grams of fiber3 per day.
What to do about it. 
First things first: Moday recommends tracking your daily fiber intake, if you can. "Sometimes you just forget or you just have a couple of off days," she notes.
Once you know your baseline, she suggests adding more fiber-rich foods to your diet: "I love flaxseed. If I'm really busy, I'll just take a tablespoon of flax and throw it into my smoothie or onto my salad," she says. "I [also] like chia seeds, which also have some good benefits for satiety." She also touts root veggies—like sweet potatoes, purple potatoes, and parsnips—as well as avocados and raspberries, "which are surprisingly high in fiber," she notes.
Getting your fill of these immune-supporting fibers and nutrients is important—but you can also opt for high-quality, targeted supplements that strengthen your immune resilience as well.* Take mindbodygreen's immune support+, for example: It features beta-glucan, which is a type of fiber found in the cell walls of certain plants, yeast, and fungi, along with other plants like oats, barley, wheat, rye, and mushrooms. In supplement form, beta-glucans are concentrated phytonutrient immunomodulators: In fact, the clinical trials indicate that beta-glucans actually "train" the body's natural immune response, priming it for action.*
And on the subject of "new school" cutting-edge bioactives, our immunity supplement also contains the foundational immune-critical micronutrient trio (zinc, vitamin C, and vitamin D3), plus leading bioactive quercetin phytosome. "Quercetin is getting popular these days—it's a healthy antioxidant and a no-brainer for immune support,"* Moday has previously told mbg.
Advertisement
This ad is displayed using third party content and we do not control its accessibility features.
The takeaway. 
Given the gut-immune connection, it's not difficult to see why fiber has such an impact on your immune strength. But we could all use the friendly reminder: By increasing your fiber intake, you're feeding the good bacteria in your gut and helping them to reach their full potential. You can also throw in an immune-supporting supplement, while you're at it, for even more targeted benefits.* (Feel free to peruse our favorite options here.)
If you are pregnant, breastfeeding, or taking medications, consult with your doctor before starting a supplement routine. It is always optimal to consult with a health care provider when considering what supplements are right for you.