Why A Balancing Mist Is The Best Post-Workout Hair Product
mbg Beauty Director
By Alexandra Engler
mbg Beauty Director
Alexandra Engler is the Beauty Director. Previously she worked at Harper's Bazaar, Marie Claire, SELF, and Cosmopolitan; her byline has appeared in Esquire, Sports Illustrated, and Allure.com.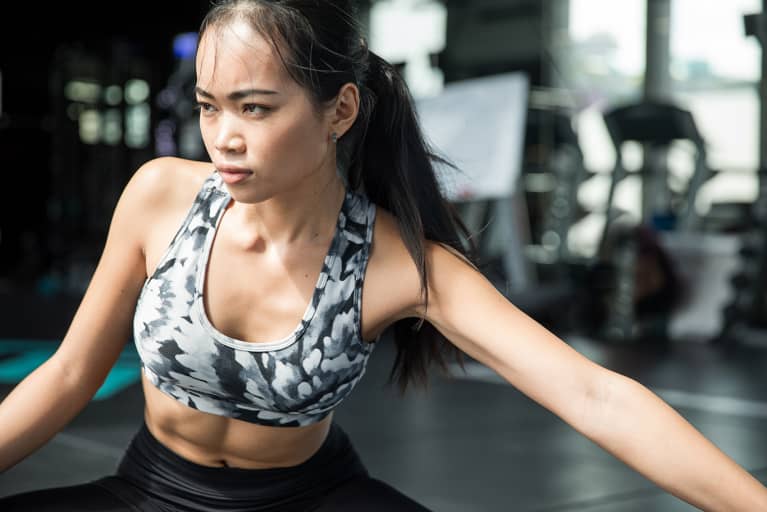 Our editors have independently chosen the products listed on this page. If you purchase something mentioned in this article, we may
earn a small commission
.
With the new year often comes resolutions. These can be of the manifesting kind—like finding more joy in the small stuff, being inspired in your career, or finding more purpose in your relationships. But they can also be of the more classic, and specific, variety, such as moving more. While I don't necessarily have a workout resolution per se, I do find that January does feel like an opportune time to get back into a more regimented routine: After the roving schedule that tends to be late fall and early winter, it's downright refreshing to stick to something more consistent through the crawl that is mid to late winter.
This brings me to the issue at hand: With more workouts come more hair woes, as sweat and sebum more easily build up at the root—as well as flatten under a knit cap from running outdoors. I also don't enjoy traditional dry shampoos, even those of the natural and clean variety, as I find the product difficult to work into my hair type. After application, I often find my strands are more tangled and my scalp congested. (Dry shampoos may be an easy fix, but they are often bemoaned by experts for causing inflammation on the skin and dullness on the strands.) But I also don't want to shampoo more as my hair is dry, and I've found my ideal wash schedule.
Instead, I turn to sprays and toners, a long-beloved beauty product that even plays double-duty.
Why I love balancing sprays for my scalp post-workout.
When my strands desperately need a refresher post-workout, I grab one of the many facial toner sprays that I have turned into multitasking heroes. These sprays are loaded with soothing actives, like rosewater or aloe, so often infused in hair care products as well. And when used on the hair, they hydrate the strands themselves while also acting as an astringent for scalp sebum, antibacterial for grime, and anti-inflammatory for irritation. A not so subtle bonus: They also help with the smell, as they are often naturally perfumed with their botanicals.
I dampen the root, focusing on my hairline and part, and then gently tousle the area to encourage lift and work the product into the skin at the same time. For extra volume, you can take a blow dryer (on lower heat) and quickly blast the wet areas to help achieve your desired style (for curly-haired folk, consider a diffuser).
To set expectations: You're likely not going to get the same effect as you might from a fresh shampoo and restyle. A full styling session this is not! But it is a way to make sure your hair is hydrated and scalp soothed between sessions.
And a balancing spray at your roots is certainly not a new idea—hair care experts and amateurs alike love sprays for the scalp and strands. There are mists that shield your hair from environmental aggressors. There are restyling sprays, perfect for infusing bounce and hold for waves and curly-haired folk. There are scalp toners for those wearing protective styling. However, dry shampoos tend to get most of the attention post-workout, so I think it's a good reminder that there are better-for-your-scalp alternatives.
What to look for when finding one that will work for you. 
Micellar water: The favorite face wash can also help your hair and scalp by helping dissolve oil and sebum when formulated into hair care products.
Rose: Perhaps the most classic face spray ingredient, rose water is antibacterial, anti-inflammatory, and a natural astringent.
Aloe: Aloe is mainly studied for the skin but has made its way into hair care for many of the same reasons it's so widely used on the face and body: It's incredibly hydrating, can balance the pH, and helps the skin repair process.
Tea tree: Often an active ingredient in treatment shampoos, tea tree does wonders for itchiness, irritation, inflammation, and even acne on the scalp.
Witch hazel: In the same vein as tea tree, this helps calm inflammation and the annoyances that come with it. One study tested a witch-hazel-based shampoo on 1,373 people and found that after four weeks, the majority of the patients had reduced symptoms.
Restyling mists or balancing sprays are nothing new—but with dry shampoos getting the lion's share of the "between wash" conversation, it's an important reminder that you don't have to lean on those to extend styles post-workout.