What To Look For To Avoid Buying An Already Rancid Fish Oil Supplement

Registered Dietitian Nutritionist
By Molly Knudsen, M.S., RDN
Registered Dietitian Nutritionist
Molly Knudsen, M.S., RDN is a Registered Dietician Nutritionist with a bachelor's degree in nutrition from Texas Christian University and a master's in nutrition interventions, communication, and behavior change from Tufts University. She lives in Newport Beach, California, and enjoys connecting people to the food they eat and how it influences health and wellbeing.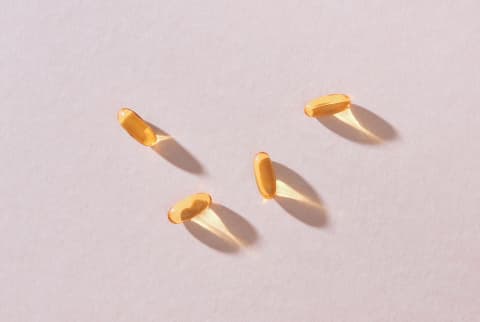 Image by Marc Tran / Stocksy
August 2, 2023
Fish oil supplements offer an array of benefits by helping to inhibit inflammatory factors, promoting heart health, and supporting cognitive function thanks to the high concentration of omega-3 fats.* But the quality of the oil can directly influence its impact on your body—and not all products match the pure quality you expect.
Rancidity is unfortunately common in many commercially available fish oils and is responsible for the overly fishy taste of the capsule (and even a fishy burp). To reap the most benefits of fish oil, you want to make sure you're choosing a supplement that prioritizes purity and quality and that you're storing the supplement in a way that maintains those qualities.
Here's what you need to know about fish oils and oxidation.
What is oxidation?
Chemically speaking, oxidation is due to the addition of an oxygen atom to a compound and the removal of a hydrogen atom. It's an undesirable chemical change that degrades the quality and stability of an oil. Oils can be oxidized to varying degrees before turning rancid and giving off a pungent smell and sour taste.
And due to the chemical structure of omega-3 fats, fish oils are especially prone to oxidation.
What causes fish oil supplements to go rancid? 
"Like any oil (including the olive oil you cook with), rancidity can be a major issue if quality-control parameters are not top-notch," mbg's vice president of scientific affairs Ashley Jordan Ferira, Ph.D., RDN previously shared. And similar to cooking oils, heat, light, and oxygen (aka air exposure) are the culprits of fish oil oxidation.
Many fish oils mix anchovy, sardines, mackerel, etc. from all over1— like Chile, Peru, Turkey, Morocco, and even Norway. The act of processing these oils in addition to shipping them sometimes thousands of miles for further manufacturing (all of this occurring before the supplements even make it to your home) naturally creates space for oxidation processes to occur—especially in hot temperatures.
Sometimes manufacturers cut corners and "spike their products with cheaper, lower quality, dare I say, oxidized, types of fish oils with higher contaminant levels." Ferira said on the mindbodygreen podcast. "Oxidation of fish oil is the crux of unpleasant fish burp."
Avoid oxidation by choosing a high-quality supplement (and storing it right) 
The best way to make sure your fish oil is not rancid by the time you take it is to select one from a source that has taken every step to minimize oxidation of the oil in these manufacturing and processing stages. And that's exactly what mindbodygreen has done with omega-3 potency+.
This supplement is a pure fish oil (not a mix) from wild-caught, cold-water South Pacific anchovies off the coast of Chile. And get this, the oil is then encapsulated in facilities right next to the ocean— so the raw oil is not exposed to long transports via boats or planes. It's a truly catch-to-capsule process.
All batches of omega-3 potency+ undergo a patented purification process with supercritical CO2 extraction to preserve the oil's integrity by guarding it against oxidizing agents like heat, solvents, and oxygen. Vitamin E mixed into the pure anchovy oil and rosemary extract provide antioxidant action and further mitigate oxidation.*
Even the way the supplements are packaged in amber glass bottles protects against oxidation from UV light (better supporting its overall shelf life).
How to store your supplements at home to protect against oxidation
There are also steps you can take at home to help preserve the quality of your fish oil supplement (even if it is a high-quality one).
Store fish oil supplements in a cool, dark place, away from direct sunlight. But this doesn't mean the refrigerator.
"Premium fish oil [like omega-3 potency+] is not designed to need refrigeration, nor are the testing parameters [for stability] based on those storage conditions," asserts Ferira.
Leave supplement bottles sealed in their packing until you're ready to start taking them (this prevents oxygen and moisture from sneaking in. And close the jar tightly after removing your daily dose, to recreate that seal.
The takeaway
Fish oil supplements rich in omega-3 fats are especially prone to oxidation—decreasing the quality and the potential efficacy of them. While there are certainly steps you can take at home to help reduce oxidation, it's really everything that goes into producing the supplement that has the greatest impact on its quality—and you should be biased towards the ones with low oxidation parameters (like omega-3 potency+).
If you are pregnant, breastfeeding, or taking medications, consult with your doctor before starting a supplement routine. It is always optimal to consult with a health care provider when considering what supplements are right for you.
Want to turn your passion for wellbeing into a fulfilling career? Become a Certified Health Coach! Learn more here.