What This GI Doc Eats In A Day To Boost Gut Health & Balance Blood Sugar

Integrative Gastroenterologist
By Marvin Singh, M.D.
Integrative Gastroenterologist
Marvin Singh, M.D. is an integrative gastroenterologist in San Diego, California. He is trained and board certified in internal medicine and gastroenterology/hepatology.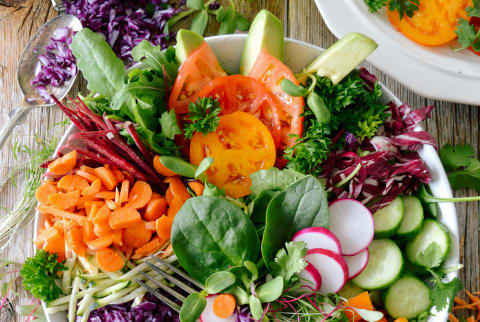 Image by Nadine Primeau / Unsplash
May 9, 2019
And as an integrative gastroenterologist, I've seen firsthand how the right combination of foods can positively affect gut health, and thereby overall physical and mental health.
We have trillions of microbes that live inside our digestive tract that make vitamins, nutrients, short-chain fatty acids, hormones, and neurotransmitters—all of which are things we need to function optimally as human beings. There's even evidence1 that the gut microbiome plays a role in anxiety, depression, and trauma-related disorders, and that our gut can contribute to us being skinny or fat, sad or happy, sick or well. Plus, almost 80 percent of our immune system lies in the gut, and how well it works is largely dependent on what we're piling on our plates.
All of which is to say, if we feed our gut microbiome what it wants, that generally means great things for us. Even better, most gut-friendly foods are also great for balancing blood sugar, which helps keep our energy levels on an even keel and prevent cravings.
So, what do I, as a microbiome expert, eat all day to ensure my gut is functioning optimally? Let me walk you through a typical day.
Pre-breakfast
Contrary to popular opinion, it isn't mandatory to eat as soon as you wake up! Sure, I drink water or black coffee, but I don't eat first thing in the morning, as I practice intermittent fasting. Fasting is actually a key concept in gut health and overall wellness. In a recent study2, every-other-day fasting stimulated the development of beige fat cells (the kind that actually increase fat burn) within white fat (the kind that's stored) and reduced obesity, insulin resistance, and fatty liver. This style of eating shifted the bacterial composition of the gut microbiome, which was thought to be a driving factor in this process.
This doesn't mean you have to eat every other day, but it goes to show you that if you let your digestive system rest and reboot, you have the potential to gain a lot in the process. So, when I wake up, I will drink at least one tall glass of water and have a nice cup of black, organic, mold-free coffee. And I feel pretty good about it since the chlorogenic acids in coffee have been shown to3 reduce the risk of developing blood sugar problems and type 2 diabetes. Green tea, oolong tea, or any other herbal tea are acceptable alternatives that will also keep you in a fasted state.
Breakfast
Sometimes I'll break my fast and start my intermittent fasting eating window around 10 a.m. (although, these days I often hold off until 12 p.m. and start with lunch). When I do this, I may have two eggs and a handful of macadamia nuts, walnuts, or almonds. How the eggs are cooked depends on whether or not I have to be at work, but when I'm at home, I love to cook them up in a skillet along with some kale or asparagus. Eggs are a good source of healthy fats and protein to keep my blood sugar levels stable and cravings at bay. Same goes for nuts, which also deliver some fiber, and veggies provide fiber, B vitamins, calcium, and a variety of phytonutrients.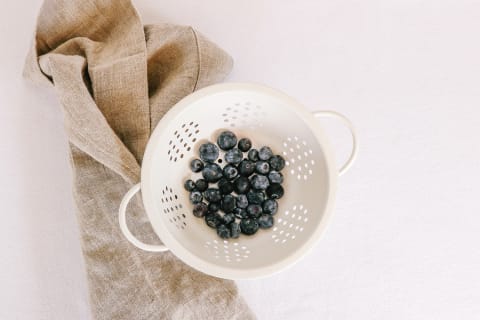 Image by Debby Hudson / Unsplash
Lunch
I'll usually have a big fat salad around 12 p.m. that I make at home and bring to work. The salad is loaded with leafy greens like arugula, spinach, kale, butter lettuce, cilantro, and Swiss chard. I'll also throw in some carrots, bell peppers, celery, cucumbers, and whatever else I'm in the mood for. For an extra dose of omega-3s and fiber, I'll top it off with some hemp seeds and a few nuts or seeds (pecans are one of my go-to nuts). For dressing, I'll simply use organic extra-virgin olive oil and organic balsamic vinegar. Increasing vegetable intake4 can help influence the gut microbiome and make an impact on blood sugar control, weight management, and overall health and wellness. Additionally, omega-3 polyunsaturated fatty acids can help improve the gut microbiome composition 5and increase the production of anti-inflammatory compounds, and their effect on the gut microbiome has been shown to positively influence the gut-brain axis, which may have a positive impact on mental health.
Snack
That salad usually holds me until I get home from work, but if I'm in the mood for a snack, I'll go for a few olives or some berries—I love blueberries, raspberries, and blackberries. If I haven't eaten nuts earlier in the day, I might grab a small handful of those, too. I'm often found drinking a cup of my favorite jasmine green tea by midafternoon. Did you know that drinking green tea can change the oral and gut microbiome6 to help reduce inflammation? I'm also sipping on water throughout the day, and if I feel like I need a change of pace, or it's particularly hot, I'll go for some ice cold San Pellegrino.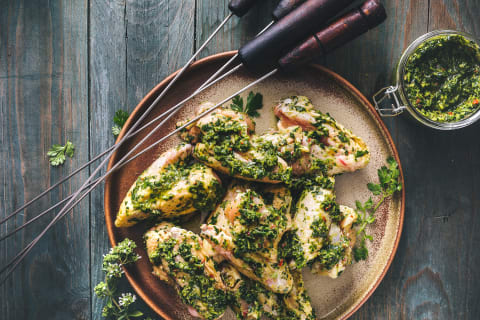 Image by asab974 / iStock
Dinner
By the time evening comes around, I'm ready for dinner. I try to eat between 5 p.m. and 6 p.m. if my schedule allows—it's important not to eat too close to bedtime, and I like to close my eating window on the earlier side. One of my favorite meals is a chimichurri chicken dish that my wife makes (she's a great cook!). We use organic chicken and spices with an olive-oil-and-cilantro-based sauce. There will typically be about three veggies on the plate as well—broccoli, Brussels sprouts, asparagus, cauliflower, and sautéed spinach are some of my favorites. The fiber and phytonutrients in these foods serve as great fertilizer for the gut microbiome, giving my good bugs enough ammo to make the anti-inflammatory short-chain fatty acids like butyrate. Typically, I skip dessert, but if I have a hankering for something, I'll have some berries.
That's it! By the end of the day, I'm full and happy to know I've helped my gut microbiome keep me well. There are so many variations to all these meals that you can create. I never feel like I am eating the same bland boring diet. Switching up spices and cooking styles is a way to keep things interesting. And, whenever I eat meat, I make sure it's organic, grass-fed or free-range, and from a reliable source (often straight from the farm!). I always opt for organic produce, too.
By eating good, clean, whole foods throughout the day that are full of antioxidants, vitamins, minerals, healthy fats, and fiber, we can give our gut microbiome the ingredients it needs to keep us strong and healthy.
Want to turn your passion for wellbeing into a fulfilling career? Become a Certified Health Coach! Learn more here.

Marvin Singh, M.D.
Integrative Gastroenterologist
Marvin Singh, M.D is an Integrative Gastroenterologist in San Diego, California, and a Member of the Board and Diplomate of the American Board of Integrative Medicine. He is also trained and board certified in Internal Medicine and Gastroenterology/Hepatology. A graduate of Virginia Commonwealth University School of Medicine, Singh completed his residency training in Internal Medicine at the University of Michigan Health System followed by fellowship training in Gastroenterology at Scripps Clinic Torrey Pines. Singh was trained by Andrew Weil, M.D., a pioneer in the field of integrative medicine, at the Andrew Weil Center for Integrative Medicine.
Singh is currently the Director of Integrative Gastroenterology at the Susan Samueli Integrative Health Institute at UC Irvine. He is also currently a voluntary Assistant Clinical Professor at UCSD in the Department of Family Medicine and Public Health; prior to this, he has been a Clinical Assistant Professor at UCLA and an Assistant Professor of Medicine at Johns Hopkins University. Singh is a member of the American Academy of Anti-Aging Medicine, American College of Lifestyle Medicine, and many other societies. He is actively involved in the American Gastroenterological Association. He is one of the editors of the textbook of Integrative Gastroenterology, 2nd edition (a Weil Series text) and has written several book chapters and articles.
He is dedicated to guiding his clients toward optimal wellness every step of the way, using the most cutting edge technologies to design highly personalized precision based protocols. Towards this end, he founded Precisione Clinic and wrote the book Rescue Your Health to bring the best in preventive medicine to his clients.
6 Sources