Here's What I Wish I'd Known Before My First Kundalini Yoga Class
Yoga and Meditation Teacher
By Aili Kuutan
Yoga and Meditation Teacher
Aili Kuutan is a yoga and meditation teacher, transformational coach, and creator of the podcast Pure Light. She is certified as a health coach by Duke Integrative Medicine and the National Board for Health & Wellness Coaching.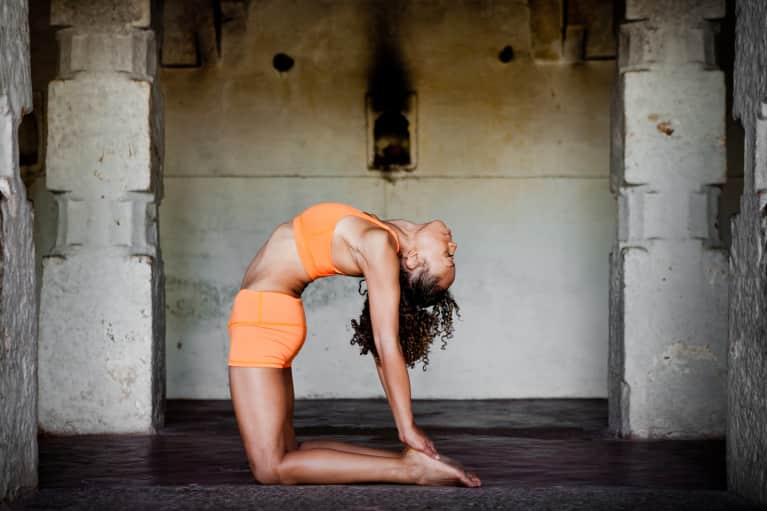 I've been teaching Kundalini yoga for a few years now. The majority of my students are new to the practice when they first come to class, and while most of them enjoy it right away, sometimes beginners look at me incredulously at the end of their first class, in a blissed-out-yet-confused sort of way as if to say, what just happened?
Kundalini yoga powerfully combines the full spectrum of yogic tools—mantra (sacred sound), asana (posture), mudra (hand position), bandha (body lock), meditation (mindful focus), and pranayama (breathing technique)—to help you experience the benefits starting with your very first class. People who come to my classes tell me that they immediately have more energy, sleep more soundly, are in a brighter mood, and have a calmer mind.
Because there are many elements to the practice, plus a lot of rituals, it can be helpful to know exactly what to expect. Here's what I wish I'd known before going to my first Kundalini yoga class:
Mantras are used extensively in Kundalini yoga. Mantras are sacred sounds used both for their meaning as well as the vibration of sound they create in the body. There are specific intentions behind each one, and you will chant throughout class.
Kundalini classes start with "tuning in," which means chanting the mantra Ong Namo Guru Dev Namo. This is Gurmukhi for, "I bow to the creative consciousness. I bow to the divine wisdom within." This ritual is intended to acknowledge the lineage of Kundalini yoga teachers, and it's also a meditation in and of itself that establishes a connection to a higher state of consciousness beyond the ego.
In addition to the opening mantra, there's a mantra used to close the class: Sat Nam. This is Gurmukhi for, "Truth is my identity" and is intended to awaken the soul. (Sat Nam may also be used in conversation as a greeting, to say hello or goodbye.)
In between these opening and closing mantras, there may be additional mantras used. These may be chanted out loud or used mentally and will vary from class to class, depending on which practices the teacher has selected.
2. The flow is completely different from other yoga classes.
I actually wouldn't describe Kundalini yoga as a flow—it's more like periods of intense effort followed by time to relax and notice the effects. After tuning in, there's a pranayam (yogic breathing exercise) followed by a sequence of postures called a kriya. Each set will have different poses that involve movement, breathing techniques, a specific mindful focus (such as the third eye point between the eyebrows), and a mantra. Between postures, you'll have a minute or two to relax and focus inward. After the set, there's a relaxation followed by a meditation. You will then close class with a mantra.
3. There's a lot of focus on breath.
Kundalini yoga and meditation practices make a point of using the breath to deepen your experience. According to yogic philosophy, the breath is the bridge that connects the body and the mind. What this means is that the more you learn to focus on the breath, the more capacity you have to quiet your busy mind. Conscious breathing can help release stress and anxiety, both in and out of class.
4. Meditation is built into class.
With all the emphasis on breath and the inward focus between postures, Kundalini yoga is more meditative in nature than other styles of yoga. Additionally, there's a meditation toward the end of each class. Because Kundalini practices incorporate more elements than some other types of meditation, such as mantra, movement, and eye focus, the meditations can be more accessible to people new to meditation, meaning that it's easier to get into a deeper state, even as a beginner.
5. You will meet the edge of your comfort zone.
While movements are usually simple enough, when you do something repeatedly for even a couple of minutes (like keeping your arms straight out to the sides and moving them in tiny circles, for example), it becomes physically challenging and the mind starts to react. The key here is to be kind to yourself and do your best. Always listen to your body, but at the same time, see if you can push yourself beyond the automatic voice in the mind that tells you things like, "You can't do that!" or "You need to stop now!" Kundalini yoga challenges your body to rise above the self-imposed limits of the mind.
6. You will see a lot of white.
Kundalini yoga teachers typically wear white clothing made of cotton or other natural fibers because this strengthens the aura. Your aura is the electromagnetic field that surrounds you and acts as a container for your life force energy and protects you from negativity and illness. Wearing white creates a greater shield—teachers will often also wear a white head covering, such as a hat, scarf, or turban, to contain the energy within the body. As a student, you're welcome to wear any color you like and experiment with wearing white if that appeals to you.
7. There's a reason Kundalini only became popular recently.
The ancient teachings of Kundalini yoga were kept secret for a very long time. Instead of being taught in the open, Kundalini yoga was taught only to royalty and nobility for thousands of years. This uplifting practice is now available to everyone thanks to a man named Yogi Bhajan, who brought Kundalini yoga to the West in the late 1960s and began to teach it publicly.
8. Each class is different.
It's important to keep this in mind, especially if you happen to attend a class that has a lot of focus on a specific part of the body, like the core or your arms: There are thousands of different Kundalini yoga and meditation practices that were taught by Yogi Bhajan over the years. While there are certainly postures and movements that show up repeatedly, there's also a lot of variety.
The best way to understand Kundalini yoga is to experience it for yourself. Now that you have some idea of what to expect, why not give it a shot?
Love getting your happiness fix from exercise? Here's the tiny workout tweak you can make to massively up your happiness factor.