The 8 Best Trader Joe's Buys To Add To Your Healthy Fall Shopping List
Contributing Food Editor
By Liz Moody
Contributing Food Editor
Liz Moody is a food editor, recipe developer and green smoothie enthusiast. She received her creative writing and psychology degree from The University of California, Berkeley. Moody is the author of two cookbooks: Healthier Together and Glow Pops and the host of the Healthier Together podcast.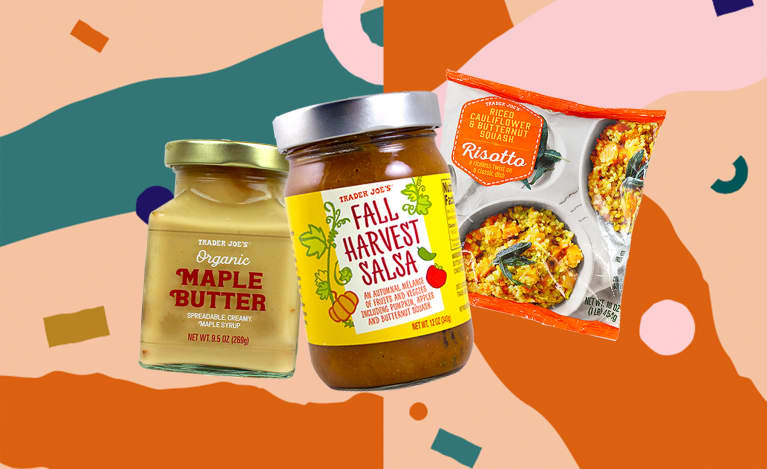 Nothing elicits fervor in the food-loving community quite like Trader Joe's. The grocery store chain knows how to serve up food free of artificial colors and flavors, at friendly-for-the-wallet prices. As a bonus, the brand knows how to embrace a season, and autumn is when their creativity shines the most. We did the hard (read: delicious) work of hunting down and tasting all of the TJ's fare of the season, so you could put the best of the best on your list.
Maple butter is simply organic maple syrup that's been whipped until it becomes a thick and creamy butter. It's great on toast, especially combined with almond butter and cinnamon, and can also be used in oatmeal bowls or anything else benefiting from the nutty sweetness of maple syrup and the creamy texture of a butter. You can get one 9.50-ounce jar for $5.99.
Riced Cauliflower & Butternut Squash Risotto
If you loved the riced cauliflower bags that fill the freezer at TJ's, you'll adore this cauliflower-rice-based risotto. With studs of butternut squash and plenty of herbs, this is perfect, gluten-free veggie-packed comfort food—and it's ready in just a few minutes on the stove. Serve it as a side or add healthy protein (we recommend beans or pastured rotisserie chicken) to make it a main. One 16-ounce bag is $3.69.
Comforting and oh-so-gut healing, bone broth is a fall and winter staple—not to mention a great base for pretty much any soup recipe. Trader Joe's has newly debuted bone broth from free-range chickens and grass-fed beef. Seasoned with organic onions, organic garlic, organic parsley, organic apple cider vinegar, and sea salt, it's the perfect protein-packed treat to sip straight from the mug or use in your favorite recipes. You can get one 20-fluid-ounce pouch of organic bone broth for just $5.99.
Harvest Spaghetti Squash Spirals
This spaghetti-squash-based take on a classic Italian marinara sauce dinner is utterly addictive. The base is spaghetti squash that's already been shaped into small nests, which help the gourd mimic the texture of pasta more than you'd find just scraping it out with a fork. It's topped in a tomato-ey, butternut squash purée that has the perfect balance of sweet and acid. The best veggie-forward dinner, one 12-ounce package is $3.99.
Organic Mighty Turmeric Juice Shot
OK, these aren't strictly fall-based, but they just debuted, and they're housed in delightful orange packaging. For $1.99, you get a shot with turmeric, coconut water, lemon juice, and black pepper. It's tasty on its own (there's also a ginger variety) and equally good mixed with some sparkling water for a healthier version of a soda.
Yes, it's just canned pumpkin, but it's a classic, and it's organic—plus, it's only $1.99 for a can. Stock up for all of your seasonally based treats—you can toss it in smoothies or oatmeal, or use it to make pumpkin breads or cakes. And, of course, there's always the classic pumpkin pie.
The culinary world loves salsa, not just for the obvious dipping-of-chips, but as a quick, high-flavor punch to doctor up sauces, marinate fish, mix with olive oil for a quick salad dressing, and more. This version is made with a blend of pumpkin, tomatoes, butternut squash, apples, tomatillos, and tons of seasoning. It's savory, sweet, and just the right amount of spicy, and at just $2.99 for a 12-ounce jar, you can use it liberally this fall.
The prices and stock differ from location to location, but a friendly reminder to check your local Trader Joe's produce section for a fun selection of seasonal squash (our closest one had honeynut, a butternut-squash-like variety that's sweeter, tinier, and way more fun). We've also spotted on-the-stalk Brussels sprouts, which are as eye-catching as they are delicious.