8 Tips For A Downsized Thanksgiving Without Skipping Your Faves
mbg Nutrition & Health Writer
By Eliza Sullivan
mbg Nutrition & Health Writer
Eliza Sullivan is a food writer and SEO editor at mindbodygreen. She writes about food, recipes, and nutrition—among other things. She studied journalism at Boston University.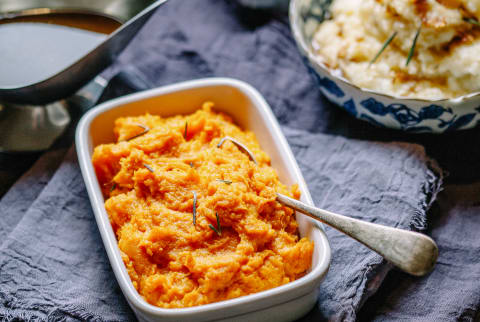 Image by Darren Muir / Stocksy
November 18, 2020
For many families, Thanksgiving offers the start of the festive season and the beginning of a month of big warm gatherings—but in 2020, many are staying local and cooking for smaller groups this season. And that's the thing: Thanksgiving (at least for me) has always been a holiday with a multitude of options spread across a massive family table. So how do you plan such a food-centric holiday for a small group (or even for one?).
Downsizing the celebration certainly doesn't mean having to skip the classic flavors that you love or the traditions that make the day special. It's just about really focusing on the things you really love and maybe skipping the other extras. Here, we break down some of our favorite advice for minimizing the meal but still feeling festive:
1. Stick to the basics.
"We're just going back to basics," shares cookbook author Danielle Walker. Since you're not catering to a larger group, you can hand-select your favorite dishes from the mix and skip the ones you know you won't miss. For me, that means skipping stuffing and turkey in favor of sweet potatoes and Brussels sprouts—but it's up to you (and perhaps your small group) what you go for.
If you're particularly missing family, it might be nice to call them for favorite recipes to try making them yourself—or have each person in your pod bring their personal favorite, if you are seeing a few people. "It's nice to make things that are comforting and nostalgic," Walker says. "We're definitely not skipping it; we're just doing it smaller."
2. That doesn't mean you have to skip the turkey.
Perhaps the most iconic component of a Thanksgiving table is the turkey, and you might assume it's the hardest thing to downsize—but you can turn to another type of protein. "A great alternative to a large turkey would be a whole roasted chicken," shares recipe developer Sarah Thomas-Drawbaugh. "A 6-pound roasted chicken will look beautiful on the table and is very easy to prepare."
But if you can't imagine the day with anything other than turkey, you can look for an individual turkey breast or legs. "Instead of doing a whole turkey, I ordered a few organic turkey legs and a bone-in turkey breast," says Walker. Not only will this cut down on excess, but it might also mean it's easier to cook the components to their perfect doneness than when doing a whole turkey at once.
3. Think outside the dish.
Love sweet potato casserole? If you think of this classic a little differently, ways to make a smaller version become easier to imagine. "Prepare baked sweet potatoes filled with all your favorite ingredients," says Thomas-Drawbaugh, "instead of making an entire casserole."
This also means that if you are having a small group, each person can customize their potato to their own tastes. And going beyond the sweet potatoes, this approach works with regular potatoes too. For other favorites, you can always just cut down the recipes or look for a way to downsize them more creatively.
4. You don't have to skip dessert.
Dessert is also a great opportunity to support a local small business in your area: Order an exciting option to pick up instead of worrying about it yourself. It means you have less to think about, and you're supporting a business (and therefore a family) in your area.
5. Don't fear the freezer.
If you do opt for more major meal components and have leftovers, don't fear: Thanksgiving leftovers will keep well frozen. "The good thing about Thanksgiving things is that they freeze well," said Walker, "so you could freeze it in single portions and have a second Thanksgiving in December or even repurpose it for your Christmas dinner." With a socially distanced winter ahead, the idea of having a meal ready to go is definitely appealing.
6. Don't be afraid to outsource.
If cooking a big Thanksgiving dinner is ever a point of stress for you, this year is the perfect year to just skip it! But again: That doesn't necessarily mean skipping the whole dinner. Plenty of brands and restaurants might be offering takeaway Thanksgiving dinners this year. "I'll also say Whole Foods Market does a great Thanksgiving dinner, if you're not wanting to cook," says Walker.
Another option? Raid the Trader Joe's (or any supermarket's) frozen section. You may be able to shortcut your way to favorite dishes, like mashed potatoes, green beans, or rolls (if you're having them).
7. Get decorative!
Fewer people (and less food) on the table means more space for joyful seasonal decor. "One thing I plan to do is to get creative with my table-scape," shares Thomas-Drawbaugh. "Since it's a smaller group, I will have more room for Thanksgiving decorations. Mini pumpkins, gourds, or fresh flowers are always a great way to make any table look more festive and special for the holidays."
It's certainly a way to make sure the table feels festive, even if it's just you or maybe a few others at the table—just try to opt for decor that's sustainable, like natural materials.
8. Focus on the things you enjoy.
With all the stress of this year, it may be easy to get lost in the downer of being separate from family and friends. As much as possible, finding the joy in the simplicity of the smaller celebration is worth focusing on. "I always say, food made with love tastes best," says Thomas-Drawbaugh. "So, enjoy your day. Don't rush into your recipes, and add a little extra love when you're making your meal."
Consider this an opportunity to test-run a minimalist Thanksgiving—apply the Marie Kondo theory (does it spark joy?) to the components of your holiday celebration and go with the things you know will make you truly joyful.
Eliza Sullivan
mbg Nutrition & Health Writer
Eliza Sullivan is an SEO Editor at mindbodygreen, where she writes about food, recipes, and nutrition—among other things. She received a B.S. in journalism and B.A. in english literature with honors from Boston University, and she has previously written for Boston Magazine, TheTaste.ie, and SUITCASE magazine.