This Seeded Bark Will Satisfy Your Chocolate Craving Without Hurting Your Gut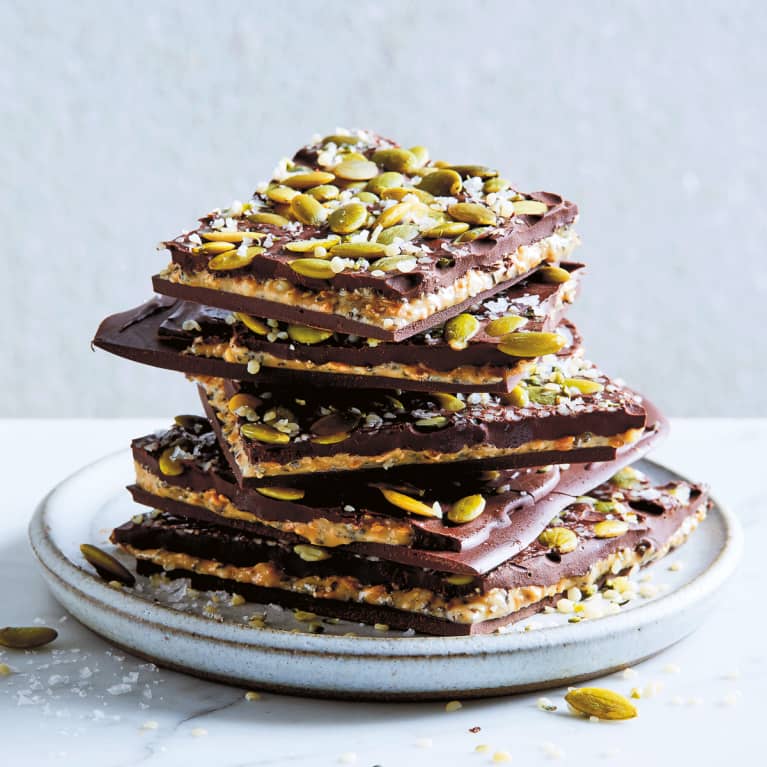 Our editors have independently chosen the products listed on this page. If you purchase something mentioned in this article, we may
earn a small commission
.
I honestly can't be left alone in the house when I know there's a batch of this bark in my freezer. It's everything I love about a peanut butter cup but with a generous serving of seeds, which beneficial microbes love.
I also love how pretty the bark looks—particularly when made with golden flax and white chia. When I have friends over, I bring out the whole slab on a platter and let everyone break off their own pieces.
Seeded Chocolate-Tahini Bark
1 pound 85% dark chocolate (we're partial to Lily's Extremely Dark Chocolate)
½ cup tahini
3 tablespoons flaxseeds
3 tablespoons chia seeds
3 tablespoons hemp seeds
½ cup raw hulled pumpkin seeds
1 teaspoon flaky sea salt
Line a baking sheet (that will fit in your freezer) with parchment or waxed paper.
Make the first chocolate layer: Place half the chocolate in a microwave-safe bowl. Microwave in 15-second bursts, stirring after each, until melted. (You can also do this in a heatproof bowl set over a pan of simmering water.)
Pour the chocolate onto the prepared baking sheet and use an offset or silicone spatula to spread the chocolate into an 8-by-12-inch rectangle. Freeze for 10 minutes.
Make the seeded tahini filling: In a small bowl, stir together the tahini, flaxseeds, chia seeds, and 2 tablespoons of the hemp seeds. Spread over the frozen chocolate, almost all the way to the edges.
Freeze for 10 minutes.
Top with more chocolate: Melt the remaining chocolate and pour it over the tahini layer. Use an offset or flexible spatula to spread the melted chocolate to the edges of the bottom chocolate layer.
Working quickly before the chocolate sets, sprinkle with the pumpkin seeds, remaining 1 tablespoon hemp seeds, and the flaky sea salt.
Freeze for at least 2 hours. Break into chunks to serve.
To store: Store the bark in a parchment-lined airtight container in the freezer for up to 2 months.