This Functional Nutritionist Specializes In Thyroid Health: Here's Her Go-To Power Bowl Recipe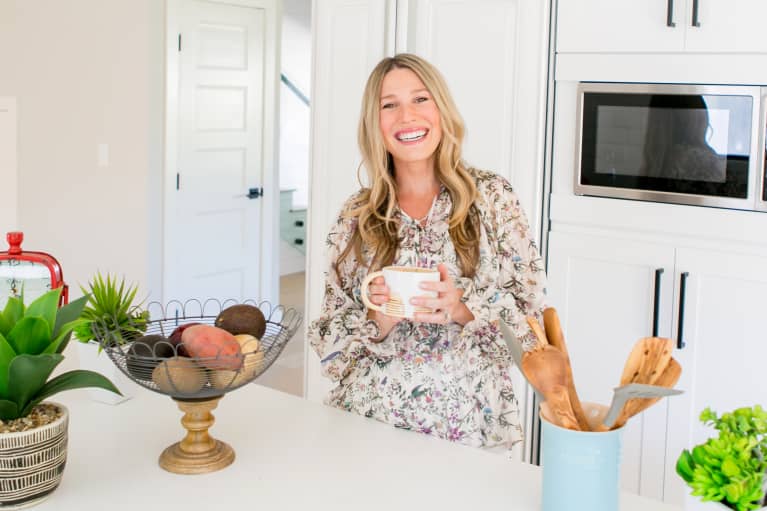 It's
National Nutrition Month
! All month long, we're highlighting the importance of a personalized nutrition approach and celebrating R.D.s across a range of specialties—hospitals, schools, community programs, universities, private practice, industry, and beyond.
Twenty million Americans have some form of thyroid disease, but 60% are totally unaware. Whitney Crouch, RDN, CLT, is a functional nutrition dietitian on a mission to improve that concerning statistic.
Born, raised, and based in Los Angeles, Crouch brings a whole-body, integrative approach to nutrition and lifestyle. She specializes in helping women with autoimmune thyroid disease find community; improve or reverse thyroid disease symptoms; and live energized, resilient lives.
Known as the "The Hashimoto's R.D.," Crouch's personal experience with Hashimoto's thyroiditis was her inspiration to help other women on their thyroid health journeys. Crouch infuses her background in clinical nutrition, communications, nutrition education, and wellness consulting into her current practice.
I was eager to glean Crouch's insights on this year's National Nutrition Month theme, learn more about her personal dietary pattern, and hear her top go-to foods.
What does this year's National Nutrition theme "Personalize Your Plate" mean to you?
This year's National Nutrition Month theme represents a foundational and crucial shift in the way we must view nutrition. As humans, we need to consider the planet, our beliefs, how the foods we eat make us feel, and our personal and family history (i.e., genetic tendencies) when deciding how and what we eat.
As R.D.s, we and other health care practitioners should approach each patient from both a holistic, "big picture" perspective, as well as with a granular focus—infusing individual beliefs and values, personal and family history, financial realities and food security, environmental exposures, genetics, and more. "Personalize Your Plate" represents the fact that we are each unique individuals with bio-individual needs.
Do you follow a specific dietary pattern?
I would describe my personal eating style as a gluten-free, Mediterranean pattern. I emphasize anti-inflammatory, nutrient-dense, and high-quality plant and animal foods.
What's your go-to nutrient-dense meal right now (breakfast, lunch, or dinner)?
I'm still in love with a good power bowl. I batch prepare veggies and a couple of protein sources once or twice per week, then combine them with seasoned, riced cauliflower (sometimes mixed with quinoa or beans), and a protein (typically animal meat or egg). Then, I add avocado and dressing. Voilà!
There are so many ways to create fun breakfasts, lunches, or dinners, and I always aim for my bowl (or plate or smoothie!) to be one-half nonstarchy vegetables, one-quarter starchy vegetables, and one-quarter high-quality protein.
Is there one "MVP" healthy food or meal addition you're personally loving right now?
Mushrooms! I love adding a good cremini or portobello to savory dishes to up the umami factor. Mushrooms also deliver gut-supportive fiber and an array of vitamins and minerals. For their nutrition and resilience benefits, I also enjoy adding adaptogenic mushrooms like reishi, cordyceps, and chaga to my coffee and smoothies.
You can connect with Whitney at whitneycrouchrdn.com and on social @whitneyc.the.rd.