The No. 1 Body Part You're Neglecting That's Making You Age Faster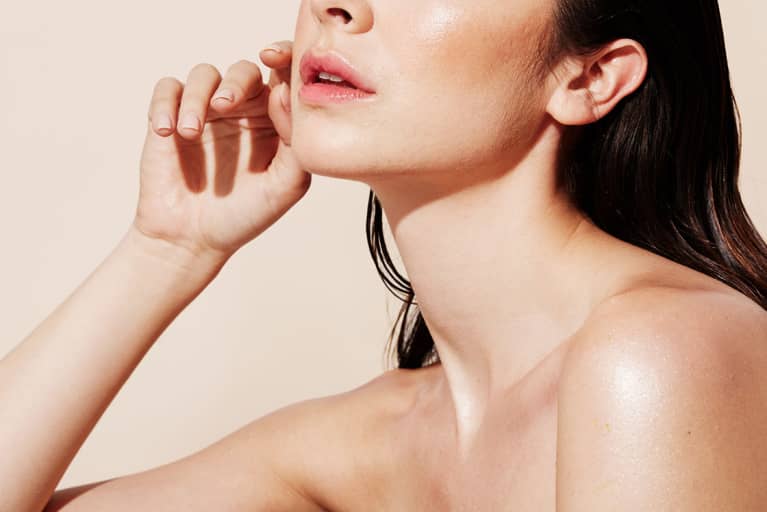 Our editors have independently chosen the products listed on this page. If you purchase something mentioned in this article, we may
earn a small commission
.
When it comes to skin care, we're kind of obsessed with our faces. We spend so much time and effort researching just the right cleanser, serum, sunscreen, and moisturizer for our skin type, all the while neglecting part of our body that's just as prone to sun damage and premature aging—the neck and chest (or décolletage).
"It's ironic that we neglect this area because it's one of the most fragile parts of the body," says Nichola Weir, holistic esthetician and founder of Pacific Touch NYC. "The skin is thinner, there's not as much collagen as in your cheeks and face, and because there are fewer sebaceous glands, there's less natural moisture and protection."
This, plus the fact that the neck and décolletage are often exposed to the elements (unless you're always rocking a turtleneck), means you could be setting yourself up for fine lines, hyperpigmentation, and other skin issues if you're not careful. "We really see so much sun damage cropping up on the neck, décolletage, and cleavage area," says holistic esthetician and mbg Collective member Britta Plug. "It's almost like a little solar panel; the sun just really beams down on it."
The good news: It actually doesn't take much effort to keep your neck hydrated, healthy, and protected—and you don't have to shell out money for neck-specific products, either.
"The French say that the face begins at the breast," says Plug, "so we should be taking care of this whole area the way we take care of our face." Here, Plug and Weir share some of their simple tips for extending your face care regimen southward and keeping the skin on your neck and chest looking youthful:
1.
Swap the harsh body wash for a facial cleanser.
If you're the person who (like me) lathers up your neck and chest with any old body wash and calls it a day, it's time to stop. "Body wash and soap is traditionally quite alkaline and stripping, so you're just stripping away the natural oils from an area that doesn't produce as much oil to begin with," says Weir. Instead, both Plug and Weir advise using a small amount of your facial cleanser on these areas to remove impurities while keeping enough of your skin's natural oils intact that it won't over-dry or disrupt your skin's barrier. Peet Rivko Gentle Cleanser is a great non-drying option that's free of any added fragrances or harsh ingredients.
2.
Hydrate, hydrate, hydrate.
Using your facial serums and moisturizers on your neck and chest is also a great option for keeping the skin in these areas hydrated and preventing fine lines and a loss of elasticity. Of course, "it can be hard to talk yourself into using your pricey facial products here because it's a larger area," says Plug, but there are plenty of inexpensive solutions. For the budget-minded, Plug recommends spritzing the neck and chest area with a plain rosewater mist and following it up with some organic jojoba oil after cleansing (fun fact: damp skin is able to absorb more moisture from oils and moisturizers); and, when you use a sheet mask on your face, Weir recommends taking the excess serum from the packet and slathering it all over your neck and décolletage.
3.
Exfoliate and mask on a weekly basis.
Weir and Plug both agree, weekly exfoliation and masking can also boost the health and appearance of the skin on your neck and chest—apply both from the face all the way down to the cleavage line. "You don't want to overdo it, but if your skin is very dry, exfoliation is good because it dissolves the dead skin cells and it makes the skin more receptive or open to absorbing your other skin care products," says Weir, who likes to use a gentle enzyme-based exfoliant on the neck and chest areas.
As for masks, hydrating moisture masks are great for these delicate areas, but if you happen to suffer from chest or neck acne, you can try a clay mask here to help draw out impurities, says Plug. Just be sure to keep a spray bottle of water on hand to prevent the mask from drying completely, which will over-dry the skin.
4.
Slather on an antioxidant-packed sunscreen.
Remember how we said the neck and décolletage are basically a solar panel? This means sun protection is crucial. "People will often apply sunscreen to the face and then just pat it on the neck and go, but you need to make sure it's properly covered," says Weir, who recommends using a facial sunscreen that includes moisturizing ingredients and antioxidants for extra hydration and photo-protection. Her top pick: Badger Damascus Rose Zinc Oxide Face Sunscreen SPF 25 with aloe, sunflower seed oil, and loads of antioxidant-rich botanicals like pomegranate, rosehip, sea buckthorn, and elderberry.
5.
Give yourself a good rubdown.
Finally, not all neck and chest care is about slathering on a topical skin care product. In fact, a little manual manipulation can go a long way. "If everything in the neck and chest and shoulders is really tight, that's going to be pulling on the neck and jaw muscles in a way that promotes loss of elasticity in the facial skin," says Plug. Releasing the muscles and working the fascia in these areas with gentle stretching, self-massage, and gua sha can go a long way to counter this tightness and boost circulation, which will improve overall skin health and appearance—not to mention reduce stress!