Make A Full Week Of Healthy Dinners With These 7 Simple Recipes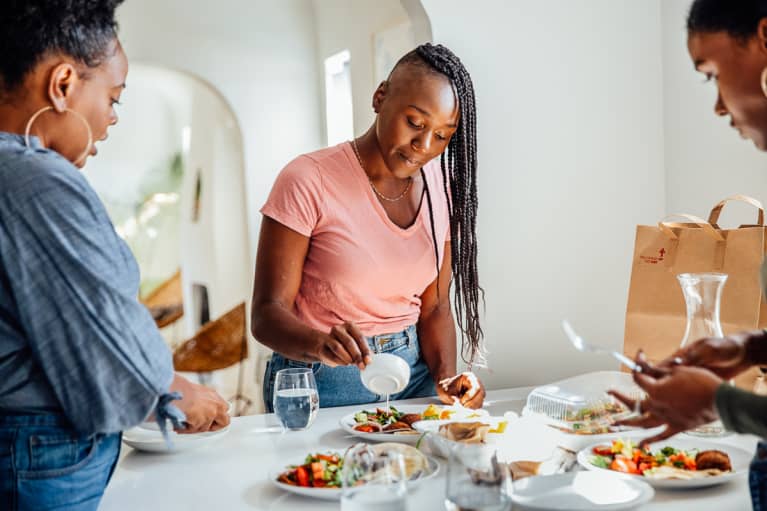 The week after Thanksgiving, you may not have a ton of interest in cooking—but if you're going to, it should be all about fresh, nutritious meals that are honestly as far from the rich flavors of Thanksgiving as possible.
This week, we're focusing on dishes that are low-lift for prep and high-reward on flavor and nutrients—and that use up some of those lingering holiday staples. If you've got a bit of kitchen fatigue, or are just looking for some inspiration, look no further. Here's a whole week of healthy recipes to try out.
Monday: Meat-Free Monday Black Bean Tacos
This dish pulls on a bunch of pantry staples, accented with a few fresh ingredients, for a super-easy dinner. It came to us courtesy of Eric Adams, the borough president of Brooklyn—who actually learned it from Sir Paul McCartney himself (McCartney is a driving force behind the Meat Free Monday campaign).
Tuesday: One-Pan Salmon & Sweet Potatoes
If you've got some leftover sweet potatoes hanging out, repurpose them into this dish. Though it calls for cooking them on the fly, you could always make this one-pot meal with just the salmon and enjoy the leftovers from this past Thursday on the side.
Wednesday: Protein-Packed Kale Caesar
One of my favorite dishes in the world is a good kale caesar, and this version is exactly what I like to see. Roasted chickpeas add a nice textural component and some good plant-based protein, and the rest of the salad is easy enough to throw together—and let's be honest, we always have kale on hand.
Thursday: 30-Minute Turmeric Chicken
By a full week past the holiday, if you're ready to consider eating poultry again, this quick and easy turmeric chicken is the perfect thing to make. Made from chicken thighs and cooked on the stovetop in a sauce of turmeric, honey, and soy sauce, it's a simple, balanced dish to enjoy with some veggies.
Friday: Sheet-Pan Provençale Vegetables
Celebrate the end of the week with this fresh and delicious French-inspired dish. It's a sheet pan take on a ratatouille—which is a popular dish in France, made up of a mixture of fresh market vegetables. This version also includes some white beans, so it's not entirely lacking in protein—though you could opt to serve it alongside some leftover turkey if you have it, too.
Saturday: Vegan Mushroom Pot Roast
By Saturday, you might be ready for a more ambitious cook, and this vegan take on a pot roast is a perfect warming meal to enjoy on a cold weekend. Made with garlicky wild mushrooms, potatoes, and carrots, it's got all the basic ingredients in a true pot roast—minus the meat.
Sunday: Vegan Lentil Chili
Make this on Sunday, and enjoy it all week: The best part of making a pot of chili on a Sunday is that it's also a great meal-prep option. This vegan chili uses a technique the author calls "exploding" the lentils to contribute the meaty texture of a classic chili, but otherwise, it's a pretty classic pantry-based chili—perfect if you haven't made it to the store in a few days.
This week, I'm focusing on cooking my favorite dishes and using recipes that require minimal focus and ingredients. It's about making sure I'm using the food I have and also that I'm cooking meals that provide my body with the diverse nutrients it needs to stay healthy as we continue into the colder season.