The Key To This Vegan Chili? Exploded Lentils (Yes, You Read That Right)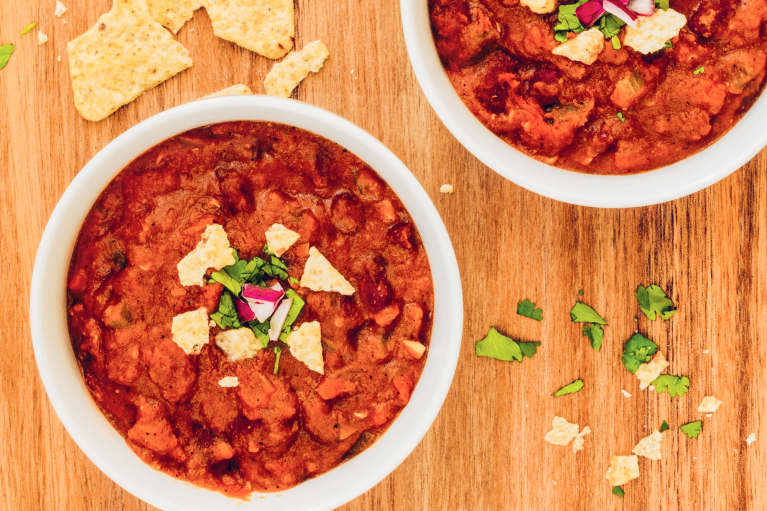 Our editors have independently chosen the products listed on this page. If you purchase something mentioned in this article, we may
earn a small commission
.
The secret ingredient to making this recipe taste just like old-school chili is lentils. Exploded lentils. If you cook them too hard, they pop open and soften and act as a thickening agent with a result similar to stew.
Red lentils are more delicate than their green or brown counterparts. Customarily, they are cooked at a very gentle simmer. For this recipe, I cook the lentils at an active simmer, which causes their fragile skins to rupture and free the starchy inside. This allows them to act as a thickening agent for the chili and adds an authentic texture too.
The balance between the starchy insides of the lentils and the juicy diced tomatoes creates a chili so thick and authentic, your omnivore guests will have eaten half a bowl before they realize the dish is meatless.
1 cup dried red lentils, rinsed
1 medium onion, diced
1 medium green bell pepper, diced, about ½ cup
⅓ cup diced celery
1 to 2 tablespoons minced garlic
1½ teaspoons finely ground sea salt, divided
3 tablespoons chili powder
2 teaspoons cumin
1 teaspoon paprika
½ teaspoon finely ground black pepper
Dash red pepper flakes (optional)
1 28-oz. can diced tomatoes in juice
1 15-oz. can red beans or kidney beans, rinsed and drained
Place the dried lentils in a strainer and rinse with cold water. Transfer to a saucepan and add 3 cups filtered water, cover, and bring to a boil. Uncover the pan, reduce the heat to medium-low, and simmer for about 20 to 25 minutes or until tender and the water is absorbed. The lentils will become quite mushy, almost like a thick stew.
Shortly before the lentils are finished cooking, place a 6-quart saucepan over medium-high heat. Add the onion, green bell pepper, celery, garlic, and ¼ teaspoon salt. Sauté until the onion becomes translucent, about 5 minutes. The salt will help the vegetables release water, so no oil or extra water is required at this time.
Add ¼ cup water to the pan, and stir to deglaze. Add the lentils to the pan and stir to combine. Add the chili powder, cumin, the remaining salt, paprika, black pepper, and red pepper flakes, if desired. Combine the seasonings with the ingredients and cook for 1 to 2 minutes.
Add the tomatoes and their juice and the beans to the pot, stir, and reduce heat to low. Simmer for about 30 minutes, stirring occasionally. After 30 minutes, check the seasonings and adjust to taste and serve. If you want a thicker stew, a longer simmer will result in a richer, thicker, concentrated chili.
Store in an airtight glass container in the refrigerator for 5 to 7 days. Reheat over medium-low heat. Add water, 1 tablespoon at a time, if thinning is necessary.