You're Probably Washing Your Hair Wrong: Try This Hairstylist's Tip For Lush Locks

Beauty & Health Editor
By Jamie Schneider
Beauty & Health Editor
Jamie Schneider is the Beauty Editor at mindbodygreen. She has a B.A. in Organizational Studies and English from the University of Michigan, and her work has appeared in Coveteur, The Chill Times, and Wyld Skincare.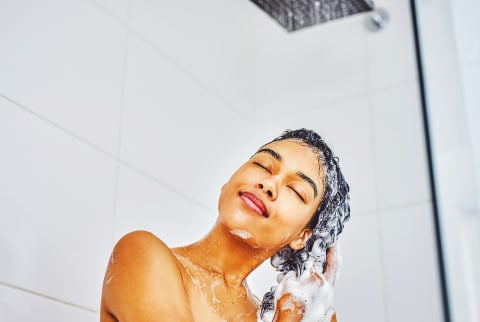 Image by Moyo Studio / iStock
May 4, 2023
We carefully vet all products and services featured on mindbodygreen using our
commerce guidelines.
Our selections are never influenced by the commissions earned from our links.
Washing your hair may seem pretty straightforward—just scrub, rinse, and go, no? But, alas, it's often the most basic beauty rituals that come with the most variables, your wash day habits very much included. Healthy hair, after all, starts in the shower.
You may have your shampoo schedule down to a science, your sulfate-free formulas at the ready, but have you considered how you scrub? Some people need a good rinse and repeat to truly dissolve buildup; others (namely those with dandruff) should leave on active cleansers for at least a minute so the ingredients come into contact with the skin. And according to iconic hairstylist Frédéric Fekkai, founder and CEO of FEKKAI Brands, some should actually use conditioner before shampoo—a concept known as reverse hair washing.
What is reverse hair washing? 
Reverse hair washing simply involves applying conditioner before shampoo (aka, a reverse application order). "That would avoid hair being too flat," Fekkai notes.
Conditioning your hair is nonnegotiable for smooth and shiny locks, but some people find that conditioner weighs down their roots, stretches out their curls, contributes to buildup, or makes their hair look and feel greasy—no matter how lightweight the confection may be. In that case, it may help to switch up the order.
That way, your tresses will still soak up all of those hydrating, hair-healthy nutrients, but the shampoo will ensure lift at the root and a fresh, light feeling on the scalp. If you frequently struggle with limp, flat locks, you're probably a good candidate for this hack.
Some people choose to apply conditioner before shampoo in order to buffer their strands from potentially drying formulas. By providing a shield around the hair shaft, you'll help stop the shampoo from stripping the strands and contributing to frizz, dryness, and breakage. (Others do this with a hair oil, too, as a pre-shampoo treatment.) If your hair runs really dry, you might even follow up with another round of conditioner post-shampoo (like a conditioner sandwich of sorts), but if volume is your main goal, you might want to stick to the reverse order.
How to do it correctly
So you apply conditioner before shampoo. Simple, right? Wrong! One small oversight, and you'll wind up with strands even flatter and drier than before—and it's easier than you think to misread the situation. Follow Fekkai's tips below:
Apply your conditioner or a hydrating hair mask in sections, making sure to saturate your hair from root to tip. "Leave it on for, say, five to 10 minutes," he says, or however long your specific mask recommends.
Rinse the conditioner out, then shampoo. Just make sure to apply the shampoo only at the roots. You want to lift buildup on the scalp without stripping your lengths; it's OK if some product runs down your strands while you rinse, but you don't want to actively scrub away the conditioner and dry out the ends.
Post-shower, you'll still want to rehydrate your hair with a leave-in conditioner. That way, you can help trap in the water and seal down the strands' cuticle (which is naturally raised from being exposed to water). Fekkai recommends his Clean Stylers Glossing Cream+, a frizz-smoothing formula that contains coconut, squalane, and olive oils, which are known for absorbing quickly into the strands and smoothing down the cuticles, as well as shea butter and prickly pear extract for a host of fatty acids and antioxidants. It's not too tacky or heavy, so you won't have to worry about weighing down your locks.
The takeaway 
If your hair constantly falls flat or appears greasy, you might want to give reverse hair washing a try. By giving the scalp a good scrub, you can encourage lift without stripping your lengths of precious moisture. Again, just make sure you keep the shampoo on the scalp, not your ends. Personally, I find using a scalp brush helps create a fluffy lather and remove buildup with precision—but you can read all about that here.

Jamie Schneider
Beauty & Health Editor
Jamie Schneider is the Beauty Editor at mindbodygreen. She has a B.A. in Organizational Studies and English from the University of Michigan, and her work has appeared in Coveteur, The Chill Times, and more. In her role at mbg, she reports on everything from the top beauty industry trends, to the gut-skin connection and the microbiome, to the latest expert makeup hacks. She currently lives in Brooklyn, New York.