How To Do The Reverse Cowgirl Sex Position: 10 Tips From Experts
By Kesiena Boom, M.S.
mbg Contributor
Kesiena Boom, M.S., is a sociologist and writer. She has a bachelor's degree in Sociology from the University of Manchester and a master's degree in Gender Studies from Lund University.
As far as sex positions go, reverse cowgirl is often overshadowed by its cousin—the classic cowgirl—but there's plenty of fun to be had by switching it up and reversing. Saddle up for a primer on how to do reverse cowgirl like a pro, the benefits of this underrated sex position, and how to optimize the pleasure for all parties involved.
The reverse cowgirl position.
Reverse cowgirl is named because it involves one person "riding" their partner, who is positioned underneath them, like one would ride a horse or mechanical bull—but backward, explains sexuality and relationship coach Niki Davis-Fainbloom, MSc. The rider faces their partner's legs instead of their face, as opposed to the regular cowgirl position, where eye contact can be made.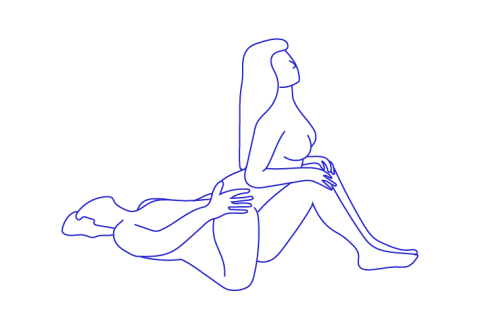 Image by mbg Creative / mbg Creative
Despite the name, the position can be enjoyed by people of any gender with any body parts. For example, the penetrating partner can wear a strap-on if they don't have a penis (or do not wish to use their penis for penetrative sex), and the receiving partner can be penetrated anally.
How it works.
To get into reverse cowgirl, the penetrating partner lies on their back while the receiving partner straddles them, genitals to genitals, facing their feet. The top partner can then bounce on, grind against, or otherwise "ride" the bottom partner's penis or strap-on with their vagina or anus.
Why you may want to try the position:
1.
It's great if you're shy.
Since the position involves facing away from your partner, reverse cowgirl is good for people who feel that eye contact is a little too intense. "It's also an excellent position for folks who aren't ready for their partner to see their orgasm face, as any chance of your partner seeing what you look like in the thralls of pleasure disappears when you turn around. This position can be helpful for self-conscious folks who want to sink into the sensations without feeling the need to perform," explains Davis-Fainbloom.
2.
It allows for the receiver to take control.
Reverse cowgirl is great for women and other people who typically "receive" penetration to take control of their pleasure, says Sari Cooper, LCSW, CST, AASECT-certified sex therapist and director of the Center for Love and Sex in NYC. "This can be an excellent position for receivers to facilitate the type of sex that feels best, as they are in complete control of the rhythm, speed, and depth of penetration."
When you're on top in reverse cowgirl, you also run less risk of accidentally falling afoul of your partner's penis or strap-on entering you at a painful angle. For people who experience anxiousness around penetration, this position is a useful tool in the toolbox.
The angle of reverse cowgirl is particularly well-suited for extra G-spot stimulation for people with vaginas, which can contribute to deeper, more satisfying orgasms, notes Cooper.
Reverse cowgirl is a great position for penetrating partners who are especially turned on by looking at their partner's backside. Since the penetrating partner is lying on their back and doesn't need their arms to support themselves, their hands are also free to spank and grab their partner's butt cheeks. The sight of this can be extremely arousing, as well as pleasurable for the receiver.
5.
It leaves lots of room for extra play.
Thanks to the hands-free setup of reverse cowgirl, both partners have their hands available to add a little magic. For example, the receiving partner can easily press a small vibrator against their clitoris or shaft of their penis while they're being penetrated. (Here are some of the best sex toys for couples, FYI.)
Alternatively, says Davis-Fainbloom, "use a hands-free vibrator or have the penetrator hold the vibrator in place." The penetrating partner can also use a free hand to put a finger or butt plug into the anus of a partner who is being vaginally penetrated. This double penetration can lead to extremely intense orgasms. The penetrating partner could also use their hands to pull their partner's hair or scratch their back.
Tips & techniques to optimize pleasure:
The penetrating partner can bend and lift their knees so that their calves are raised away from the bed, floor, or whatever surface you're on. The receiving partner can then rest their arms on the raised knees in order to support and stabilize themselves, says Cooper. Having something to rest on means that the receiving partner may be able to go for longer without wearing out their core muscles. (Here are other ways to last longer in bed, in case you're interested.)
Use a smart piece of furniture designed to make sex more accessible and satisfying such as the Liberator Wedge. Position the cushion under the penetrator's hips in order to give a deeper thrust for the receiver. You can also put the cushion underneath the penetrator's knees in order to take some pressure off their back and increase the time they can comfortably lie in the position.
Using a dildo such as the Limba Flex is great for taking control. This dildo is bendable with a poseable shaft, which can be manipulated into the perfect shape to fit your anatomy. This is especially important in reverse cowgirl since the angle of a regular dildo might be uncomfortable because it can be misaligned with the vaginal canal.
4.
Be mindful of your angles.
While reverse cowgirl offers a lot of potential pleasure, it can also be dangerous if practiced too vigorously. To be precise, penises are not designed to be bent downward while they're erect, says Cooper. So the partner on top needs to be extra mindful not to make any sudden movements too far forward, as this can cause a penile fracture (ouch).
5.
Don't be afraid to mix it up.
The bottom line.
Trying new sex positions (or coming back to an old forgotten favorite) can really kick-start the sparks between you and your partner. When you're both open to experimenting and seeing what your bodies can do together, you engender an intimate and sexy environment that can only make the sex hotter, more frequent, and more enjoyable for everyone involved. So climb aboard and add reverse cowgirl to your repertoire!
Kesiena Boom, M.S.
Kesiena Boom, M.S., is a sociologist, writer, and poet. She has a bachelor's degree in Sociology from the University of Manchester and a master's degree in Gender Studies from Lund University. Her work has been featured at Slate, Buzzfeed, Vice, Autostraddle, and elsewhere. Her writing focuses on sex, pleasure, queer experience and community, feminist theory and practice, and race and anti-racism.