Oat Milk Is Everywhere These Days — But Is It Actually Healthy?
Contributing Food Editor
By Liz Moody
Contributing Food Editor
Liz Moody is a food editor, recipe developer and green smoothie enthusiast. She received her creative writing and psychology degree from The University of California, Berkeley. Moody is the author of two cookbooks: Healthier Together and Glow Pops and the host of the Healthier Together podcast.
Expert review by
Megan Fahey, M.S., R.D., C.D.N.
Megan Fahey, MS, RD, CDN is a Registered Dietitian, Functional Medicine Nutritionist and Registered Yoga Teacher. She holds her Masters of Science in Nutrition and Dietetics from Bastyr University, where she was trained to artfully blend eastern and western healing modalities.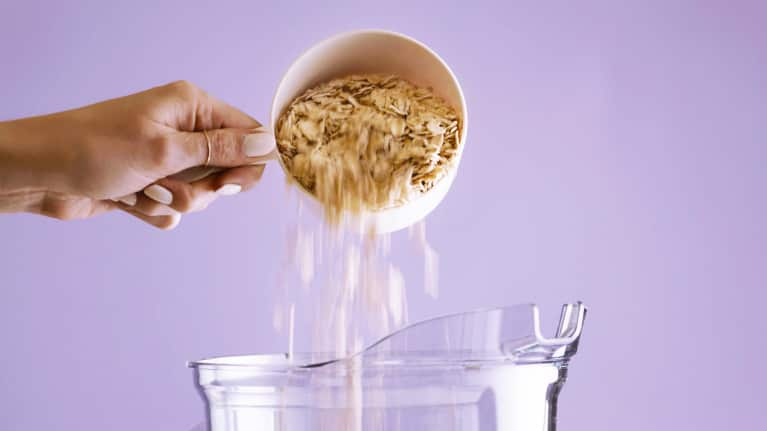 Last updated on September 19, 2019
Here at mbg, we're all about
Food With Benefits
—whether those benefits save you money, time, or help heal your body. In our video series, we'll show you how to make delectable recipes, each with a unique benefit. Whether it's a dinner for four for under $5, or a dessert designed to heal your thyroid, these meals, snacks, and desserts will make inspire you and make your mouth water!
It's official—oat milk has crossed the pond. A staple for a few years in London's ever-growing health food scene, it's now popping up on cafe menus stateside and won raves from health-and flavor-interested people alike. The brand of choice stateside is Oatly, which baristas praise for its thick blendability and coffee and matcha-drinkers love for its neutral flavor. "It's creamy, but it doesn't overpower the drink," explains mbg beauty & lifestyle editor Lindsay Kellner, who recently hunted down the only cafe in town with oat milk lattes while on vacation in New Orleans. Oat milk can be used in the same ways as any nondairy milk—lattes, smoothies, and more—although caution should be exercised when doing more specific recipes, as in baking, since the chemical structure is unique.
Perhaps the biggest draw of oat milk? It's ease of preparation at home. Unlike nut milks, it requires no soak time, and the base ingredients are much cheaper (and environmentally friendly) than almonds or cashews. In fact, it costs less than a dollar ($0.92, to be exact) to make your own batch of oat milk, which, if you use a generous cup of oats, will last you for three days. Making your own oat milk allows you to have the freshest product, and lets you avoid undesirable ingredients (Oatly, for example, uses a small amount of canola oil in their blend).
While oat milk has twice as many calories and carbohydrates as almond milk, it's also rich in soluble fiber and free of dairy, nuts, soy, and gluten. A word of warning: Many true celiacs find that the protein in oats (even certified gluten-free ones) mimics the reaction of the protein in wheat, causing stomach irritation, especially when eaten in the large, dense amounts that milks require. It's best to start small and pay attention to how you're feeling, so you can see what works with your body.
Want to make your own oat milk? This video shows you the simple, two-step process. The full recipe is also below.
1 cup rolled oats (gluten-free if necessary)
3 cups filtered water
Pinch of salt (optional)
Dash of vanilla extract (optional)
Blend all ingredients until very smooth (we recommend using the vanilla only if you'll be consuming your oat milk in sweet, not savory, preparations).
Strain through a fine-mesh strainer, nut-milk bag, clean dish towel, or triple-layered cheese cloth, reserving liquid.
Store in fridge until ready to drink, for up to a week.