Close Banner
Advertisement
This ad is displayed using third party content and we do not control its accessibility features.
The Best Materials For Nontoxic Cookware + 7 Brands To Cook With

mbg Sustainability + Health Director
By Emma Loewe
mbg Sustainability + Health Director
Emma Loewe is the Senior Sustainability Editor at mindbodygreen and the author of "Return to Nature: The New Science of How Natural Landscapes Restore Us."
We carefully vet all products and services featured on mindbodygreen using our
commerce guidelines.
Our selections are never influenced by the commissions earned from our links.
An essential item in any home, cookware should be durable, practical, and most of all—safe.
Here's your easy-to-follow guide to what makes cookware "toxic," how to find cleaner materials and brands, and how to use them safely. Because all you should have to worry about in the kitchen is nailing that recipe.
The case for nontoxic cookware.
For a long while, these chemicals were used to give nonstick materials like Teflon their slick coating.
However, we do know that nonstick cookware made with PFOA can leach these potentially harmful chemicals into our kitchens and onto our plates. When heated at high temperatures, the coatings can begin to disintegrate and send particles into the air, and when scratched and agitated, parts of them may chip off into food.
It's best to play it safe and avoid the chemical altogether—if not for your own health, for the health of the planet. Since they're created to resist water, oil, and grease, PFAS are super persistent, and they continue to accumulate quickly in our environment4 after being scrubbed clean and washed down the drain.
The good news is, PFOA has been largely phased out of American cookware manufacturing.
As such, building biologist and environmental consultant Ryan Blaser of Test My Home recommends getting rid of any older pans that may contain PFOA—especially if they're chipped.
"We want to get rid of those and replace them" with a nontoxic option, he suggests.
What we really mean by "nontoxic."
While the term "nontoxic" is thrown around a lot in the cookware space, it doesn't have a legally binding definition.
Anyone can pop it on a product, clearing the way for mislabeling and greenwashing.
This means that consumers will have to decide for themselves what they consider to be nontoxic.
We like this definition from Blaser, and it's the one we use to vet products too: "If I wouldn't eat it, rub it on my skin, or give it to my kids, I wouldn't consider it nontoxic," he tells mbg.
"Even if it just makes you tired or makes your stomach hurt—anything that takes you away from your optimal health, I'd consider that toxic."
Things to look for.
When looking for a nontoxic pan that doesn't lead to any adverse health effects, these materials should top your list.
Blaser and Caroline Blazovsky, another environmental health expert who has tested over 30,000 homes over the course of her career, say that while there are pros and cons to every material, these are the ones they use in their own kitchens:
Cast iron and enameled cast iron: Cast-iron pans, made from iron and a small amount of carbon, are naturally nonstick when properly seasoned. The material is also great at conducting and evenly holding high heat, and it's incredibly durable. (A good cast-iron pan can last you a lifetime.) The downside is that, if not well-cleaned or seasoned, cast iron can rust. Follow our cast-iron care guide to keep yours in good shape.
Glass: Glass is an inert material, meaning it's not chemically reactive, even at higher heat (though it can shatter and burn). This makes it a good alternative for nontoxic cooking and baking, though it doesn't distribute heat very well and can be cumbersome to store. Using it for stovetop cooking also requires a watchful eye.
Stainless steel and carbon steel: These untreated metal pans are typically safe, though Blazovsky cautions that anyone with a nickel allergy or iron sensitivity will want to use them sparingly as they can leach these metals into food over time. "You have to make sure they're seasoned well because they're not nonstick," Blaser adds, so grab those healthy oils before heating them up.
Ceramic: While you can find cookware that is 100% ceramic, most ceramic pots are metal that has been finished with an inert ceramic coating. While Blazovsky and Blaser agree that both are typically safe, they say you'll want to buy from a company that is transparent about where their ceramic comes from—as it could contain harmful heavy metals like lead.
A note on labels:
When it comes to label scouting, Blazovsky says the cookware with the fewest gimmicks is typically the safest to use. "If the label has all these technologies, you can pretty much assume there's some kind of chemical compound in there," she says.
Avoid nonstick pans that are not explicitly labeled PFOA-free.
Brand recommendations.
These nontoxic pots, pans, and Dutch ovens have all your cookware needs covered.
Seeing as they all have different uses in the kitchen, you'll want to choose a few based on the types of cooking you do most often.
Blazovsky and Blaser add that swapping between two to three different types of materials is the safer move in the kitchen anyway. It reduces your likelihood of overusing or damaging any one product.
Best enameled cast iron: Le Creuset Enameled Cast Iron Buffet Casserole with Glass Lid
Use for: Stews, searing vegetables
French company Le Creuset has been creating safe, high-quality cookware for nearly a century. This pan has the heat retention of cast iron but is covered in an enamel glaze that makes it easier to clean. Its wide, shallow base makes it great for searing vegetables and whipping up stews. And its bright color and classic design mean it can double as a serving platter, too. It comes with a lifetime warranty, so with a little TLC, you won't need to buy another one ever again.
Le Creuset Enameled Cast Iron Buffet Casserole with Glass Lid ($332.95)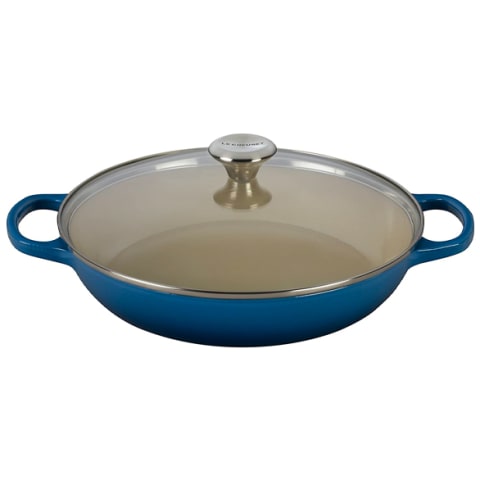 Le Creuset
Best stainless steel: Made In Stainless Clad Frying Pan
Use for: Frying eggs, batch-cooking meats
This American-made (and chef-approved) pan is made without PFOA, from five layers of stainless steel for more even cooking. The 12" size is great for larger high-heat cooking jobs, like frying up a big batch of eggs or searing a few pieces of meat at once. And at $99, it's affordable for the high quality (trust those 10,000+ top-mark reviews).
Made In Stainless Clad Frying Pan ($99)
Made In
Best multipurpose: Our Place Always Pan
Use for: Making sauces, steaming vegetables
Designed to replace eight traditional pieces of cookware, this beauty lets you steam, fry, sauté, and more—all in one place. In addition to being PFAS-free, the ceramic-coated aluminum pan doesn't contain lead or heavy metals. Made partially from recycled materials, it is shipped in plastic-free packaging. Our Place also claims to make all their gorgeous kitchen staples in ethical factories.
Our Place Always Pan ($145)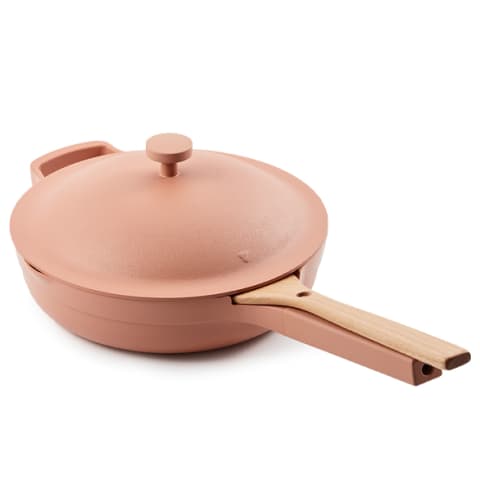 Our Place
Best glass: VISIONS 5-pc Cookware Set
Use for: Baked goods, reheating food
Take a step beyond the glass loaf pan or casserole dish with this vintage stovetop set. While glass can scorch at high temperatures, this set is suitable for low- and slow-cooking and can even go in the microwave. Just be careful if you're new to glass cookware as the material can be finicky and take some getting used to.
VISIONS 5-pc Cookware Set ($169.88)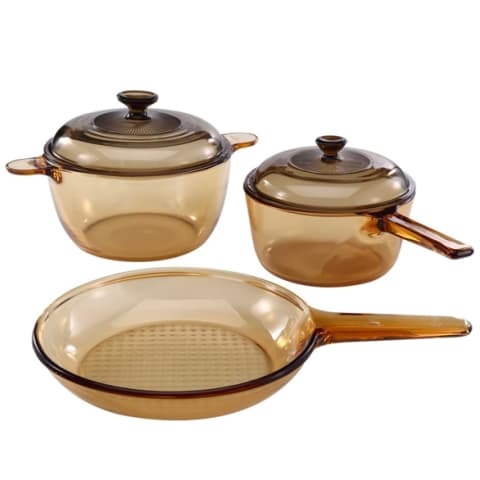 VISIONS
Best Dutch oven: Great Jones The Dutchess
Use for: Casseroles, stews
Another enameled cast-iron option, this Dutch oven is designed to go from stovetop to oven, making it perfect for casseroles and stews. Great Jones is all about making modern cookware that's nontoxic and beautiful, and this bright blue number can double as a kitchen centerpiece.
Great Jones The Dutchess ($160)
Great Jones
Best cast iron: Lodge Pre-Seasoned Cast Iron Skillet
Use for: Grilled sandwiches, pancakes
This safe cast-iron pan is affordable, comes pre-seasoned (though many users say that you might want to season it yourself, too), and is topped off with a silicone handle holder to reduce the risk of any accidental burns.
Lodge Pre-Seasoned Cast Iron Skillet ($29.90)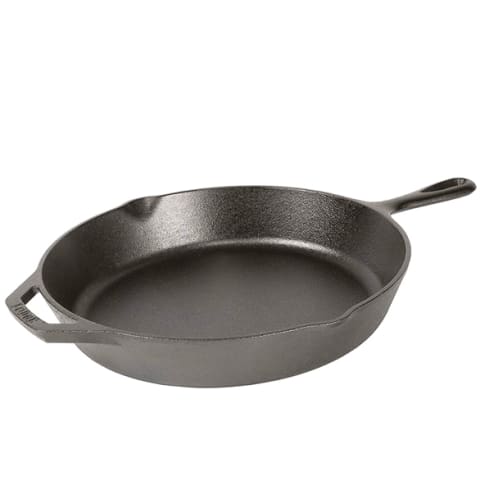 Lodge
Best PFAS-free nonstick set: Scanpan CTX 10-Piece Cookware Set
Use for: Everything
Finally, if you are really hoping for a matching set, this 10-piece one from Danish company Scanpan—though an investment—has everything. Scanpan has a long reputation for creating safer nonstick cookware, and this set is completely PFAS-free and oven-safe up to 500 degrees.
Scanpan CTX 10-Piece Cookware Set ($999.95)
Scanpan
How to use them.
The experts agree that, as far as toxicity is concerned, the way you care for your pans is even more important than the pans themselves.
Again, they don't use the same pan every time they cook, opting to alternate between them to minimize exposure to any one material. ("Moderation is key," says Blazovsky.)
They also keep a close eye out for chipping, and once a pan begins to degrade, they stop using it.
Finally, they agree that cleaning your pans using nontoxic dish soap is essential if you want to avoid chemicals in your food.
The bottom line.
Using nontoxic cookware reduces the risk that you'll eat or breathe any potentially harmful chemicals. Once you've swapped out your pots and pans for these options, move on to the rest of your home with our guides to safer cleaning products and mattresses.