New Study Shines A Light On The Psychological Impact Of Hair Loss
Assistant Beauty & Health Editor
By Hannah Frye
Assistant Beauty & Health Editor
Hannah Frye is the Assistant Beauty Editor at mindbodygreen. She has a B.S. in journalism and a minor in women's, gender, and queer studies from California Polytechnic State University, San Luis Obispo. Hannah has written across lifestyle sections including health, wellness, sustainability, personal development, and more.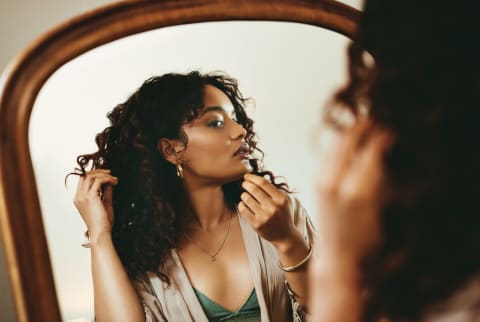 Image by Delmaine Donson / iStock
July 26, 2023
There are many kinds of hair loss, from general thinning to a receding hairline to sporadic balding, the latter formally known as alopecia areata. According to a recent study, this specific form of hair loss has been linked to mental health struggles as well.
Though the hair loss might not last forever, its mental health effects can surely stick around. Here's what you need to know about the connection.
New study finds hair loss increases anxiety and depression
The study, published in JAMA Internal Medicine, is a systematic review and meta-analysis aiming to determine what mental health symptoms may accompany physical symptoms of hair loss.
These specific results have been tied to alopecia areata, but it's important to clarify that feelings of anxiousness or sadness can certainly stem from any form of shedding and hair loss.
While these findings may not be entirely surprising, especially for those who have struggled with hair loss or their mental health, it's an important milestone that can encourage dermatologists working with hair loss patients to screen them for anxiety and depression.
Not to mention, studies like this often provide more peace of mind. Meaning: If you've felt anxious or depressed since dealing with hair loss, just know you're certainly not alone; and even if you aren't connected with a mental health professional yet, your primary care or dermatologist may be able to help get you there.
It's another reminder that while the dermatologist's office may seem like a place to discuss hair, skin, and nails, you should feel free to voice mental health concerns when you're there as well—they might be more connected than you think.
How to support your mental health & healthy hair growth
In the meantime, it's important to focus on supporting your mental health however you can. If you pair expert-led hair growth techniques with a positive mental health practice, it may even help alleviate some of the anxiety surrounding hair loss.
Below, a few tips to take with you:
1.
Have grounding techniques on hand.
When you're caught in a bout of anxiety, call upon grounding techniques like breathwork—here are a few examples to get you started. You can pair these techniques with any hair care routine or rituals you have, or simply use them when you're feeling overwhelmed.
2.
Massage your scalp & practice gratitude.
Massaging your scalp stimulates blood flow, which sends oxygen and hair-healthy nutrients to the follicles—this, in turn, sparks faster hair growth2.
However, it might be an anxiety-inducing activity if you're focused on your hair loss when massaging your hair. So pair this practice with listing people, moments, and situations that you're grateful for right now; practicing gratitude with your scalp massage can help distract your in a positive way.
3.
Pair your coffee with protein.
It's no secret that drinking coffee on an empty stomach can cause what many call the "caffeine jitters." For someone with preexisting anxiety or depression, these jitters can feel even more intense and uncomfortable.
To mitigate this nervous energy, pair your coffee with a protein so you have some substance on board besides just black coffee. If you can, try to eat a balanced breakfast before drinking your first cup.
If that's not an option for any reason, you can always boost your coffee by adding a scoop of collagen powder to your cup.
While at-home techniques are great, it's important to know when to seek professional help for either (or both) concerns.
When it comes to hair loss, there's a long list of potential causes and a variety of options for treatment. Ask your dermatologist about methods that align with your current hair state.
Feeling insecure, anxious, depressed, or simply unhappy when experiencing hair loss (or at any time, for that matter) is completely valid. Therapy can certainly be expensive sometimes, but there are affordable and virtual options out there—here's a curated list of some of the best on the market.
The takeaway
A recent review study found that 7 to 17% of patients with alopecia areata had depressive or anxiety disorders, with more than one-third of patients having symptoms. This finding may encourage dermatologists to screen hair loss patients for anxiety and depression as well. Not sure if you're dealing with hair loss or hair shedding? Here's the difference.
Hannah Frye
Assistant Beauty & Health Editor
Hannah Frye is the Assistant Beauty & Health Editor at mindbodygreen. She has a B.S. in journalism and a minor in women's, gender, and queer studies from California Polytechnic State University, San Luis Obispo. Hannah has written across lifestyle sections including skin care, women's health, mental health, sustainability, social media trends, and more. She previously interned for Almost 30, a top-rated health and wellness podcast. In her current role, Hannah reports on the latest beauty trends and innovations, women's health research, brain health news, and plenty more.