How mindbodygreen's HCC Program Sets You Up For A Career As A Health Coach

mbg Sustainability + Health Director
By Emma Loewe
mbg Sustainability + Health Director
Emma Loewe is the Senior Sustainability Editor at mindbodygreen and the author of "Return to Nature: The New Science of How Natural Landscapes Restore Us."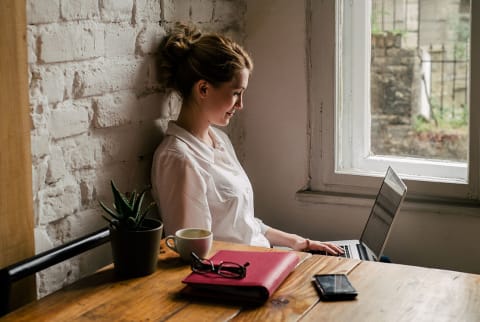 Image by Marija Savic / Stocksy
September 13, 2023
When you enroll in mindbodygreen's Health Coaching Certification (HCC) program, you'll receive 75 hours of instruction from top well-being professionals, direct access to coaches, interactive feedback sessions, and a supportive group of classmates. But that's not all: mindbodygreen's program is also approved by the National Board for Health & Wellness Coaching, so it prepares students to take the NBHWC exam and receive their coaching certification.
Is mindbodygreen's program accredited?
Don't let HCC's timeline fool you. Although the condensed program is taught over just 20 weeks, the curriculum contains all the information you'll need to set you up for a career in coaching—from details on holistic health and nutrition to ethical coaching information to positive psychology and deep listening skills.
Due to its rigorous courseload, HCC is one of around 100 health coaching programs that are currently approved by the National Board for Health & Wellness Coaching (NBHWC). Once you finish the mindbodygreen program and complete the required practice sessions, you're ready to sit through the rigorous NBHWC exam.
The NBHWC sets a high standard for all of its health coaches, and for good reason. The board advocates for health coaching to be more integrated into the mainstream medical system by getting coaching sessions covered by insurance, placing coaches in traditional clinics, etc. And ensuring that all certified coaches have received proper education and practice, and training will go a long way in helping them achieve this goal.
If you pass their 4.5-hour test, then you will join the ranks of around 6,500 certified health coaches practicing around the world. With an NBC-HWC credential under your belt, you'll be better equipped to find a job as a health coach or start your own practice off on solid footing, with a certification that others know and respect.
Summary
mindbodygreen's health coaching program is certified by the National Board for Health & Wellness Coaching (NBHWC). This means that its curriculum ladders up to the NBHWC exam, which students need to pass to become certified health coaches. Think of it like an SAT prep class: While the program won't get you into college, it'll set you up to nail your entry exam.
What students & faculty have to say
Though mindbodygreen's program is only a few years old, it's already helped dozens of students start careers as certified health coaches—and gain an unparalleled education along the way.
The hands-on nature of the class also helps students feel confident working with clients. "Going into this course, I thought I was going to learn how to coach people (by giving advice), but what I learned far exceeded my expectations," writes another program graduate, Deborah. "The skills and strategies that I learned will help me to support clients and empower them to make changes based on their own knowledge, intuition, and personal skill set."
The secret sauce of the program largely comes down to a world-class, diverse faculty dedicated to student growth. "The creators of the HCC program have put our hearts and souls into this, and we've done it in a way that helps students maximize their investment of time and money and use HCC as a springboard for greatness," says Darshi Shah, NBC-HWC, a holistic health coach and core HCC faculty member. "It's hard to describe in words, but this course changes lives…and we faculty are so lucky to get to watch the transformation."
The takeaway
If you're wondering if mindbodygreen's HCC program is "legit," the main certifying body for health coaches would say a resounding yes. As an approved program by the NBHWC, the 20-week course packs all the information students need to take the board exam and begin a career as an accredited health coach. Learn all the nitty-gritty of how much the program costs, how to enroll, etc., here.