Uh, Is Air-Drying Your Hair More Damaging Than Heat? We Got The Scoop

mbg Beauty & Wellness Editor
By Jamie Schneider
mbg Beauty & Wellness Editor
Jamie Schneider is the Beauty & Wellness Editor at mindbodygreen. She has a B.A. in Organizational Studies and English from the University of Michigan, and her work has appeared in Coveteur, The Chill Times, and Wyld Skincare.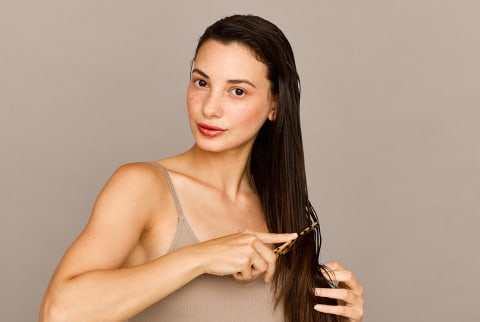 Image by ohlamour studio / Stocksy
March 28, 2022
Our editors have independently chosen the products listed on this page. If you purchase something mentioned in this article, we may
earn a small commission
.
Heat harms your hair—we'll assume you're well aware of this hard truth. While you can take proactive measures to prevent breakage (i.e., a thermal protectant and low-heat setting), taking a hot tool to the strands ultimately restructures your hair pattern to get the results you want, which does a number on those bonds over time. Now, we're not going to shame anyone for occasionally plugging in the blow dryer, but we often say an air-dry is the best dry, if you can swing it.
So imagine our shock when we came across a string of videos on TikTok claiming an air-dry is more damaging than heat—with some research to back it up, too. If you just reconsidered your wash day, you're not alone. Below, we asked the experts to weigh in.
Advertisement
This ad is displayed using third party content and we do not control its accessibility features.
Air-drying can damage hair: True or false?
Most of the frenzy comes from this 2011 study1 from the journal ​​Annals of Dermatology, which tested a bunch of different blow-dryer settings (lengths and distances), versus an air-dry at room temperature. The results? "Although using a hair dryer causes more surface damage than natural drying, using a hair dryer at a distance of 15 centimeters with continuous motion causes less damage than drying hair naturally." The researchers explain that air-drying actually compromised the cell membrane complex (CMC) in the cortex of the hair, rather than the surface (or cuticle), which ultimately created more inner structural damage than heat.
If all this science jargon leaves you scratching your head, here's a little hair anatomy for your day: Each strand is made up of three layers—the inner fiber called the medulla, the middle layer called the cortex, and an outer layer called the cuticle. Right on the outside of that middle cortex layer, you have the CMC. "The cell membrane complex is the material that glues hair cells together and is where hair hydration 'lives,'" explains hairstylist Miko Branch, co-founder of natural hair care brand Miss Jessie's. "When the CMC layer is exposed, you lose essential hydration, which can cause damage to the hair shaft."
Your hair is also structurally at its weakest when it's wet, as the strands swell up with water—so if your hair stays wet for a long period of time, the CMC "glue" holding the hair cells together can start to expand, and that's when you can run into a concern called hygral fatigue2 (or damage from excessive moisture). From there, you might experience brittle strands, tangling, frizz, breakage, and low elasticity, says Branch.
However! That's all assuming your hair stays wet and fragile for a long, long time. "I don't think 'air-drying' is the problem. I think air-drying for an extended period of time is problematic," says celebrity curl expert Nai'vasha, founder of Curl Queen. "The weight of wet strands for an excessive time plus the hygral fatigue is where the breakage starts, in my opinion, versus air-drying in its entirety." So let's all take a breath and let go of the notion that air-drying itself is more damaging than heat. Wet strands are extremely vulnerable, yes, but if your hair naturally dries rather quickly, you should have little to worry about.
In fact, that brings me to an important point: It looks like this study didn't take participants' hair texture and porosity into account, which totally could have influenced the results. For instance, low porosity hair takes longer to dry after getting wet, as the denser cuticles are holding all that water in. So someone with low porosity hair might have experienced more structural damage from the air-dry, as the CMC tends to swell up for longer.
High porosity hair, on the other hand, means the cuticles are more open, so water evaporates easily. Of course, it also means that water soaks in easier, which could also lead to hygral fatigue. As Branch notes, "Curly or kinky textures with high porosity can absorb much higher amounts of water, leading to fragility, breakage and increased damage to the CMC." Hair has many, many variables and nuances, and figuring out what works for your own tresses is a lifelong, ever-evolving journey.
Advertisement
This ad is displayed using third party content and we do not control its accessibility features.
How to quickly air-dry your hair. 
If you are worried about your air-dry extending hours (thus leaving your strands vulnerable to breakage) there are some ways you can speed up the process, without turning on the blow-dryer, and protect those strands as they dry:
Advertisement
This ad is displayed using third party content and we do not control its accessibility features.
The takeaway. 
Is air-drying more damaging than heat? Generally, I'd still say no, but there are some potential downsides to leaving your hair wet for a long period of time. Point being: It's the length of the air-dry that can be problematic, not the air-dry itself, and there are ways to speed up the process to make it less of an issue. For now, we say do what's best for your own head of hair: If that means plugging in the blow dryer every so often, so be it (still, use a heat protectant and low setting); if that means honing the art of the air-dry, go right ahead. Listen to what your own strands are telling you, and don't let the TikToks get you down.
Advertisement
This ad is displayed using third party content and we do not control its accessibility features.