The 2-Ingredient Air Freshener No Bathroom Should Be Without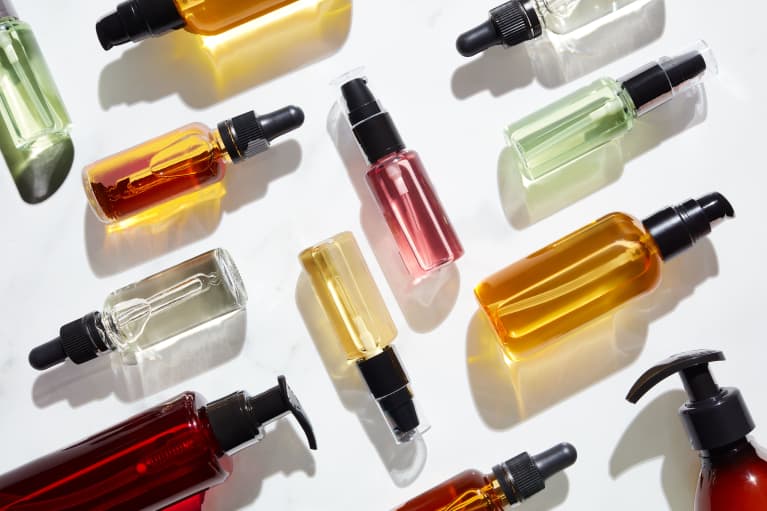 Our editors have independently chosen the products listed on this page. If you purchase something mentioned in this article, we may
earn a small commission
.
Let's be honest: No one wants to leave a bathroom stinky—especially if you have guests over (or you're the one who's the guest).
Unfortunately, many sprays and candles designed to freshen the air can contain potentially harmful chemicals.
For an easy DIY air freshener you can use any time nature calls, certified aromatherapist and founder of The Artistry of Essential Oils Valencia McClure provides the following formula.
A DIY Natural Bathroom Spray
The method:
Combine the ingredients in your bottle, adding the oils first, then the water
Shake well before each use (since this recipe doesn't contain any emulsifiers or preservatives, you'll really need to give it a good shake).
Spray about 3-4 times right on the surface of the toilet water before you go
According to McClure, lavender coupled with lemon is a great scent combo that can be really effective at clearing out bad odors. Lemon essential oil, she adds, also works as an antimicrobial, antiseptic, and antibacterial, while lavender is also an antiseptic and antibacterial, as well as antifungal.
When sprayed directly into the toilet bowl, the oils create a film on the surface of the water, which will help trap odors and keep them from escaping into the air.
The nice part about the 4-ounce bottle is you can tuck it away in your purse and use it anywhere, should you be shy about any unpleasant bathroom odors. You can keep it out in your bathroom at home for guests as well!
This spray can also be used as a stand-alone air freshener, and it should last you a few weeks. Toss it once it loses its smell and/or starts to look murky.
Summary
This lavender-lemon essential oil bathroom spray recipe is easy, cost-effective, and really works (all without any harmful chemicals). Whether you want to use it as an air freshener or spray it right in the toilet bowl, your bathroom is sure to smell like citrus and fragrant herbs—and nothing else.