It's Officially Spring: 6 Tips To Heal Dry, Cracked Feet For Sandal-Ready Results
mbg Associate Editor
By Jamie Schneider
mbg Associate Editor
Jamie Schneider is the Associate Editor at mindbodygreen, covering beauty and health. She has a B.A. in Organizational Studies and English from the University of Michigan, and her work has appeared in Coveteur, The Chill Times, and Wyld Skincare.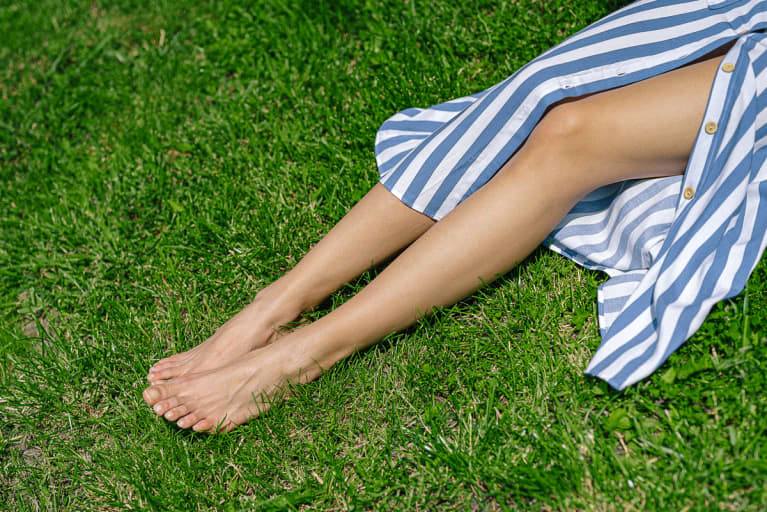 Our editors have independently chosen the products listed on this page. If you purchase something mentioned in this article, we may
earn a small commission
.
Spring has officially arrived, and we cannot shimmy out of our parkas fast enough. In the spirit of warmer weather, perhaps you've wrangled your favorite pair of sandals from the depths of your closet (be free, defrosted toes!), only to find your soles cracked, dull, and dry as a winter's day.
No fear: We tapped experts on the best ways to baby your feet smooth—just in time for sandal season to commence:
1.
Remove your old polish.
"The first thing you want to do is remove your nail polish from your toenails," says Gloria L. Williams, founder of Footnanny (and Oprah's pedicurist, might we casually add). See, experts typically advise against leaving on the same shade for more than three weeks—after that, the base coat can wear off and the pigment can stain your nails. That said, if you can't remember the last time you've rocked bare toes, lingering polish may be the reason they read dry and cracked.
At this point, you can also clean, clip, and shape the nails to your liking. Don't forget to tend to those cuticles, too, with a nutrient-dense oil.
As board-certified dermatologist Loretta Ciraldo, M.D., FAAD, once told us about lukewarm baths, soaking can actually swell up the surface area of the skin, which allows for more penetration of good-for-you ingredients later on.
A few routes you can take, here: You can simply fill your tub, sink, or basin with lukewarm water and call it a day; or you can add some Epsom salts to the footbath, which has been shown to relieve some of the pain associated with severe ingrown toenails and can sometimes even prevent infection. Or you can add a few drops of a nourishing oil or soap for an extra-softening boost.
You can also dabble in an apple cider vinegar soak for some chemical exfoliation—just know that if you do go down this road, you might not want to perform any other types of exfoliation (like the ones below), lest your poor soles become sore, tender, or irritated.
Pumice stones are top-notch for buffing away calluses and softening up rough patches of skin. Read: smooth, crack-free heels. To use one, you'll first want to soak your feet in lukewarm water (always use a pumice stone on clean, wet skin), rub the stone in circular motions over your heels for two to three minutes, and follow with a thick moisturizer.
You can use one of the footbaths above before manually exfoliating; just be sure to skip the ACV, as the acid already acts as a chemical exfoliator.
4.
Create your own foot peel.
If you don't have a pumice stone on hand, you can repurpose an exfoliating product for those cracked calluses. Say, if an AHA serum (like glycolic acid) proved too heavy-duty for the delicate skin on your face, don't toss the unfavorable product—use it on your feet. "The stratum corneum (top layer of skin) is very thick on the feet," board-certified dermatologist Joyce Park, M.D., once said about DIY foot peels—so your soles are better equipped to handle the more potent actives.
To make your solution, dilute the serum in a dollop of lotion for some added hydration, then mix the two together and massage it into your feet.
Once you're done with your exfoliating step (be it a foot soak, pumice stone, or foot peel), Williams suggests following up with some much-needed TLC. Apply your favorite foot cream, then cover your feet with some socks (like Williams' Footnanny Cotton Socks) to "allow the cream to penetrate into your skin" instead of transferring all onto your furniture. For the best results, wear the socks overnight and wake up to butter-soft soles.
"Make sure to massage your feet every night before going to bed," Williams adds. Don't sleep on nightly foot massages—turns out, regular foot massages have some pretty promising health benefits, from reduced anxiety to improved sleep to pain relief. Remember: Proper foot care is not only about the aesthetics.
You can perform your nightly foot massage after applying foot cream, or you can incorporate a nourishing oil blend with essential oils for some added aromatherapy. See here for an at-home tutorial from Jin Soon Choi, manicurist and founder of JinSoon and JinSoon Natural Hand + Foot Massage.
With sandal season in arm's reach, you may be wondering how to moisturize and prep your feet for their warm-weather debut. With these tips, you'll sport baby-smooth soles.