This Is Like Miracle-Gro For Your Brain, Says A Precision Medicine Doctor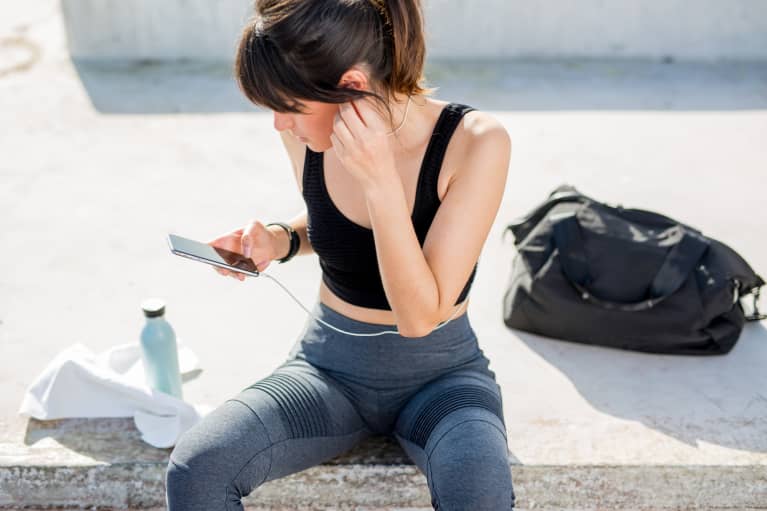 Our editors have independently chosen the products listed on this page. If you purchase something mentioned in this article, we may
earn a small commission
.
When you think of the benefits that come with frequent exercise, you probably jump to the following: weight management, better heart health, building muscle, etc. While these certainly are positive results, let's not overlook the brain-building benefits of a good sweat. You may know that regular exercise can support your emotional well-being, but did you know exercise can, quite literally, grow brain cells?
Take it from co-founder and CEO of Wild Health Matt Dawson, M.D.: We sat down with the precision medicine physician on a recent episode of the mindbodygreen podcast to chat about longevity, living with purpose, and the best ways to exercise for your brain. Here, Dawson shares his expertise on the latter.
How exercise supports brain health.
"When you exercise, especially intensely, you increase BDNF in your brain," Dawson says. BDNF stands for brain-derived neurotrophic factor, which is a protein that improves learning, memory, and higher thinking by stimulating the growth of new neurons and helping existing neurons stay alive. And research shows that exercise can increase BDNF levels. As Dawson puts it, "[It's] basically like Miracle-Gro for your brain."
At this point, you're probably thinking: Which exercise is best for BDNF? Well, Dawson says any type of movement is great in terms of longevity and overall health; however, there is one method that can help optimize brain health even further. "When we talk about exercise and movement, one of the key components is to keep it varied—do different things with your body," Dawson says. While sticking to a consistent workout regimen is great if you're looking to achieve a certain goal, switching it up every once in a while will help keep your brain busy. Not only will you benefit varying muscle groups, but you'll stimulate your mind simultaneously. Win-win.
In terms of what this looks like in practice, you could always switch up the order of your movement routine, working out at a different time of the day (which may have unique benefits, we should add) or changing the location. At the end of the day, just make sure you find an exercise routine you love. "[If it's] something you love doing, you're going to do a lot more of it. That's going to be more important," Dawson says.
Of course, you can and should nourish your brain health in other avenues, too. Make sure you get your fill of brain-supporting foods, find the stress-relieving practices that work best for you, and perhaps invest in a cutting-edge nootropic supplement like mindbodygreen's brain guard+.
This proactive brain health formula features a unique trio of neuroprotective ingredients (citicoline, kanna, and resveratrol) that deliver comprehensive benefits for cognitive performance and mental well-being—including memory creation and retention, enhanced neuroplasticity and cognitive flexibility, cerebral blood flow, mood balance, and stress resilience—to promote lifelong brain support and longevity.*
Consistent exercise benefits your body in countless ways, your brain included. Research shows that exercise can increase BDNF levels in the brain associated with learning, memory, and higher thinking. Switching up your workout routine can offer even more benefits and keep it interesting for your mind as well. If you're curious about the mood-boosting power of exercise, feel free to read all about the real reason movement makes you feel happy.