How To De-Seed Pomegranates Without Staining Everything, From A Nutritionist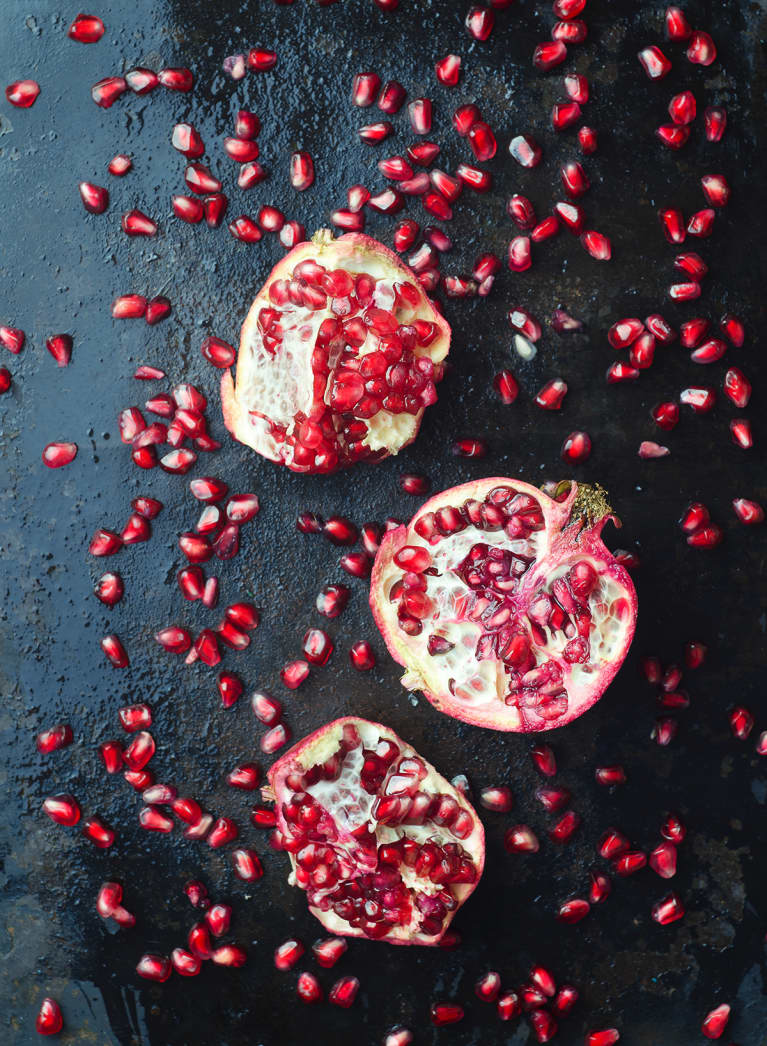 Buying fruits and veggies in their whole form, rather than pre-chopped, is one of the simplest ways to save a few bucks. When difficult-to-peel pomegranates are in question, though, it can be tempting to pay for the convenience of prepackaged arils (aka the juicy, edible seeds from the pom).
Before you give in, registered dietitian nutritionist and mbg Collective member Maya Feller, M.S., R.D., CDN, shares a couple of mess-free tricks for de-seeding pesky pomegranates yourself.
According to Feller, learning to access pomegranate arils (sans stains) is one of the "best cooking hacks" she's been taught. Here are the two methods she recommends:
How to de-seed a pomegranate, without the mess:
One way to get the antioxidant-rich arils out of the pomegranate is to cut the fruit in half, "turn it over, and hit the rind with the back of a spoon until the arils fall out," Feller says. Of course, it's best to do this over a large bowl, which can catch the arils as they release, and keep the juice from splattering.
Bonus tip: A large wooden spoon will be most effective, as it can hit a larger surface area and might speed up the process.
The other method is to "remove the arils in a bowl of water," Feller says. That means, after cutting the pomegranate in half, transfer the skin-smoothing fruit to a bowl of water and proceed to pull the arils out of the shell. Keeping them underwater will prevent the juice from staining your fingertips, countertops, and clothing.
How to use pomegranate seeds.
Both methods of de-seeding work well with minimal mess, Feller tells mbg. Keeping these tricks in mind can help you save a few dollars, get all the nutritional perks of pomegranate seeds, and ensure your kitchen stays clean.