This Simple Vegan Wild Rice Salad Will Make You Glow With Happiness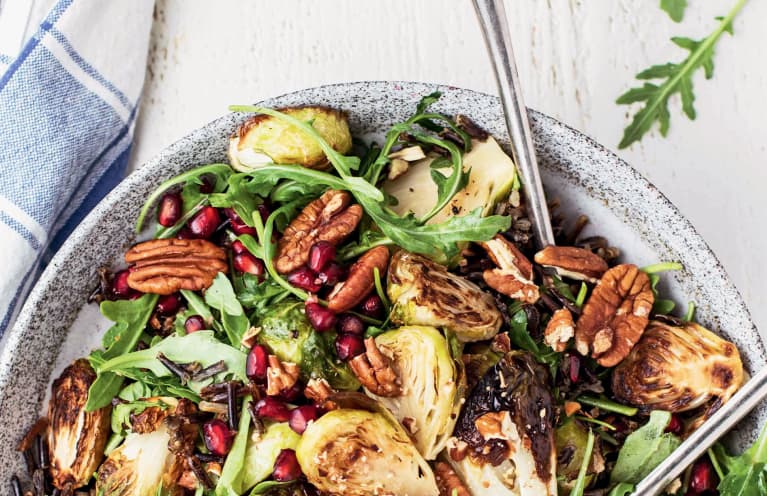 Our editors have independently chosen the products listed on this page. If you purchase something mentioned in this article, we may
earn a small commission
.
Winter may be over, but we're still loving this hearty "winter salad," packed with nutrients to help you find your glow. Made with a mix of roasted veggies and topped with fresh pomegranate, this flavorful salad is sure to be a quick favorite.
What's more, the base of the salad is a "grain" you might not cook with often: wild rice. "Wild rice is not actually rice but rather an aquatic grass," writes Michelle Miller in The Beginner's Pegan Diet Cookbook. "It has a chewy texture and earthy flavor, perfect for tossing in salads with tangy dressings or adding to creamy soups."
The recipes Miller shares in her book are directly inspired by Mark Hyman, M.D.'s pegan diet (he released his own new book on the topic earlier this year). Combining wisdom from two popular diets (the vegan and paleo diets), eating "pegan" primarily means eating real, whole food. This delicious and nutrient-rich salad certainly fits the bill.
Winter Glow Wild Rice Salad
For the roasted Brussels sprouts:
1 pound Brussels sprouts, halved
1 tablespoon avocado oil
Sea salt and black pepper, to taste
½ cup wild rice
1 cup vegetable broth
1 tablespoon pastured butter
4 cups arugula
½ cup Easy Lemon Vinaigrette (below)
1 cup pomegranate arils
⅓ cup pecans, toasted
To make the roasted Brussels sprouts: Preheat the oven to 450°F. Arrange the Brussels sprout halves on a sheet pan and drizzle with the oil. Generously season with salt and pepper and toss to coat evenly. Bake the Brussels sprouts for 20 to 25 minutes until the outer leaves have crisped up.
To make the wild rice: In a small saucepan with a lid over high heat, combine the wild rice, vegetable broth, and butter. Bring to a boil, reduce the heat to low, and cover the pan. Cook for 30 to 40 minutes until no broth remains. Set aside to cool.
To make the salad: Once the rice has begun to cool, transfer it to a large salad bowl. Add the Brussels sprouts and arugula. Drizzle the salad with the vinaigrette, and toss to coat and combine.
Garnish the salad with the pomegranate arils and toasted pecans to serve.
½ cup fresh lemon juice
½ cup olive oil
3 tablespoons white wine vinegar
1 teaspoon Dijon mustard
Sea salt and black pepper to taste
In a blender or jar, combine all the dressing ingredients and process, or cover the jar and shake, until the dressing is fully mixed. Refrigerate in an airtight container for up to 1 month.
If you prefer a sweeter dressing, add 1 to 2 tablespoons of maple syrup. I find that using this dressing on salads with sweet toppings, like fruit, carrots, or beets, is enough.