Nobody Can Teach You Self-Awareness. Here's How To Teach Yourself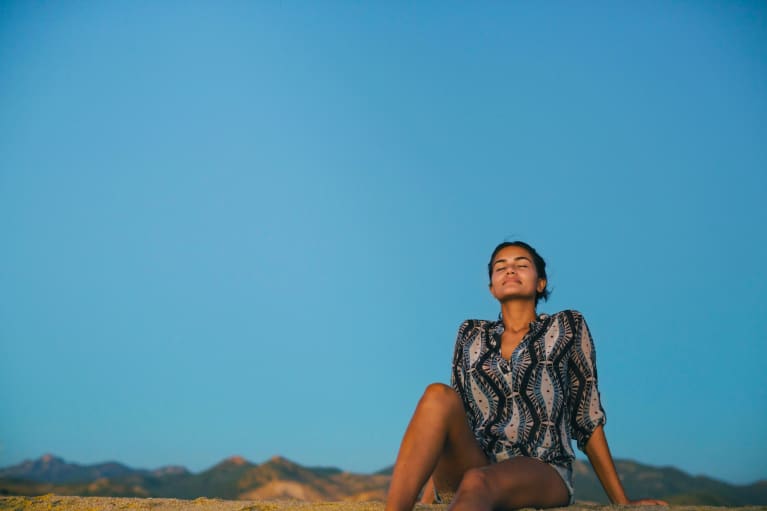 I was raised in a communal environment—a tight community of women who bonded together to raise their children collectively. One of our regular practices was what the moms called Circle, and it centered around dream analysis. One person would explain a dream she'd had, and the rest of us would explore what that dream meant to us.
Looking back, I can see that the point of Circle wasn't just about the dreams themselves—it was about looking within. By taking the time to think about and articulate our thoughts around an experience, each of us learned about who we were as individuals. In other words, Circle was an entry point to self-awareness.
At 46 years old, I have come to appreciate the gift my family gave me to continuously investigate my inner world so that I am accountable for how I show up as a mother, partner, leader, and friend. Self-awareness is central to a purpose-driven, empowered life. The more self-aware we are, the more empowered we are to make intentional choices that align with our essential selves. We're more attuned to what we need—and what we don't—and we're more conscious of our own patterns and how those patterns affect our lives.
How can you become more self-aware?
Importantly, self-awareness is about trusting our own intuition. The world writes on us every day who we are. If we don't have a practice of looking within, people's experiences of us can start to shape us.
There is no one right way to master self-awareness. In fact, since it's a practice and not a goal, you can't master it. And since it's so personal, no one can teach you how to do it. There are, however, some key steps you can take to cultivate your own practice so that you can learn to teach yourself:
1. Commit to a practice.
Like any practice, self-awareness will be most effective if you make it a regular part of your life. This doesn't mean you have to do it every day, or even every week—just carve out a dedicated space and time that works for you, and do it regularly. You also don't have to devote huge chunks of time to it. In fact, the more rigid and time-consuming your self-awareness practice is, the more likely you'll be to drop it. Instead, be realistic. Figure out when you're most likely to devote time to your practice and how long you'd like to spend on it, and commit to that.
2. Find a discipline that works for you.
There are endless ways to practice self-awareness, so this part really comes down to figuring out what works for you. Don't worry about what other people are doing, like your friend who meditates three times a day, or your relative who insists on talk therapy. Everybody has a different method that will work best for them. You are your own best teacher.
For me, for self-awareness in my professional life, I work with a coach who asks me questions and gives me homework and strength-finding exercises. For my personal self-awareness, I love drawing Tarot cards from my own deck—not because I expect the cards to give me answers but because they help spark my own thinking.
Journaling can also be an amazing way to access and clarify your thoughts. Sometimes just writing whatever comes to mind without any structure is a way to focus attention inwardly. Other times, having more structure through a guided experience (like Molly Carroll's self-help journal Cracking Open, for example) is helpful. Or take inspiration from my upbringing and form your own circle around dreams or other topics that spark a conversation about the self. Perhaps form a book club around books that empower self-reflection.
Meditation expert Kristin Fritz defines mindfulness as paying attention on purpose. I love that definition, and I think it applies to self-awareness, too. Ultimately, carving out time for anything that helps you pay attention to who you are on purpose counts as a self-awareness practice.
3. Focus on the body.
Mindful movement is one of the most transformative ways to tap into leading from within. When we learn to pay attention to what our body needs both physically and energetically, we practice building more than muscle and sweat; we practice being self-aware. When I am teaching barre3, I remind my clients over and over again to focus on their breath. This is one of the most effective ways to instantly move with purpose and focus inward. You can do this with any exercise from swimming to walking your dogs or lifting weights. Simply paying attention to your breath is a game-changer.
4. Make self-awareness integral to your everyday life.
Self-awareness is so essential to me that I built my entire company around it. Our mission at barre3 is to teach people to be balanced in body and empowered from within—and that has everything to do with being self-aware. Our workout is about working toward a more balanced state, but you can't do that if you're not aware enough to recognize imbalances. For example, when I'm feeling stressed and depleted, I can recognize that as an imbalance and know that when I go to barre3, I'm there to get centered and slow down. Without that moment of recognition, I'd likely power through class, causing my adrenals to skyrocket, and I'd be even more imbalanced than before.
Today, I've reached the point where a self-awareness practice feels essential to my life; I crave it, and I rely on it to help me work toward balance.
5. No, you don't have to go it alone.
If self-awareness isn't something that feels natural to you, don't write it off. Instead, bring in a guide. It could be a coach, an exercise class, a book, an accountability partner, a therapist—anyone or anything that will help you find and stick to your practice. Nobody can teach you how to be more self-aware, but having someone there to relate to and share your journey with can be an immensely helpful addition to a successful practice.
Remember, self-awareness doesn't have to be heavy. It can be light and fun and joyful—and it can still certainly change your life.