Not Using These Two Vitamins Together? You May Be Missing Out On Benefits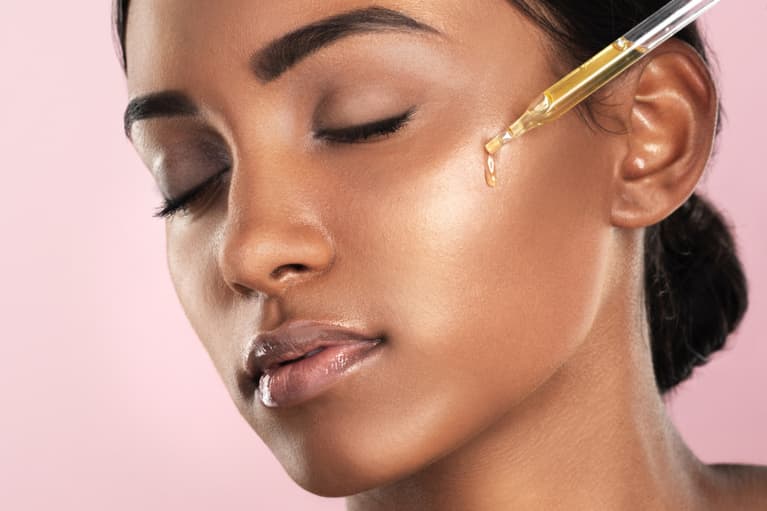 Our editors have independently chosen the products listed on this page. If you purchase something mentioned in this article, we may
earn a small commission
.
Plenty of vitamins and nutrients boast antioxidant abilities all on their own, but some of them do make impressive power couples. Zinc and magnesium? A fabulous duo. Resveratrol and piperine? BFFs. Some antioxidants should certainly stay in their own lanes (like, say, mixing topical vitamin C and retinol are a no-go), but you'd be surprised by how many thrive when they buddy up. It's all about knowing how to play matchmaker.
On the skin care front, vitamins C and E receive quite a lot of attention as a glow-inducing pair.* And, well, the praise is well warranted: If you aren't using them together, you may be missing out on some supercharged benefits.
The power of vitamins C and E as a pair.
Both vitamins C and E come with their own impressive résumés: The two are beloved for evening skin tone, supporting skin repair, and supporting collagen production.* And when you pair them together—the benefits abound.
"Certain antioxidants are synergistic," says board-certified dermatologist Julia T. Hunter, M.D., founder of Wholistic Dermatology in Beverly Hills about the ingredient. "They strengthen one another, regenerate one another, and last longer in the body, so they're more available in the skin." And vitamins C and E are famously synergistic. One study even found that vitamin E (and ferulic acid) increase vitamin C's effectiveness eightfold; on the other hand, vitamin C regenerates vitamin E after the latter scavenges free radicals, further reducing oxidative stress to cell membranes.* All of this is a very science-y way of saying: Vitamins C and E have each other's backs.
You'll often find that many topical vitamin C serums will loop vitamin E into the formula, considering how well the two perform together. "When paired, vitamins C and E provide a powerful antioxidant combination," dual board-certified dermatologist Brendan Camp, M.D., says in our vitamin E explainer. Plus, "Vitamin E helps stabilize vitamin C and keeps it from degrading quickly." Vitamin C, as you may know, is a very finicky and unstable topical—so anything that helps extend its shelf life is worth noting.
They're also paired in some supplements: What's the deal with that?
But let's not forget about taking the two internally! When consumed together, vitamins C and E amp up their antioxidant power, per the studies we mentioned above, not to mention, both vitamins can support your body's natural collagen production.*
First up: Vitamin E intake protects against collagen cross-linking, where collagen becomes hard and stiff and leads to skin aging.* And vitamin C is a vital part of the collagen production process, as it is actually able to promote fibroblast production, tend to collagen DNA, and regulate collagen synthesis, or the pathway in which collagen is made.* Your body cannot effectively produce collagen without the antioxidant, so consider collagen and vitamin C another must-have nutrient duo.*