6 Expert-Approved Steps To Care For Skin During The Holidays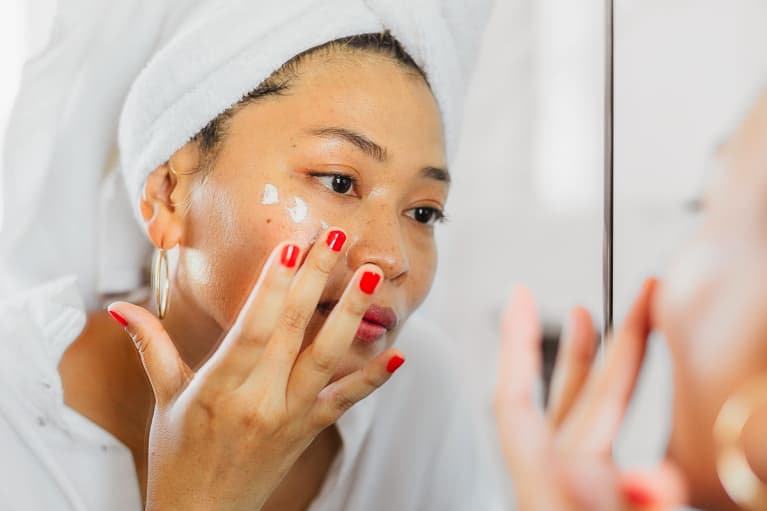 Last updated on December 15, 2020
Previously, I explained how you can help your skin recoup after holiday festivities. As a recap: When you're stressed, traveling, playing with your skin care products, eating differently, and switching up your sleep schedule—all of those things can show up on your skin, especially if yours is easily irritated and sensitive to even the most mild of lifestyle adjustments. (Raises hand!)
That raises the question: Can you do anything to stop this from happening in the first place? Sure you can! You just have to be mindful of what your skin reacts to and make adjustments accordingly.
But before we begin, I want to say up top that it is the holiday season, after all. So take some of these suggestions with a grain of salt. Sure, it's good practice to eat healthy and get enough sleep no matter what—but if you take this time to enjoy foods you may not otherwise or stay up later chatting with your loved ones and then sleeping in? Well, perhaps a little skin hiccup or two is worth it. (And again, you can always course-correct after-the-fact with these tips.)
So enjoy your holiday season, in whatever way that looks like for you this year. And if you feel the need, make skin care adjustments as you see fit, while keeping the below in mind as possible irritants:
1.
Keep your skin care routine consistent.
You don't need to feel like you have to do the same 1-2-3-step routine every single day or your skin is doomed (it's not, and, in fact, there's a lot of benefit to examining your daily skin needs), but keeping a consistent routine, in general, is overall beneficial for skin. What we mean is, you should constantly wash your face and moisturize, and don't introduce new ingredients ad hoc or jump wildly between products.
We bring this up around holiday time, as you may be without your standard set of skin care items (if you decided to safely travel to see a small group of loved ones). Or, you may be on the opposite end of the spectrum—you're tempted to try several new treatments to amp up your glow for Zoom cocktail hours and test out any new stocking stuffers and gifts you receive.
Regardless, the advice is simple: Edit your skin care routine to your basics, and stick with it. When you layer in masks and peels, do so with care, slowly introduce new ingredients, and never overdo it (stick to one to three times a week, max). We get it: There is so much temptation to switch up your skin care routine, but it only introduces new opportunities for irritation or breakouts.
2.
Hydrate a little more.
Hydration is so important for every single skin type, from oily to dry and sensitive. And this time of year adds a few new tricky issues, too. To start, there's the colder temperatures, indoor heating, and dry air. This sort of environment contributes to the increase of something called transepidermal moisture loss (or when water literally evaporates from your skin—not cool!). Essentially what happens is that when the humidity drops, your skin loses water to the outside easier. "This occurs when the combination of wind, low humidity, and low temperatures damages the skin barrier," says board-certified dermatologist Hadley King, M.D. "This weakens the skin's ability to protect itself, leading to ashy, red, dry, or scaly skin." But it's more than that: We're often drinking more and eating dehydrating foods, which can also contribute to our skin looking a little lackluster.
Your best bet is to amp up your topical hydration, as well as make sure you are drinking enough water. Topically, be mindful you are using ingredients that support your barrier health (check some out here). Internally, always drink the recommended amount of water daily. It's not a myth: Drinking enough water is essential for overall skin health and has even been shown to increase dermal density.
3.
Stick to your own pillowcase.
If you are changing locations (and we hope safely!), do yourself a favor and bring your own clean bedding. Pillowcases, particularly, trap dirt, oil, and bacteria, which can create a pretty nasty situation for your skin. Not to mention, you may be sensitive to other types of detergent or softener, and thus sleeping on someone else's fabrics may cause irritation.
Also, your best bet of fabrics is silk: While sleeping on fabrics like cotton or linen certainly isn't going to ruin your skin or hair, they're not the best fabrics for them, either. Cotton or linen are porous and therefore rougher fabrics. For hair, this means the fabric can snag and pull at hairs, trigger physical damage, lift up the cuticle, and cause frizz. This is especially problematic for those with curly hair, which is already prone to all of these issues. For skin, this means the fabrics more readily absorb sebum, bacteria, and even your precious skin care products (silk and satin, on the other hand, are more repellent fabrics). But the benefits of silk don't stop there: They are hypoallergenic, antimicrobial, moisture-wicking, and breathable. (Check out some of our favorite ones here.)
4.
Sleep changes mess with your skin—make sure to clock eight hours.
Sleep is oh-so-important for your skin, and vacation time and special celebrations often mean your normal sleep schedule is off—or nonexistent. But sleep is when your body goes into repair mode, and thus your cells are able to rejuvenate. More specifically: The skin cells' regeneration process is up to three times faster at night, compared to during the day. Most notably, the skin sees a surge in HGH (human growth hormone) in the nighttime sleep cycle. The release of HGH helps rebuild body tissues and spurs cell production, to replace cells that were damaged throughout the day. Not only that but losing sleep can trigger cortisol in the body. "When the quality or the quantity of your sleep is compromised, especially over time and especially if it's more than one night, that's registered by the body and the brain as stress," board-certified dermatologist Whitney Bowe, M.D., says on the mindbodygreen podcast. Increased cortisol, consistently, can lead to collagen breakdown, inflammation, and even breakouts.
5.
Tend to internal inflammation.
Food is a common trigger for breakouts, as well as just general skin inflammation. (For the five major culprits, check out board-certified dermatologist Keira Barr, M.D.'s advice here.) I don't think it's shocking to say that our eating routines see the effects of the holiday season. And listen, there's no reason not to enjoy your favorite meals this time of year—what's life without enjoying food, after all?—just be mindful it may show up in your skin if you are typically predisposed to acne.
You can also do your best to proactively manage inflammation by using supplements, like mindbodygreen's organic veggies+.* The powder is a nutrient-dense, whole foods blend rich in organic sea vegetables, dark leafy greens, prebiotics, probiotics, antioxidants, and digestive enzymes. This can help promote gut health and manage any skin issues that may come up from holiday food choices.*
6.
Take a moment of pause if you're feeling overwhelmed.
It's understandable to get overwhelmed this time of year; especially in a year as strange as this one. And heightened stress does a number on your complexion, among other more pressing effects. So when you're feeling holiday-induced anxiety approaching, take a moment to relax. We suggest a quick scalp massage: "Massages can reduce stress and boost mood," board-certified dermatologist Raechele Cochran Gathers, M.D., who specializes in hair care and founded MDHairMixtress. "In fact, a study of female office workers found that twice-weekly scalp massage had effects on stress hormones, blood pressure, and heart rate."