12 Best Healthier Candy Options, From Chocolates To Gummies
mbg Nutrition & Health Writer
By Eliza Sullivan
mbg Nutrition & Health Writer
Eliza Sullivan is a food writer and SEO editor at mindbodygreen. She writes about food, recipes, and nutrition—among other things. She studied journalism at Boston University.
October 28, 2021
Our editors have independently chosen the products listed on this page. If you purchase something mentioned in this article, we may
earn a small commission
.
Eating healthy shouldn't mean cutting out favorite foods—instead, it's about finding ways to enjoy them in a more health-conscious way. Which brings us to this list: 12 of our favorite healthier candy options. Granted, candy is still candy, no matter how it's marketed—so it can be beneficial to practice moderation, as with any sweets (hello, blood sugar maintenance). Picking options with the best ingredients helps, too, so you can enjoy a tasty treat (or two) knowing it's not going to be loaded with processed sugars and artificial flavors.
Advertisement
This ad is displayed using third party content and we do not control its accessibility features.
Best healthier chocolate candies.
Justin's Super Dark Chocolate Peanut Butter Cups
Justin's is well known for their nut butters—and their spruced-up nut-butter cups have become something of a staple in many homes. These go a step further for health, by opting for super-dark chocolate—a whole 80% cacao—which means more antioxidants. We could do without the palm oil, but otherwise, we're jazzed about these dark chocolate cups.
Super Dark Chocolate PB Cups, Justin's (find in a store near you, here)
mbg creative
Hu Kitchen Gems
A firm favorite brand for all things chocolate on our team, Hu Kitchen's Gems are super-delicious chocolate bites to enjoy as candy or use in baking. Plus they're vegan and organic, with only three ingredients: cacao, coconut sugar, and cocoa butter.
Dark Chocolate Gems, Hu Kitchen ($13.95)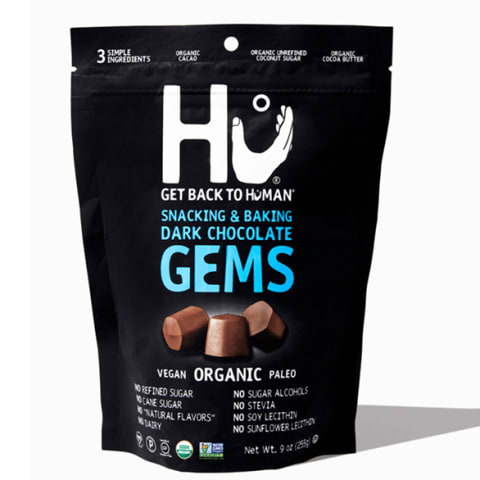 mbg creative
Alter Eco Assorted Truffles
If you're someone who likes a bit of variety in their chocolate, this pack of assorted truffles from Alter Eco has classic dark chocolate, sea salt chocolate, and salted caramel truffles in the mix. They're all made with organic ingredients, and the wraps are compostable.
Assorted Truffles, Alter Eco ($44.99 for a 60-count)
mbg creative
Unreal Dark Chocolate Coconut Bars
These are a favorite of mbg co-founder and CEO Jason Wachob, and we get why: They really hit that balance of coconut and dark chocolate perfectly. With just three ingredients (coconut, cassava syrup, and dark chocolate), they're also vegan and contain only 3 grams of sugar.
Dark Chocolate Coconut Bars, Unreal ($32.99 for 6 bags)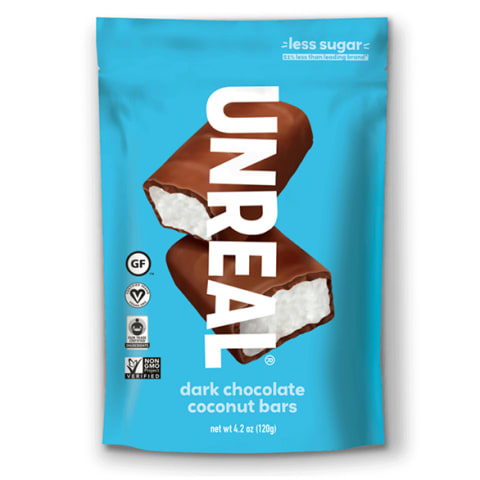 mbg creative
Little Secrets Dark Chocolate with Salted Caramel Cookie Bars
Though these bars are still relatively high in added sugar—they are still 20% lower in sugar than traditional candy bars. Plus, they're a better alternative to the classic version because they skip artificial flavorings and colors, plus opt for Fair Trade Certified ingredients.
Dark Chocolate with Salted Caramel Cookie Bars, Little Secrets ($23.88 for a 12-count)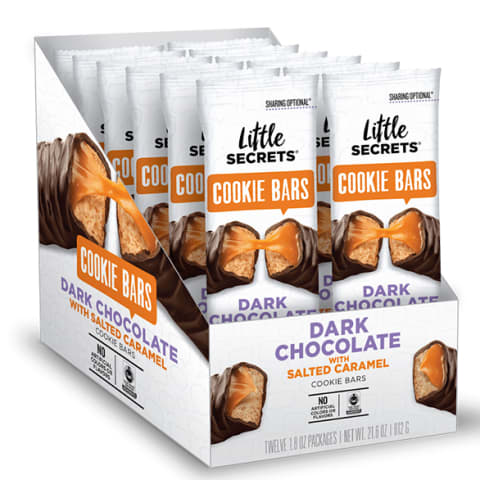 mbg creative
Theo Mint Chocolate Cookie Bites
For another chocolate bite, these new little treats from Theo are the perfect thing. They're made with organic, Fair Trade dark chocolate infused with peppermint oil. While they do include some added sugar (10 g) and sunflower oil (a cooking oil we try to stay away from)—they're still a fresh, healthier take on snackable chocolate.
Mint Chocolate Cookie Bites, Theo ($5.99)
mbg creative
5 healthier gummy candies (plus a caramel):
Lily's Sweets Gummy Bears
Though they're more known for chocolate, sweets brand Lily's has broken into gummies this year. While currently only available in some stores, these are a perfect healthier take on gummy bears, as they don't contain added sugars—they're even keto-friendly. Again, we don't love the palm oil, but these are still a healthier option than the classic candy. Their fruity flavors include strawberry, raspberry, orange, and lemon.
Gummy Bears, Lily's ($2.78)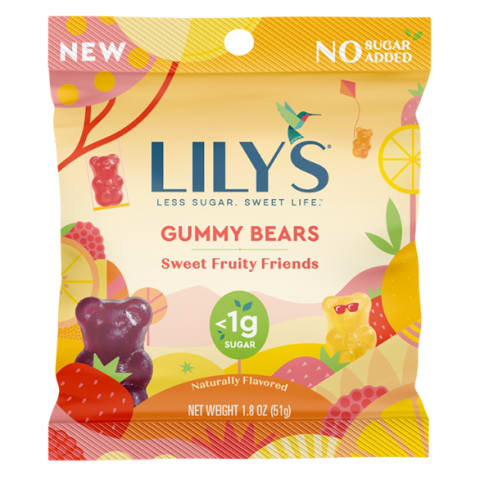 mbg creative
Fruit-tella Gummies
These gummies are special because they're made with real pureed fruit. They do still have a good bit of added sugar, but the use of whole foods means they're a better alternative to super-processed gummies. They come in two flavors: strawberry-raspberry and mango-peach.
Fruity gummies, Fruit-tella ($19.35)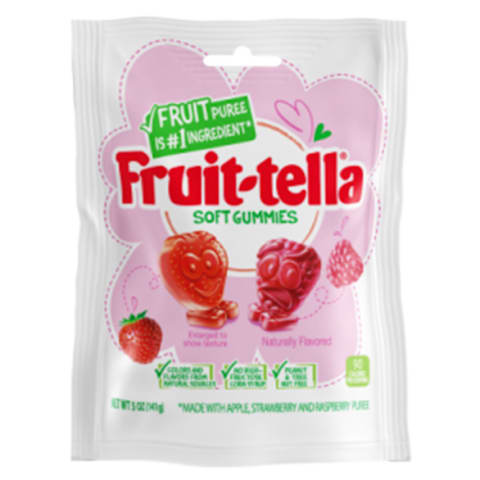 mbg creative
Yum Earth Sour Beans
If sour candy is more your thing, these organic sour candies are a good alternative. Though their first few ingredients are cane sugar and rice syrup, they feature organic options and use natural colors as opposed to artificial. They're also vegan and gluten-free.
Sour beans, Yum Earth ($7.59)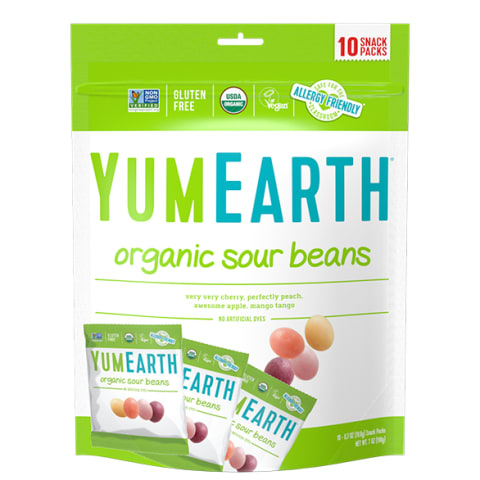 mbg creative
Smart Sweets Sweet Fish
The most popular offering from smart sweets, these little fish have only 3 grams of sugar—putting them 92% lower in sugar than traditional options—and also manage to offer some fiber. They're sweetened using allulose, which is found in raisins and figs.
Sweet Fish, Smart Sweets ($19.74 for 6 bags)
mbg creative
Wholesome Cinnamon Organic Bears
If fruity candies aren't for you, these cinnamon-flavored vegan gummy bears are a unique but delicious option. Though still a bit high in sugar (with cane sugar as the first ingredient), they feature organic ingredients, plus natural flavors and coloring.
Organic Cinnamon Bears, Wholesome ($3.79)
mbg creative
Cocomels Coconut Milk Caramels
OK, so: technically not a gummy. Caramels are something unique in their own right. While these creamy, chewy treats are generally made with milk and other animal-derived products—these swap in coconut milk, so they're vegan-friendly. Plus, they feature coconut sugar, which can be a healthier alternative to cane sugar.
Coconut Milk Caramels, Cocomels ($4.29)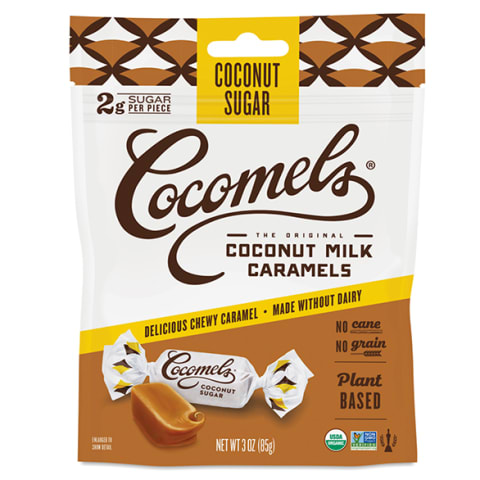 mbg creative
The takeaway.
A healthy lifestyle doesn't have to mean cutting out your favorite treats—in fact, it shouldn't. (Balance, right?) These alternatives to classic candies are still candies, so we won't go as far as to say they're particularly healthy. But they are better for you than their predecessors, and some even offer beneficial ingredients. More of a chocolate bar person? We've got a list of our favorites here, too.
Want to turn your passion for wellbeing into a fulfilling career? Become a Certified Health Coach! Learn more here.
Advertisement
This ad is displayed using third party content and we do not control its accessibility features.
Eliza Sullivan
mbg Nutrition & Health Writer
Eliza Sullivan is an SEO Editor at mindbodygreen, where she writes about food, recipes, and nutrition—among other things. She received a B.S. in journalism and B.A. in english literature with honors from Boston University, and she has previously written for Boston Magazine, TheTaste.ie, and SUITCASE magazine.