Close Banner
Advertisement
This ad is displayed using third party content and we do not control its accessibility features.
Should You Be Using Ghee In Your Skin Care Routine? We Asked Dermatologists
Assistant Beauty & Health Editor
By Hannah Frye
Assistant Beauty & Health Editor
Hannah Frye is the Assistant Beauty Editor at mindbodygreen. She has a B.S. in journalism and a minor in women's, gender, and queer studies from California Polytechnic State University, San Luis Obispo. Hannah has written across lifestyle sections including health, wellness, sustainability, personal development, and more.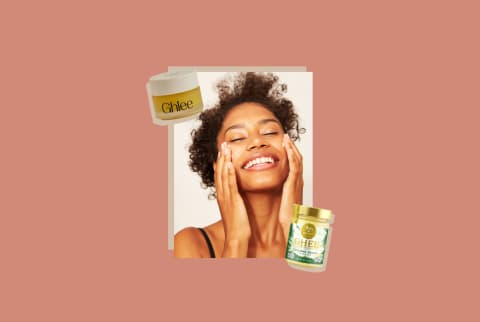 Image by Ohlamour Studio / mbg creative
We carefully vet all products and services featured on mindbodygreen using our
commerce guidelines.
Our selections are never influenced by the commissions earned from our links.
Ghee is a type of clarified butter that has a rich history in Indian cooking but has become a staple in many households worldwide. In the kitchen, this creamy product adds a nutty and herbaceous flavor to any dish, but it has a place in your beauty cabinets as well.
This buttery substance has been used as a topical skin-smoothing and hydrating ingredient for ages. While it may not be the most common DIY skin care ingredient, it is growing in popularity and even popping up in preformulated beauty products.
To come, why ghee may be your next favorite skin care hero, the benefits it brings, how to use it, and where the ritual comes from.
A quick history of ghee in skin care
"For skin care, ghee is a multiuse product that most south Asian elders swear by," says Arati Sharma, co-founder of ghee-infused skin care brand Ghlee.
Arati equates it to other fats historically used to keep skin hydrated, like shea butter in the African content and olive oil in the Mediterranean region.
The product is made by cooking butter down until the fats separate from the milk solids and removing the latter to provide a longer shelf life.
As a skin care ingredient, the fatty acids and vitamins found in ghee instantly hydrate skin, which is why it's been used to mend cracked lips and even heal minor wounds in many ancient cultures.
Many people still use ghee as a skin care product on its own, but co-founders Arati and Varun Sharma are among the first to bring this ingredient to the forefront of the market via Ghlee.
Benefits of using ghee on the skin
Ghee may not be quite as researched in modern skin care as an ingredient like, say, hyaluronic acid, but that doesn't mean the benefits are nil. After all, plenty of people worldwide have used this product with great success for centuries.
Dermatologists agree that ghee contains many beneficial elements, especially for dry or compromised skin. Below, some of the perks of using this butter on your skin:
Ghee contains omega-3 fatty acids and phospholipids, which give it that rich texture. "It creates an occlusive coating on the mucosal lip to prevent transepidermal water loss and lock in moisture," says board-certified dermatologist Blair Murphy Rose, M.D., FAAD.
This hydrating power can apply to every use of ghee, be it on the lips, face, or body.
Ghee even has the power to accelerate skin healing in minor wounds. "As an occlusive agent, ghee creates a barrier that protects skin from environmental stressors, helps retain moisture, and may encourage the re-epithelialization," says board-certified dermatologist Brendan Camp, M.D.
"There's a reason that so many lip products are called butter balms," Camp says. "Ghee softens lips, provides shine, and seals in moisture," acting as both an emollient and occlusive moisturizer.
This is one of the most popular uses, which is why the Sharmas launched their ghee-based brand with lip care—a lip mask, lip balms, and lip scrub infused with the super-hydrating cooking staple.
I can attest—the Ghlee Lip Mask is truly dreamy. Since I started using it months ago, I haven't seen one crack in my lips or felt the need to layer on lip balm during the day. I use it before bed and wake up with plump, lush lips.
4.
Supports the skin microbiome
"In Ayurvedic medicine, ghee is great for gut health, and because the skin microbiome communicates with the immune system, it can help heal you from the inside out," says board-certified dermatologist and founder of Bergen Dermatology Naana Boakye, M.D., MPH, FAAD, about consuming ghee.
The milk that is used to create ghee in Ayurvedic medicine is fermented before it's churned into butter, providing the skin with even more microbiome support.
Different ways to use ghee
Ghee can be used in many different ways to support skin health. Below, some ideas and who they may be best suited for:
A lip balm: Ghee as a lip balm is great for pretty much everyone. It's simple, free from unnecessary fragrances, and highly effective. Folks who experience dry cracks on the mouth, peeling lips, or irritation from traditional lip balms may benefit most from using ghee in this manner.
As a moisturizer: Given that ghee contains emollient and occlusive properties, it can provide loads of hydration for dry skin types. However, it isn't right for everyone. "Ghee is generally OK to use by all skin types, though those with oily or acne-prone skin should be cautious prior to using it," says board-certified dermatologist Marisa Garshick, M.D., FAAD.
As a cuticle oil: Your nails won't reach their full growth potential until your cuticles are taken care of, and ghee is one ingredient to help you get there. It's hydrating and provides slip to spread easily, but it also soaks into skin better than many traditional oils used for the same purpose.
To heal minor wounds: Ghee may not be a cure-all ingredient for serious cuts and gashes, but it can be used on scrapes and irritated skin to encourage quick healing. Make sure your ghee isn't expired before opting for this use.
On cracked feet: You can even use ghee to mend cracks on your heels. Because it can be a bit slippery, apply the ghee to your heels, put a sock on, and then go about your day without slipping and sliding.
What to look for
Like any naturally derived ingredient, not all ghee is created equal. Some store-bought ghee formulas contain many additives, which may help keep it fresh but could also minimize the benefits for topical use.
"We recommend trying the closest thing to homemade ghee if you're going to use it for skin care; that way, you'll get the most pure properties," the Sharmas say. Look for a simple formula, like the 4th & Heart Original Recipe Ghee. You can also make it yourself if you feel up for the task (find the Sharmas' favorite recipe here).
For simple, straightforward skin concerns like dry lips, peeling cuticles, or minor scrapes, regular ghee will work just fine. However, Camp recommends looking to ghee-infused skin care products if you're seeking more healthy aging skin benefits, as these products will contain even more helpful ingredients to elevate the benefits.
There isn't a large market for ghee-infused skin care products right now. So keep an eye out for advancements in this realm, and in the meantime, add ghee to your skin care regimen as an extra product, not the main one.
As we mentioned above, you can use it as a moisturizer, cuticle oil, lip balm, and more. Just make sure to keep your ghee fresh, whether it's homemade or store-bought.
"While pure ghee that is unused and unopened in an airtight container can last up to two years in a cool, dry environment, there's no guarantee for that with homemade ghee, as the environment and the equipment may not be sterile. If the homemade ghee starts to smell funny, it's time to toss it," clean cosmetic chemist Krupa Koestline advises.
Finally, remember that ghee is an ingredient with a long, long history in Ayurvedic medicine. Even if it's not as popular in the West as other Ayurvedic practices, like scalp oiling for hair growth or turmeric masks for hyperpigmentation, it has been used in many households for thousands of years. And it just may begin to pop up on beauty shelves over the next few.
If you can, make sure to support those who have been using this ingredient for ages in order to respect and honor the history of ghee in skin care.
Shop ghee products
The takeaway
Ghee is a wonderful ingredient for healing minor wounds and hydrating dry skin in many different ways. Ayurvedic medicine has utilized ghee in topical skin care for ages, but it has gained popularity in mainstream beauty conversations as of late. Soon, ghee may even become the gold standard.
Hannah Frye
Assistant Beauty & Health Editor
Hannah Frye is the Assistant Beauty & Health Editor at mindbodygreen. She has a B.S. in journalism and a minor in women's, gender, and queer studies from California Polytechnic State University, San Luis Obispo. Hannah has written across lifestyle sections including skin care, women's health, mental health, sustainability, social media trends, and more. She previously interned for Almost 30, a top-rated health and wellness podcast. In her current role, Hannah reports on the latest beauty trends and innovations, women's health research, brain health news, and plenty more.