11 Fragrance-Free Hand Creams That Leave A Silky Feel & No Trace Of Scent

Beauty & Health Editor
By Jamie Schneider
Beauty & Health Editor
Jamie Schneider is the Beauty Editor at mindbodygreen. She has a B.A. in Organizational Studies and English from the University of Michigan, and her work has appeared in Coveteur, The Chill Times, and Wyld Skincare.
September 8, 2023
We carefully vet all products and services featured on mindbodygreen using our
commerce guidelines.
Our selections are never influenced by the commissions earned from our links.
Applying hand cream is a mini moment of luxury: Not only do they drench your skin in much-needed moisture, but many formulas also include decadent textures that feel like silk and soothing scents that put your mind at ease.
Sometimes, though, you don't want your paws to smell like lemongrass, or lavender, or vanilla.
No matter how dreamy those notes can be, we understand if you'd prefer your cream leave no trace, other than a soft-as-butter feel.
Those with sensitive skin especially may want to steer clear of any sort of fragrance—even natural essential oils have the potential to trigger irritation for some.
This brings us to this handy list below. Here, we rounded up some of our favorite fragrance-free options for the most sensitive skin and noses.
mindbodygreen postbiotic hand cream
The texture of this cream is a pure delight: It feels deliciously buttery upon application, then sinks immediately into the skin without any oily film. We can thank aloe vera for that perk, which, in addition to fading dark spots, soothing inflammation, and keeping the skin supple, helps provide a smooth texture and faster absorption (so no greasy fingertips). The high-tech hydrators are also top of the line: In addition to moisturizing butters and oils, a combination of pre- and postbiotics nurtures the skin microbiome, coenzyme Q10 helps skin cells literally act younger, vitamin B5 smooths skin, and trisaccharides enhance barrier function. All of that, with no trace of scent—it's like an invisible shield of hydration.
postbiotic hand cream, mindbodygreen ($25)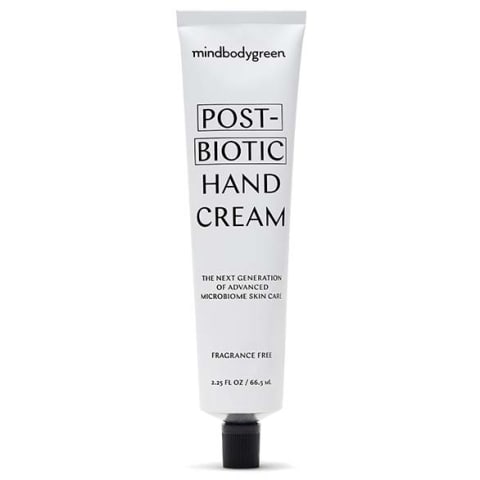 mindbodygreen
Augustinus Bader The Hand Treatment
Of course, this hand cream features the brand's signature Trigger Factor Complex (TFC8), composed of amino acids, vitamins, and synthesized molecules naturally found in the skin. It then delivers those nutrients directly to the skin cells, which aids in cellular regeneration. The result? Happy, rejuvenated skin cells, and the white peony extract, honey, and vitamin E add even more hydration and antioxidant power.
The Hand Treatment, Augustinus Bader ($53)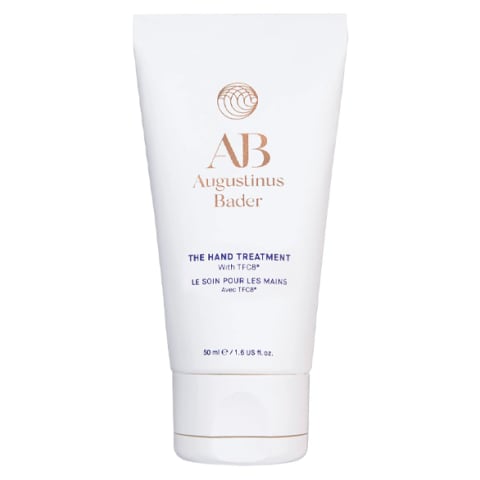 Augustinus Bader
Nécessaire The Hand Cream
A simple and effortless cream that conditions your skin barrier with peptides and fatty acids. We especially love the niacinamide in this formula, as the buzzy ingredient is hailed for locking in moisture, decreasing dark spots, and minimizing fine lines.
The Hand Cream, Nécessaire ($20)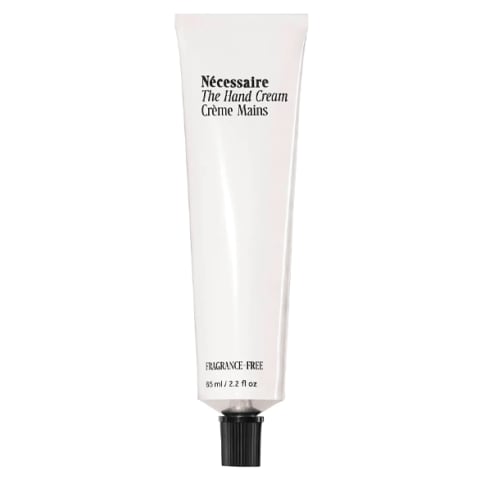 Nécessaire
Eu'Genia Unscented Shea Butter
For a completely no-fuss option, why not go directly to shea butter? This pure, unrefined option is brimming with vitamins A, E, F, and K, and it melts into the skin like a dream. Bonus: You can apply this conditioner head to toe, not just on your hands but also on your lips, hair, and body. We also can't ignore the elegant tin packaging; it's practically vanity candy.
Unscented Shea Butter, Eu'Genia ($15)
Eu'Genia
Skinfix Eczema+ Hand Repair Cream
Hand eczema: Need we say more? The flare-ups can be itchy, uncomfortable, and overall frustrating, especially during colder weather. This salve offers instant relief, with colloidal oat and sweet almond oil to soothe and nourish chapped hands, and it even earned a seal of acceptance from the National Eczema Association.
Eczema+ Hand Repair Cream, Skinfix ($20)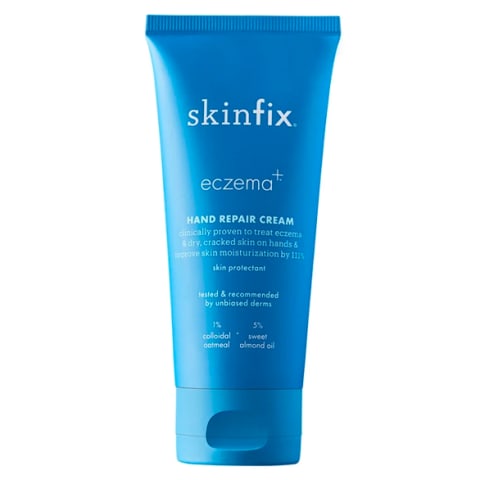 Skinfix
Osmia Organics Naked Unscented Hand Cream
Natural skin care expert Sarah Villafranco, M.D. loves her essential oils, but she made sure to formulate a completely "naked" cream for those with super-sensitive skin (or sensitive noses). With shea butter, jojoba oil, sunflower oil, and sweet almond oil, it lends a velvety finish that makes hands feel noticeably softer. It also features rosemary extract for its antioxidant properties, which, full disclosure, does leave a very subtle hint—you may notice it if you have a strong sniffer.
Naked Unscented Hand Cream, Osmia Organics ($29)
Osmia Organics
Biossance Squalane + Omega Repair Hand Cream
Biossance is known for their beloved sugar-cane-derived squalane, so of course their hand repair treatment features this fatty-acid-rich oil to maintain the skin's moisture barrier and hydration. It also includes glycerin, a humectant that draws water from the environment and into the skin, as well as vitamin E for antioxidant power.
Squalane + Omega Repair Hand Cream, Biossance ($16)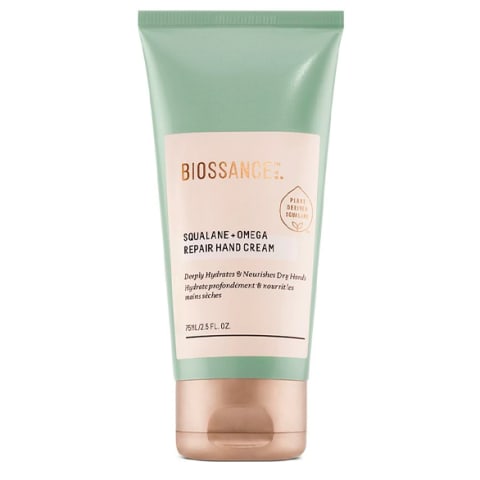 Biossance
Pipette Baby Balm
I'll let you in on a little trick: When my hands are really dry, I'll coat them in a balm like this before bed. It's sort of like slugging for your hands—by slathering on an occlusive as the last step of your routine, you can seal your skin barrier and prevent transepidermal water loss. After rubbing in a hand cream loaded with humectants, apply this balm to really lock the moisture inside. Just know that your hands will be very slippery and greasy after this routine, so it might be best to use it at bedtime.
Baby Balm, Pipette ($10)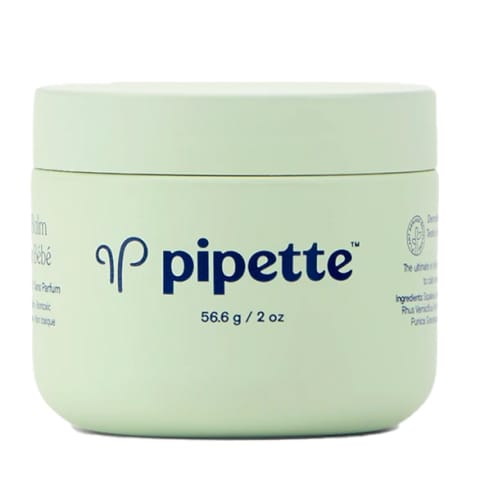 Pipette
Josie Maran Whipped Argan Oil Intensive Hand Cream
There's something about a whipped formula that just feels luxurious. This formula whips 100% pure argan oil, shea butter, and olive oil into a weightless butter to hydrate the hands. The texture is so creamy, you'll want to apply over and over again.
Whipped Argan Oil Intensive Hand Cream, Josie Maran ($22)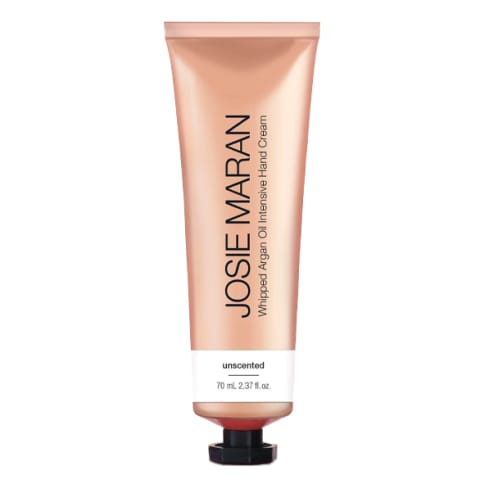 Josie Maran
Dr. Barbara Sturm Super Anti-Aging Hand Cream
This luxury treatment features ingredients known for tempering inflammation and supporting your skin's natural healthy aging defenses, like prickly pear extract, mangosteen, vitamin E, and daisy flower extract. It's definitely a splurge, but you get your money's worth: It's a high-quality, hydrating formula that leaves the hands visibly plump and supple.
Super Anti-Aging Hand Cream, Dr. Barbara Sturm ($65)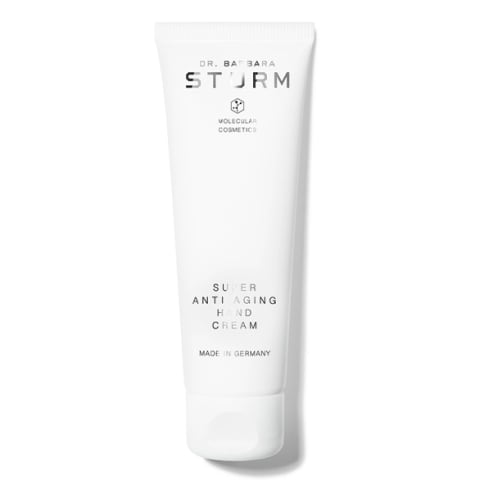 Dr. Barbara Sturm
Burt's Bees Ultimate Care Hand Cream
Baobab oil, pumpkin seed oil, and green tea extract are the workhorse ingredients here, all of which can soothe and protect the skin barrier. Pumpkin seed oil, in particular, is rich in unsaturated fatty acids that can help tend to inflammation, making it a stellar ingredient for dry, cracked hands. "One application of ultimate care hand lotion, and the rough, scaly feeling was gone," one reviewer raves.
Ultimate Care Hand Cream, Burt's Bees ($12.99)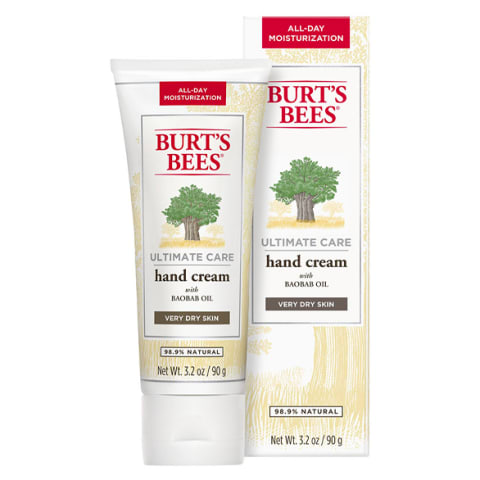 Burt's Bees
mbg's review process. 
At mbg, high standards are earned—and there are no shortcuts. Our beauty editors stay up to date on the latest ingredient research and innovation. It's a dynamic, continuously evolving space, and it's important we look into the science so we can make informed choices about which formulas earn our stamp of approval (figuratively speaking).
Our high standards also come from testing products—many, many products. Our editors and writers rigorously test and research the products featured in our roundups to offer you the best, most informed recommendations. When we write reviews, you can trust we spend quality time with the formulas: We don't simply rave about products we've slathered on the back of our hand. We endorse products we've tried and loved.
Learn more about our testing process and clean beauty standards here.

Jamie Schneider
Beauty & Health Editor
Jamie Schneider is the Beauty Editor at mindbodygreen. She has a B.A. in Organizational Studies and English from the University of Michigan, and her work has appeared in Coveteur, The Chill Times, and more. In her role at mbg, she reports on everything from the top beauty industry trends, to the gut-skin connection and the microbiome, to the latest expert makeup hacks. She currently lives in Brooklyn, New York.