Found: A Product That Actually Smoothes My Rough Arm Bumps From KP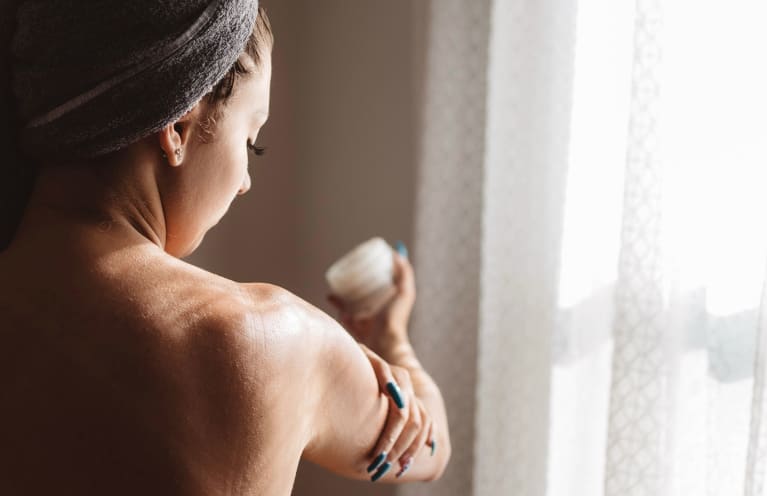 Our editors have independently chosen the products listed on this page. If you purchase something mentioned in this article, we may
earn a small commission
.
I've struggled with tiny bumps along the back of my arms for as long as I can remember—and I'm not alone. The uneven texture and persistent redness is a result of keratosis pilaris (KP), an extremely common skin condition that affects approximately 40% of adults.
Unfortunately, there is no known "cure" for KP, per se, but many over-the-counter products help reduce the physical signs of the condition. I've tested out countless KP-focused formulas—chemical exfoliating serums, harsh salt scrubs, dry brush tools, and body lotions—in hopes of unveiling smoother, more even-toned arms.
Despite the big claims on the packaging, these products often left me with lackluster results. I'd nearly accepted that KP would just be part of my life until I discovered the KP Bump Eraser Body Scrub from First Aid Beauty, and it quickly became my holy grail.
What is keratosis pilaris?
Have you ever struggled with persistent bumps and redness on the back of your arms? Maybe it shows up on the front of your thighs, or even on the buttocks. This bumpy texture, often called chicken skin, could be a condition called KP. (Check with your dermatologist for final confirmation.)
While KP may look like small pimples, it's actually not related to acne whatsoever. The bumps consist of a buildup of keratin (which is the main structural protein of the hair) and dead skin cells.
When keratin and dead skin cells build up in the hair follicles, it causes them to bulge and become irritated or inflamed. While you may not be able to manage the keratin buildup, you can work to combat dead skin cells.
The product that actually made a difference.
Beta-hydroxy acids (BHAs) like salicylic acid only irritated my KP, as it dried out my skin. When I visited my dermatologist, they recommended I switch to alpha-hydroxy acids (AHAs), a gentler exfoliant.
My quest for a gentle yet effective AHA formula led me to the First Aid Beauty KP Bump Eraser. The popular formula had more than 16,000 five-star ratings on Amazon from impressed shoppers calling it their holy grail—and you can officially add me to the list.
Let me tell you, the backs of my arms have never been smoother, and I've started to feel more confident wearing tops that show my upper arms (a massive win in the summer heat).
Why the KP Bump Eraser actually works. 
The KP Bump Eraser is both a physical and chemical exfoliator. Tiny pumice beads gently buff away dead skin cells with abrasion, while a combo of glycolic and lactic acid chemically exfoliates the skin by breaking apart the bonds between dead and alive skin cells.
Far gentler than harsh salt scrubs, this 2-in-1 formula also offers a dose of hydration thanks to the use of AHAs. When paired with bisabolol, the active ingredient in chamomile, the duo leaves skin hydrated. This minimizes redness, a common side effect of exfoliation, and means you can actually see the brightening effects of the product.
First Aid Beauty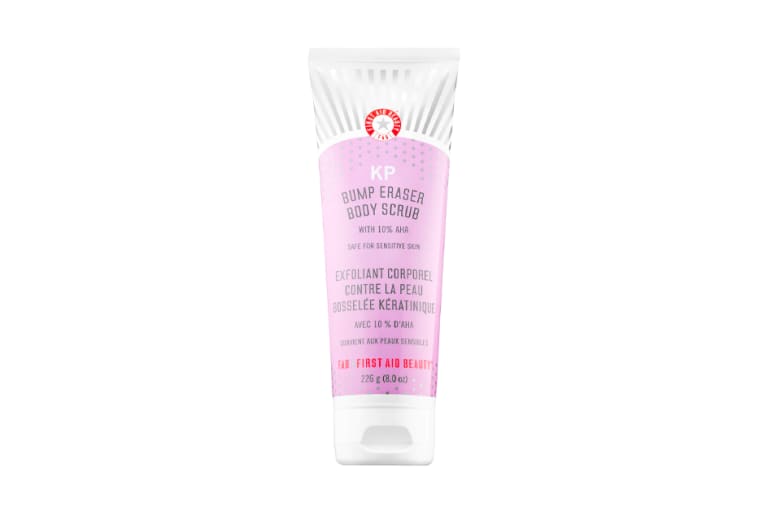 First Aid Beauty
KP Bump Eraser
$30
How to use the KP Bump Eraser in your routine.
Once or twice a week, I use this scrub in the shower. The most important thing is to let the pumice beads do the work—not your hands. This means lightly rubbing the scrub on the affected area without pressing too hard to prevent unnecessary irritation or microtears in the skin.
Once out of the shower, I follow up with a hydrating body lotion, as it's essential to replenish moisture and tend to the skin barrier. In fact, those struggling with KP should hydrate their skin every day (even when they don't exfoliate), as dry skin can actually make the appearance of KP worse.
Keratosis pilaris is an extremely common skin condition and there's no single product that can make it disappear for good. However, thousands of people trust the First Aid Beauty KP Bump Eraser to help restore smooth, even skin—including me. Just remember to always follow up with a barrier-supporting body lotion post-exfoliation. (Here are a few of our favorites if you're on the hunt.)
First Aid Beauty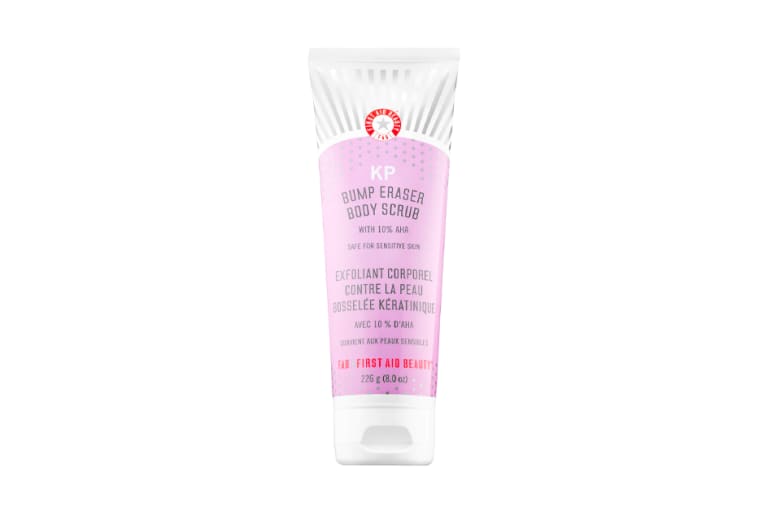 First Aid Beauty
KP Bump Eraser
$30