Not To Be Dramatic, But This Is The Only Body Lotion I'll Use For Soft, Velvety Skin

mbg Beauty & Wellness Editor
By Jamie Schneider
mbg Beauty & Wellness Editor
Jamie Schneider is the Beauty & Wellness Editor at mindbodygreen, covering beauty and wellness. She has a B.A. in Organizational Studies and English from the University of Michigan, and her work has appeared in Coveteur, The Chill Times, and Wyld Skincare.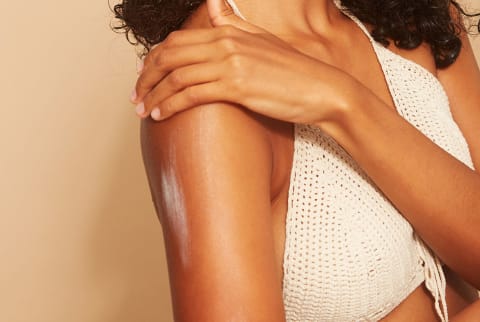 Image by ohlamour studio / Stocksy
June 7, 2022
Over the past six months, I've noticed a surprising improvement in my skin. A bit of background info: I typically deal with cracked, thirsty skin year-round, despite my unwavering commitment to slathering on a body lotion after every single shower. After just a few hours, my skin simply reverts to its dry, itchy state. By the time summer rolls around, I'm still troubleshooting the lingering effects of my parched, wintry skin. And the cycle continues from there.
But this past season proved different—in December, mindbodygreen introduced postbiotic body lotion. Since the winter launch (perfect timing, as my skin had hit peak flakiness), it has been the only body lotion I've used, and as I finally shed my winter garb in favor of breezy dresses and tanks, my skin has never looked better. No lie, it's the only body lotion that has really made a difference in my skin's moisture levels—and it does so without ever feeling greasy.
Advertisement
This ad is displayed using third party content and we do not control its accessibility features.
How this body lotion deeply hydrates without feeling heavy. 
If I were to use one word to describe this body lotion's texture, I would call it velvety. It's not fluffy, like other airy, whip-thick body creams, but it's also not too balmy, like a slick moisturizer that sits heavy on the skin. (In case you couldn't tell, I care a lot about texture.) Rather, it toes the line between ultra-hydrating and lightweight, resulting in a spreadable, breathable formula that melts upon application.
To nail this delicious consistency, the formula blends cushiony butters and oils with lightweight hydrators. For the former, you'll find shea butter, an excellent emollient with a nourishing, oh-so-luxurious feel; this emollient status also means it can soften the skin and fill in microcracks. Shea butter is so rich in triglycerides, vitamins, and fatty acids to deeply moisturize the skin—and thanks to the types of fatty acids it contains (namely linoleic acid and oleic acid), it tends to be non-greasy and easily absorbed.
Another ingredient with a remarkably high lipid content is oat oil—specifically, it has linoleic acid, which helps promote healthy functioning of the skin barrier. By extracting the nutrient-rich oil (as opposed to using colloidal oat extract), you're getting the most out of this fatty acid content, which can help strengthen your lipid barrier even further. Not to mention, oat oil makes for a wonderfully creamy moisturizer, especially when paired with other skin-conditioning agents, like coconut oil, moringa seed oil, and the aforementioned shea butter.
As for the lightweight hydrators, we have organic aloe vera juice, which adds some slip to the consistency and creates an even, spreadable texture. Plus, it contains over 75 different active compounds, including vitamins, minerals, sugars, enzymes, and amino acids to nourish the skin. Olive-derived squalene also creates a thinner application: It closely mimics your skin's own sebum, so it's never too thick or greasy, and it's chock-full of emollient and antioxidant properties.
Glorious texture aside, this body lotion also addresses every aspect of your skin barrier function: It includes a cutting-edge pre- and postbiotic combo to nurture your skin microbiome, thus improving epidermal framework and soothing inflammation. Plus, potent antioxidants (in the form of coenzyme Q10 and a fruit complex) fight free radicals and help your skin appear more supple and vibrant over time.
Advertisement
This ad is displayed using third party content and we do not control its accessibility features.
The takeaway.
mindbodygreen's postbiotic body lotion compiles calming, moisturizing, and brightening actives to provide top-notch skin microbiome protection. It has become my go-to staple for the past six months, and it's the only lotion that has truly made a difference in my complexion. Think softer, smoother, resilient skin.